Pictured: Warpaint@Summit
Rebirth motherfucker! Yeah, here we go again. A TON of cool shit has happened since we last got together in this official capacity and I'm not gonna tell you anything about it! I will tell you that Duffy made me take some online journalism and creative writing and photography courses while I was on hiatus and as you're about to see it did absolutely no good!
I will also tell you I picked a good week to decide to start doing this crap again. Super Desserts, Margot and the Nuclear So and So's, Guinea Worms, Warpaint, Don B, and of course, Mike O! If you are at all inclined to listen to a bitter, old, hateful, cynical and all around super cool and totally nice dude's rant about, you know, stuff, you know what to do!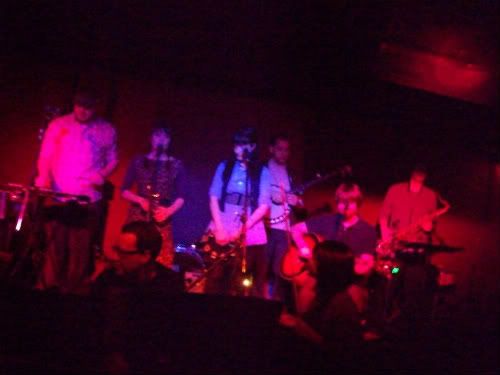 Pictured: Super Desserts@Circus
Thursday night found me at the venue formerly know as High Five, currently known as Circus for Super Desserts and Margot and the Nuclear So and So's. Also some other band played. They seemed more suited for Frog, Bear and Wild Boar but whatever. Also I forget their name. Enough about the band that played in the middle. Let's focus our attention on Super Desserts. Twee as Folk! (their words not mine unfortunately) If you are yet to see this gang, looks like you need to revise your to do lists. These guys are a venerable who's who of Columbus music. Justin from Terribly Empty Pockets, Tyler from Couch Forts, Eve from Bird and Flower, Eric from Margot, Bobby from the local PBR rep, Ianna from Obviouslies, and likely others I'm leaving out.
Attttttttttttt any rate, my point is this band is fun as fuck and there are like 17 people on stage at any given time keeping it together. They have also been building blog buzz thanks in part to their super fun music videos that have been making the rounds on the web. Regardless of the type of music you prefer, these dudes are definitely worth going out for. If you don't see this band you hate fun! Go see them on Friday at the Summit.

Pictured: Margot and the Nuclear So and So's@Circus
O.K. so I'm not super hip to Margot, but I am hip to the fact that Eric Kang is from Columbus and used to be in Tiara. I've listened to a record or 2 and this is a band I'm more down to check out live than I am to jam it in my car on the way to work whatever that means. (dont' have that kind of time to waste!) I went out to see Margot like 5 years ago at Skully's and they basically St. Vincented on the show. All kidding aside (for now) Richard and company put on a really good show and I'm totally digging the pared down lineup and looking forward to hearing the new record. O.K. now more "kidding". I mean I guess I'm old and out of touch, but I didn't realize how much the kids like Margot, and these kids make poor fashion choices, get too drunk and are all around annoying but whatever, good set would see again.
O.k.,o.k. on Friday night Columbus weirdos Guinea Worms had a record release show for their double lp, "Sorcerers of Madness", released on internationally known, locally respected label CDR. I attended the aforementioned show and admittedly, details of the evening are a bit foggy.

Pictured: The Mahoneys@Bourbon Street
The Mahoneys played first they are comprised of 2 of The Frustrations and play like 60-90 sec songs that are jokey but aren't jokey. I dunno, I dug them, thought they were fun. I'm pretty sure The Frustrations followed, enjoyed them enough, didn't pay super close attention. Par for the course Bourbon Street punk rock.

Pictured: The Unholy Two@Bourbon Street
The Unholy Two played next and I'm pretty sure I heard an actual song somewhere in the set! That really is them in the above picture and if you look reallll hard that is THE Mike O filling in for Bo Davis on drums. Antagonistic, loud, abrasive..you know the story, either this band is for you or it isn't. Gnomesayin?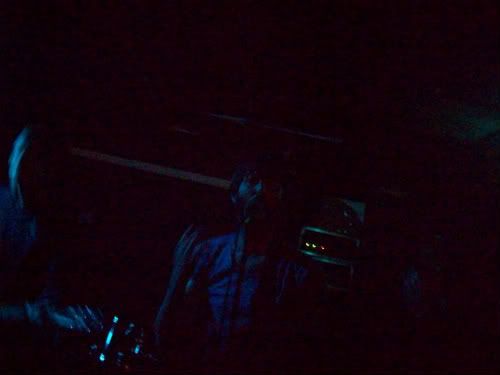 Pictured: Guinea Worms@Bourbon Street
I'm not even gonna front, I had consumed a fair amount of libations by the time Guinea Worms started and well, you know how that goes. IF YOU CONSIDER YOURSELF A FAN OF COLUMBUS MUSIC YOU MUST SEE THIS BAND!!!! I would also like to mention that Extreme Weiners has a delicious philly cheesesteak. Don't sleep on this sandwich, you have until Tuesday!
You know how sometimes you see a band's name here and there and then you keep seeing it over and over again? Sometimes that kind of thing makes me less inclined to check out a band. This was basically the case with Warpaint and after seeing them live, it definitely makes me reconsider this course of action. Oh man, they were super fucking cool and easy on the eyes to boot!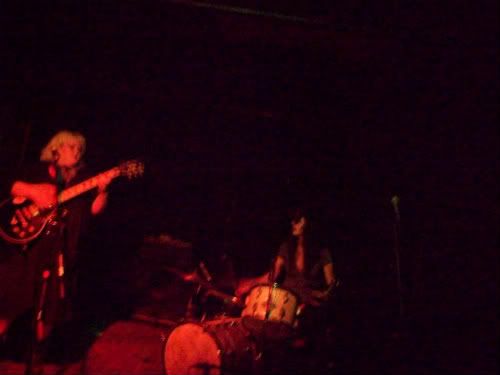 Pictured: The Jellyhearts@Summit
The Jellyhearts opened. As I approached the venue, from what I could here outside, I thought Warpaint had already started because I don't remember The Jellyhearts not sucking! Seriously though, I remember them sounding like Cheater Slicks on a bad night or something and I guess they've been practicing and it was apparent. Seriously though, drummer Lauren is also in rosehips and some other band I can't for the life of me think of the name of. She's like the Mike O of girl drummers! Whatever, looks like there's good things to come from these girls.

Pictured: Warpaint@Summit
So yeah, let's talk about Warpaint. Totally rad for starters. I gave their EP a listen for the first time on Saturday morning and it has pretty much been on repeat ever since. No shit. I guess some actress chick used to play drums for them and the singer chick used to date former Red Hot Chili John Fruciante.(Fruciante's solo stuff rules)Whatever, show was totally rad, these girls can jam. For some reason there were like 15 photographers at this show and it was like they had never seen pretty girls play instruments or some shit. I mean, I get it, Warpaint is quite photogenic, but for fuck's sake, these cats were incessantly taking flash photos for literally the WHOLE SHOW. Super fucking obnoxious jesus christ. Our girl Rachael Barbash was there not using a flash, if you haven't already check out here pics of the show here. I really can't reiterate enough how cool the set was, and if you're going to SXSW you have multiple opportunities to catch Warpaint. Don't fuck it up!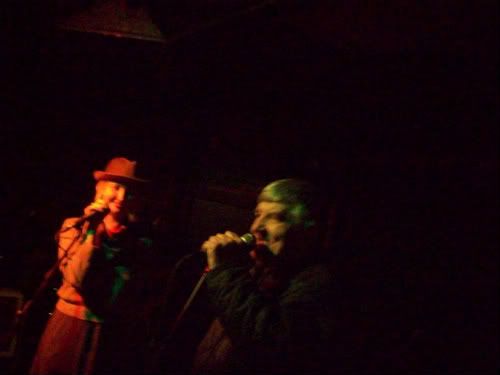 Pictured: Warpaint and Don B@Summit
The legendary Don B made an appearance and performed an A capella version of Batman with the singer chick. She was very obliging and the reason it was A capella was because the stage was already torn down. Don B likes what he likes, myself not being one of them. I guess I should buy him a screwdriver and then maybe we can be friends.
I'm done for now. Tune in next week for Scion Rockfest "coverage"!!!!