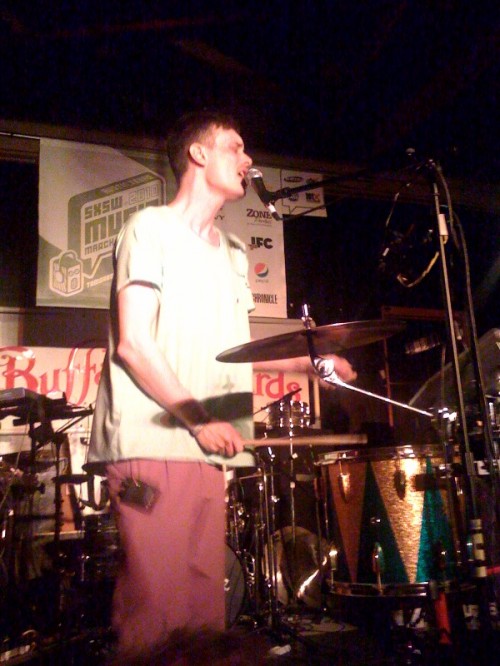 Efterklang's Casper Clausen
Using the wise words of one Robert Duffy (along with perhaps a couple others), "It's not a sprint, it's a marathon," I made a conscious effort to pace myself a bit more on Thursday. I spent the afternoon relaxing with Dan Francis of Six Gallery and friends Aficionado at a DIY house showcasing music before jumping back into the midst of the chaos.
I caught Columbus natives The Main Street Gospel at the TeePee Records party where they rocked out probably as hard as I've ever heard them. I then made my way to Stubb's BBQ to catch The Soft Pack, who left me scratching my head a little bit. However, the last tune I heard before splitting did make me realize that seeing them outside was the problem, not a lack of talent. I dove in to see Jail Weddings (which includes ex-Sun member Brad Caulkin) who I'm rather sure would have played until the sun came up given the chance. Rounding out the Thursday session of supporting Columbus music, I peeked into BD Riley's with enough time to witness Lydia Loveless entertaining Austin like an old pro.
Mark my words (I'm calling it now), Denmark's Efterklang played a set at Buffalo Billiards that was and will be the best set of this year's festival. All of the stars aligned to produce an amazing show that hop-scotched back and forth from gentle and keen to big and dramatic movements of music. (I think they couldn't stop smiling because they knew they were killing it.)
As if that didn't put me on enough of a high, I left there to enjoy Man Man playing the Billboard party. I can't help but be wowed by the bells and whistles of their quirkiness each time I see them. To round out my evening, I was able to see Sondre Lerche (a long-time favorite) play a nostalgically wonderful hour at Central Presbyterian Church. Mr. Lerche officially wins the award for most consistently enjoyable live act since the first time I caught him six years ago.
After day two: ambition level still high, exhaustion level manageable, so let's bring on Friday!