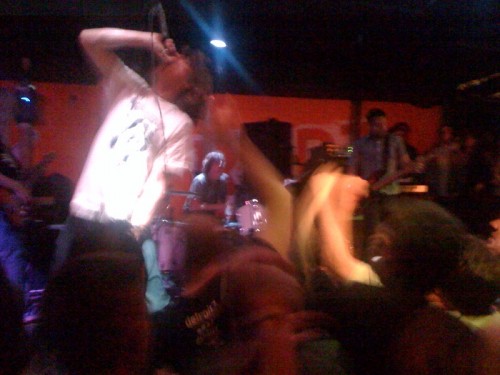 Demolished Thought
Though my day actually began at a reasonable hour, my involvement in seeing any music didn't begin until late afternoon on Friday. I was able to catch up with Fanfarlo at Buffalo Billiards to talk to them about their album and upcoming show in Columbus so keep your eyes peeled for that coming up quite soon.
I caught Wild Sweet Orange at Creekside Lounge who softly reminded me that I was in the south where a voice sang mysterious sounding ballads of struggle. I then popped up to a rooftop to see Andrew WK making his crowd go crazy with his strain of rock and roll fever.
Thoughts on Fools Gold, Demolished Thought, Yacht, Local Natives, Freelance Whales and more after the jump.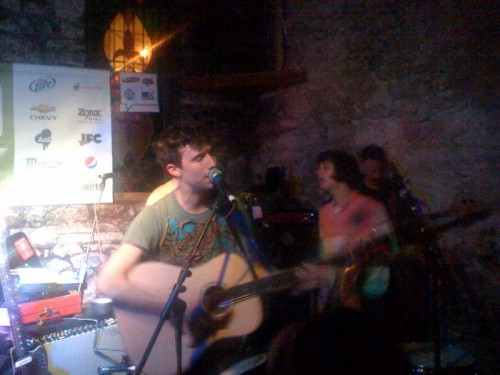 Fanfarlo at The Ale House
The Fader Fort provided my favorite non-previously-listened-to band of the day, Fools Gold. Their afro-pop kept your feet tapping and the beverage line from being intolerable. (I was unaware that ex-Sun member Brad Caulkin also played in this band before arriving to see them.) Frightened Rabbit was up next and I left a few songs in due to a quality of sound that was not conducive to my patience. The Freelance Whales, however, played an amazing set at the Paste party with Local Natives directly after. Both bands really made me like the respective records more, and Local Natives upped the ante by adding members of Fools Gold to the end of their set.
The Billboard Bungalow was my next stop to see what Yacht was all about, and I was left unsatisfied. It was like a dance party where you wait the whole night to hear the song you requested and it's never played. Kudos to their energy and stage presence, but next time they should consider playing their hit. I was lucky enough to find a creative entry to the Fanfarlo show at The Ale House, which was even better than the first time because there were about 400 less people and I was 25 yards closer to the stage. I split in just enough time to catch most of The Drums' set at Latitude and am certainly pleased because of it. Having only a six-song EP out, they managed to play a stronger set than bands I've seen with multiple albums and years of playing together.
I must say that in spite of my lack of exposure to the punk world, seeing Demolished Thoughts close out the night was rather legendary. The supergroup was made up of Thurston Moore, J Mascis, Awesome Allison, Don Fleming and a guest bassist (as Andrew WK was a no show).
Quite the journey through musical diversity tonight, if I do say so myself. But hey, that's part of the beauty of SXSW right?