Pictured: Pelican Live at the Scion Rock Fest (Skully's)
Lateness disclosure: I didn't wanna mess with Texas
O.K, O.K I think I'm finally over that saddy sad seasonal affective disorder nonsense and I'm super stoked for life all over again (oh man) and boy howdy, the Scion Rock Fest was the bee's knees AND the cat's pajamas no shit. I've also been speaking more freely and talking to anyone who will listen. It's basically like listening to a live stream of my brain (stuttering=buffering). Seriously though, it was really fucking cool and I totally had a blast.
Vice and Scion did a rad job with this and it really did go off without a hitch. It was awesome to see the Short North crawling with stoked metal dudes. My only gripe really was that it wasn't all in one spot, but that's really here nor there because the way it was set up totally worked. You know the drill—–>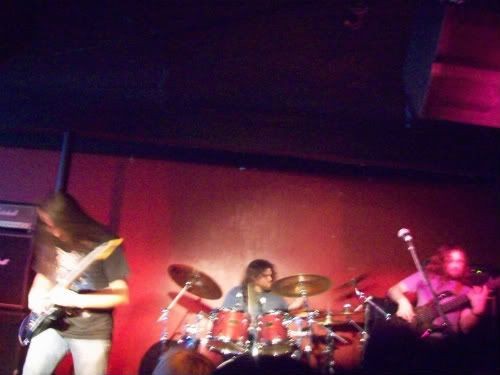 Pictured: Dead Sea Live at the Scion Rock Fest (Circus)
I started my rock fest rock jaunt at Circus to catch Dead Sea and I gotta say this fest couldn't have picked better bands to rep Columbus metal. Even though it was just a bit after 5, the joint was packed and dudes were totally stoked (already drunk). Dead Sea schooled the crowd with their take on epic prog metal and maaaaaaaaaan these dudes totally shred and are totally awesome to watch. Motherfucking virtuosos I tell you. The way these dudes have basically mastered their instruments really makes you reconsider liking other bands. For real though these dudes got an awesome reception and you hate cool things if you don't see Dead Sea. Had I known Wino was gonna play with Saviours ida stuck around but I had to go see the other Columbus band reppin' hard, Struck By Lightning.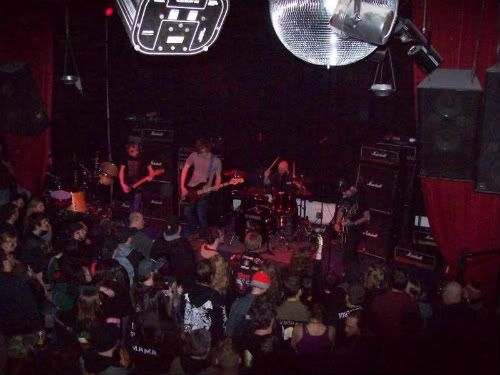 Pictured: Struck by Lightning Live at the Scion Rock Fest (Skully's)
First and foremost, Struck By Lightning is a fucking machine and I'm pretty sure singer/guitarist Greg Lahm is a cyborg built for metal. I mean it was still pretty early, Skully's was getting packed and Struck By Lightning set the bar HIGH for the evening. Pretty sure circle pit ensued. Struck By Lighting also had a pretty cool loop going between songs, bands take note of this…nobody likes awkward silence and no one wants to hear what you have to say, unless it's "beers on us!". Follow suit dorks. I had a pretty chill spot on the stairs of that new "v.i.p." balcony and I pretty much managed to keep returning to it all night. I'm too old to mix it up anymore, what can I say. For real though. STRUCK BY MOTHERFUCKING LIGHTNING just may have been the best sets I saw all night, no shit.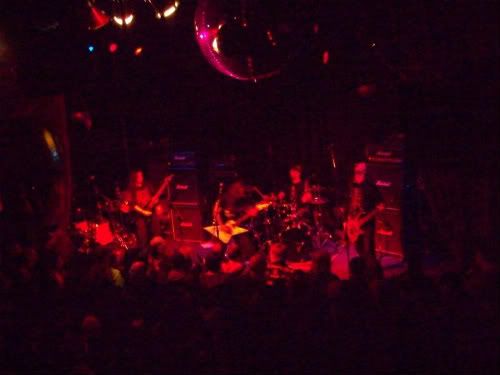 Pictured: Acrassicauda Live at the Scion Rock Fest (Skully's)
So like, Acrassicauda are the band from Iraq that were featured in the must see Vice rock doc that i haven't seen yet, "Heavy Metal in Baghdad" and like, they weren't the best musicians by any stretch of the imagination, I mean-think dudes that just got their instruments 6 months ago and decided it was a good idea to leave basement. I'm funnin', it wasn't that bad and those dudes were fucking ecstatic to be playing the Scion Rock Fest. If I remember correctly, dudes kept saying "it's good be home" or something to that effect. It was pretty great and that kind of energy can totally make up for a lack of, well you know, good.
I didn't have high hopes for Pelican (I mean-the drummer amirite). I missed them this last time they came through for "What We All Come To Need." I was kinda bummed, but having seen them at Ravari Room the time before and being underwhelmed, I wasn't super bummed, only kinda bummed. At any rate, I was hoping they would play "Final Breath" and of course they totally didn't, but they did tear it up and definitely stepped up their game from the last time I saw them. Would see again.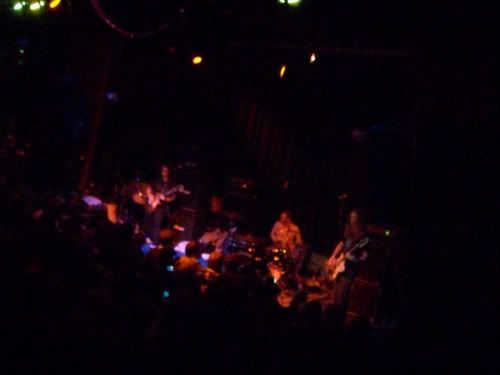 Pictured: YOB Live at the Scion Rock Fest(Skully's)
I didn't know who the fuck YOB was before the lineup was announced (too busy listening to Rihanna) and it turns are they're pretty fucking epic. They played 3.5 songs. In the course of around an hour. Super heavy, super loud, super cool stoner doom. This set would have been great if it would have been staged in a more intimate venue. Like Carabar. Ron make it happen.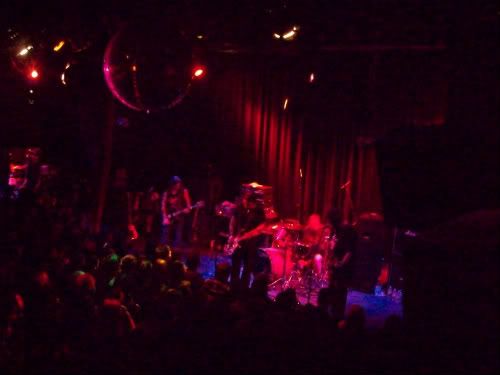 Pictured: Shrinebuiler Live at the Scion Rock Fest(Skully's)
Shrinebuilder is the supergroup that everyone and their brother wanted to see and from what I could tell for the most part, rightfully so. Wino from St. Vitus was totally born and bred for metal and Dale Crover is the motherfucking man. Those dudes are old and basically schooled the fuck out of all parties involved as far as showing how it's done goes. Shrinebuilder totally melted Skully's and it was pretty much the best way to end the night. I say pretty much because the super secret Melvins show at Carabar was the best way to end the night. Haha PSYCH! Really though, Black Tusk, Saviours and cbus dudes Locusta played Carabar for the officially non official Scion Rock Fest after party show thingie and from what I can remember, I had a blast!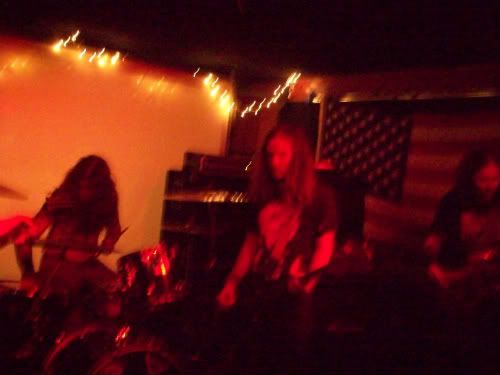 Pictured: Saviours@Carabar (Scion Rock Fest after party)
Basically, I'm not gonna get all wordy and all reviewery about this show because, well, I started "hydrating" round about 4:00 p.m. and got to Carabar at the exact time that I got there. Saviors were on when I arrived, apparently I missed Black Tusk (I wouldn't say I missed them!). No really I just didn't see them. Locusta closed out the night. From what I recall they were listenable and from what I've heard, good dudes. They are also the Columbus dudes that live at the d.i.y/house show joint last house on the left. Those dudes scored a fanfuckingtastic gig and definitely held their own with the big dogs.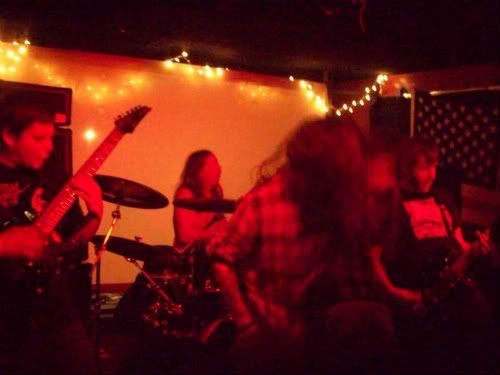 Pictured: Locusta@Carabar (Scion Rock Fest after party)
Give me cool shit and I will tell twitter (the future of everything) how cool it is. (Scion/Vice/everyone I'm looking at you)
Check this shit out, ladies and gentleman I give you…
Weakened Wrap-up #19.5: Oh No You Didn't My Blog's Never Quittin'
O.k real quick.
Friday night i went to Ravari to check out my super cool totally rad homeboy Matt Bailey, from Teeth of the Hydra's new jawn EYE. This band is basically Teeth of the Pretty Weapons and is super epic. Think OM "At Giza" epic. More on these cats in the future.
Saturday I went to Ron's house. Who's house? Ron's house (Carabar) to watch former 333 weirdo dorks Do Chimps Battle? (I mean if you have to ask) and Buddyhead blogger Brian Carnahan's loud sludgy jucivinsesque outfit, Churches Burn. Details too salacious, a blast was had by all.
Tune in next week when i get all fanboy about Maynard!
One last thing-Really loud shout out to Ben Co Presents-get well soon dude Donewaiting is sending the best vibes available in the universe ever.