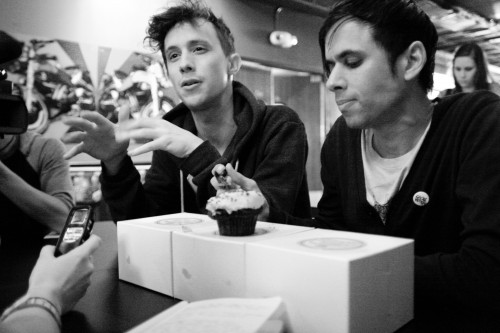 (Photos of interview by Alysse Gafkjen)
In anticipation of their Columbus show this week at Outland, I caught up with Simon Balthazar, Amos Memon and Leon Beckenham of Fanfarlo while in Austin for SXSW. I must say it's a bit intimidating walking into an interview being the face of Columbus to a group of musicians who are not only talented and finding success right now, but foreign to our Midwestern scene… quite literally. (Full disclosure: This is due to the fact that I both write for donewaiting and work for Benco.)
Donewaiting: How was Fanfarlo born and how has it developed into it's current state?
Simon: Ok, so, the short story is.. Fanfarlo used to be a recording project and it kinda came about just before I moved to London [from Sweden]. We pretty much started releasing 7″ on friends labels [in London] straight away before there was really a band. From that recording project, I started meeting people and now it's become this dysfunctional family of a band we are today.
DW: How long have you been playing together?
Amos: It'll be the 4th year, later this year together. Originally we were 6, but now we're 5 people.
S: For the last year, we've been playing with guest guitarists.
Leon: We've gone through about 6, haven't we, in the last couple of years?
A: We've chewed them up, spit them out.
DW: London seems like a good place to make music, all things considered…
S: It is and it isn't. It's a really active scene, there's all sorts of stuff going on. There's a very quick turn around, things get old really quickly. And that's a downside, I think. It's good in the sense that there's always something fresh to be excited about. But me personally, I've tried to stay a little bit out of the blog bands, you know buzz bands.
DW: In regards to your album Reservoir, how long did it take from start to finish to get out to the general public?
A: I think it was like 7 months.
S: We spent the first two months deliberating over the sequencing, the name and cover art. It's funny, I mean we did put it out ourselves but I think if we would have had a label kinda whipping us into shape we would have gone through that quicker. I don't know how interesting it is, you know, the way you sell a record. But for us it was interesting, it was really fun and encouraging to see how many people would get your record directly from you.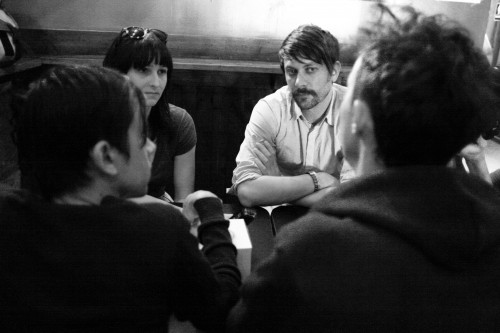 DW: How did you feel touring in America the first time?
A: Our first actual American tour was in the summer last year. And that was just a breeze through about 6 major cities and immediately we just found that we were more embraced by an American audience. Well at least they seemed a bit more hungry and excited and I think in the UK at that stage it was much more low key. I think American crowds just go crazy with bands coming over and making the effort. We've played places that we'll may be never probably play again like Boise, Idaho.
S: I think there is something over here that people sort of, get us.
DW: I think it's difficult sometimes to spread the word about music coming over to America to places like the Midwest and get people out to shows.
S: For us it seems like the Midwest is almost a different country from places like California or New York.
DW: Yea, we get many of the same acts as those places but usually not the first time around.
S: Do you feel that affects what music comes out of the Midwest as well?
DW: Yea, but I mean, those who play music in Columbus most often also have jobs and so they have to be working and playing music on the side.
S: But I feel that all of that, in those places where there isn't such a crazy hectic music scene.. as opposed to cities like London and New York that attract a lot of very very lucky young people, who maybe have rich parents. You often find that a lot of the creative people have a more leisurely approach to it and just kind of fuck around with it whereas the smaller music scenes tend to be a lot closer knit and you have to really make an effort if you wanna be anything more than just a few mates drinking beers and playing covers in a garage.
DW: What's been the most difficult adjustment touring in the US?
L: I think distance is involved, I think it's fair to say. Like the six week tour we did last summer we literally circumnavigated the country through thousands of miles. And doing that in a van takes it's toll.
S: To literally get from A to B to C is so much work.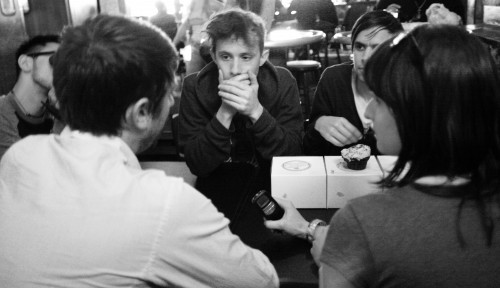 DW: How long have you been on the road promoting this record?
S: Um… forever? I've been living out of my suitcase since October.
A: Collectively, we've had 11 non-band days off, just this year.
DW: How does that affect writing? Are you able to be writing on the road?
S: It's really hard to write on the road and I think most people who tour a lot kinda struggle with it. Ultimately, in an ideal world you find a way to write songs.
DW: Do you feel like it's important to use the road as a source of inspiration?
S: Yea, I think it's natural. I think the road really changes you, hopefully to the better. It can really bring out the worst or the best in you. You definitely get to know yourself when you spend so much time in close quarters with people. The lack of solitude is interesting. I used to need so much more space and I'm slowly getting to the point where I can write without so much solitude.
DW: What's your favorite song to play?
A: My two favorite songs usually bookend our set, so "I'm a Pilot" and "Luna".
S: I think "Luna" is my favorite song to play.
L: Yea, I hate to agree with these two but "Luna" is my favorite. It's such a big epic song that tends to close the set that's built so it's this climax and it ends with the trumpet as well so..
S: And I get to play the clarinet in it. I don't get to play enough clarinet, I'm because I'm always busy singing. Can we get another singer so I can play more?
Go here to download Fanfarlo's exclusive US College EP for free. They will be playing a Benco/CD101 Low Dough show in town on Thursday, April 1st with Robert Francis and Lawrence Arabia.