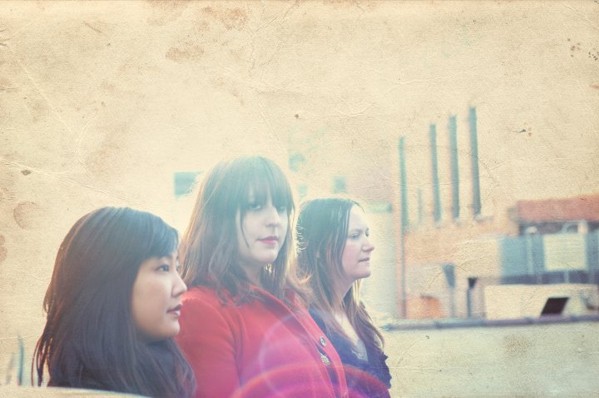 Photo credit to Gretchen King
MP3: Black Forest
If those three purty faces look familiar, it's likely because you've spied 'em as a part of any one of several bands currently making things happen around town. But if the three of them together kind of rattles a particular neuron or two, you were probably spending some quality time in High Street clubs in the early aughts. See, pictured above is ¾ of Frostiva, childhood friends who put together their first band in 2000 and cashed it in 4 years later. God love 'em for leaving the Frostiva website alive, as it's a nice look back on days passed- full of references to Little Brothers, Diet, Go Evol Shiki… hell even the Angelfire host is some pre-Myspace shit.
Since the demise of Frostiva, the talents of what is now of Behind You With Knives have been plenty in demand (Leslie – Church of the Red Museum, Flotation Walls, Moon High, Nick Tolford and Company; Faith – The Hills Have Eyes, Deerhead; Sharon – Teeth on Teeth, Guardylou). The reunion of these three as BYWK, only a few months old now, has them going in a little heavier direction. The project is young enough that when I first contacted them, there wasn't yet any recorded material for review, so based on some thin rumors about how they are going to sound, I fired off some questions for the band. As it turns out, literally moments before this thing hit the ol' blog page, MP3s of a promised 4-song demo materialized out the ether. The demo (cover art by Angie Redmond below) will be available at their first show on Saturday. Behind You With Knives will share the Carabar stage with Rosehips and American Jobs. (EDIT: American Jobs is a last-minute scratch. Suitable replacement is still in the works….)
Dumb questions and patient answers after the jump..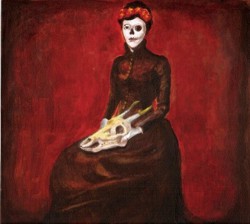 Album art by Angie Redmond
DW: So, I heard that this was a metal project?  Is that accurate?  Are you calling it that?
BYWK: When we were talking about playing together again, we thought we'd make this a metal band, but I think as we started writing songs it didn't end up going strictly in that direction.  There are definitely metal elements but it's really a hodgepodge of stuff.  I usually write some guitar parts with lyrics or an idea of what direction I'd like it to go, and then play it for Faith and Sharon.  I'm not the kind of songwriter to completely flesh out a song and present it to my bandmates; I'd rather see it evolve organically with input from all three of us.  It's a true collaboration in that aspect.  I may supply a framework but Faith or Sharon could drastically alter what I had in mind, and it's fun and surprising that way.
DW: In the metal spectrum, where do you fall if Mötley Crüe is on one end and I dunno, something more death-y, like say, Death, is on the other end.  Like what I'm getting at is, are there costumes? Singing or growling?
BYWK (Leslie): I sing and definitely don't growl.  That's lame.  No costumes for us, but lots of long hair swingin' around.  Costume wearing at our shows is definitely encouraged.
DW: So, I've spent some quality time a few metal shows, of recent note would be the Scion Fest deal, and I can say that it's kind of a world that leans pretty heavy towards the Y chromosome.  Are you guys making a conscious effort to be all XXes or did you happen into this band over some shared love of the genre?
BYWK: Most music genres are heavy on the Y chromosome.  We're not a novelty band; we play music because we like to play.  It's always been that way from the beginning.  We definitely support other women run events and bands (Sharon and I were music organizers for Ladyfest several years ago, Frostiva played benefit shows for Take Back the Night at OSU and played at Ladyfest Philly) but the bottom line is that we love to play music and we love good music.
DW: I mean, are you guys all old metal heads from high school?  Are there jackets with patches in your closet that you can share?  What kind of records have you been listening to recently as inspiration for this project?
BYWK (Leslie): Growing up, my father listened to a lot of 80's metal, Judas Priest, AC/DC, Megadeth, and my mom listed to Top 40.  I listened to classical music mostly before I got into 90's alternative.  There are a lot of influences there that work on conscious and subconscious levels.
Sharon didn't know that music existed on the radio until fourth grade.  Up until that point she thought it only offered Korean church hymns.  Thank god she met me in the fourth grade when I was on a big Guns and Roses kick.
Faith grew up listening to Heart, America, The Allman Brothers, Bread, ELO, Boston, Jefferson Airplane, all that good stuff because she only had her mom's old vinyl to listen to.
DW: How long have you guys been playing together?  You all seem like you've got other musical projects- is this a fun side adventure, or have other band activities kinda slowed down?
BYWK: I think the three of us really missed playing together.  Every band has a different dynamic of course, and I think in our situation the three of us felt we worked really well together and were very invested in our music.  Sharon says "It's like falling in love with your first love all over again, but without the fucked up parts."
DW: Are you making big plans?  Records, shows, conquering, etc?
BYWK: We will hopefully have a four song demo ready for our show on April 4th.  Future plans – play whenever we can, wherever we can, and have a shit ton of fun like we always have been (the rumored demo is FOR REAL -Ed.)