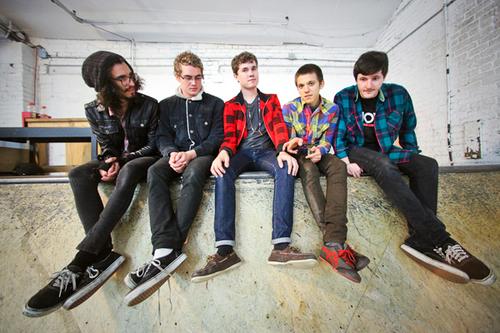 MP3: Swim
After stopping in Columbus in November, Surfer Blood returns Sunday night for a Benco Presents show with Turbo Fruits (ex-Be Your Own Pet) and locals Tin Armor at the Summit. Oddly, I spent all of last week in the West Palm Beach area, which is the Surfer dudes' hometown. So instead of previewing the show by attempting to describe their debut using adjectives like "anthemic" (see "Swim," above) and "youthful" ("Close contact on the couch was fine/Tell me where to draw the line"), I decided to ask singer JP Pitts a few ignorant questions about the Atlantic side of south Florida and what it's like to play music down there:
Was it tough for a band like Surfer Blood to gig in the West Palm area? To completely stereotype after spending only a few weeks down here in the past three years, it seems like most of the bars are filled with Margaritaville bands, and the "arts and culture" spots are for upper-class, dress-up types?
A lot of the stereotypes associated with West Palm Beach are true. There is a lot of affluence and Jimmy Buffet pride and there are not a lot of young people in bands. However, like anywhere else there is a group of talented and creative young people that are doing cool stuff, you just have to look a little harder for them. Most bands down in South Florida end up playing a lot of house shows and DIY spaces because there is a serious lack of small venues for up and coming bands.
(More about Florida's lame waves, Willem Dafoe, Robert Kennedy and the awesomeness of Columbus after the jump…)
Speaking of upper class, is there much of a middle class down here?
Absolutely. South Florida is one of the most sprawling bourgeoisie areas in the country; for the most part, it's one giant suburb. However, West Palm Beach proper has its fair share of rough spots, it ranks in the top-ten highest crime cities in the United States every year. Kind of strange considering that the people living on Palm Beach island are some of the wealthiest people in the world. I used to work at a restaurant on Palm Beach and I saw Robert Kennedy and Mark Foley more than once.
Coolest celebrity spotting on the beach?
I'm not sure. I'm sure I've seen an actor or actress on Palm Beach at least once, but I honestly wouldn't know, I'm not good at keeping up with celebrities. I saw Paris Hilton at Coachella in 2007 and I saw Willem Dafoe recently in an airport though.
It's beautiful down here, but it seems like the waves are actually kinda lame for surfing. Are they bigger other times of the year?
South Florida is the worst for surfing: the beaches are soft pack and shore erosion is a big concern. North Florida on the other hand, isn't bad. Daytona and Cocoa beach both have decent surfing. It's definitely not like California or Hawaii, but there are waves for sure. I think Kelly Slater grew up on the east coast of Florida.
How sick are you of journalists and bloggers always talking about the beach, beach music, Florida, etc. when talking about Surfer Blood? If you could go back in time and name your band something that has nothing to do with the ocean, would you?
I wouldn't change our name at all, I really like it and think it suits the music nicely. However, it does get tiresome to hear so many people trying to lump us into this sort of 'surf revival' category. The name wasn't really meant to be taken so literally. It was more of an aesthetic choice, not anything for or against surfing or surfers as some people have tried to claim. We came up with the name Surfer Blood as a joke and it happened to embody the sense of youth and defiance that comes through in the music.
I missed you guys last time you came to town. What'd you think of Columbus? What should we look for this time around?
Columbus is a pretty awesome place. There are a lot of young people who are excited to come out and see bands almost any night of the week. I've only been there once and we got there kind of late, so we didn't really have a chance to explore too much. I did drive to the Western Union while we were there though, and I remember being struck with how big the city was. I was expecting it to be smaller. …I think people who come to the show can expect to be entertained.
———
Things to know:
April 11, 9 pm
The Summit
2210 Summit St.
(614) 268-9377
$8 adv / $10 door
Or buy tickets online
ages 18+
…I think "Slow Jabroni" is my favorite song off Astro Coast: