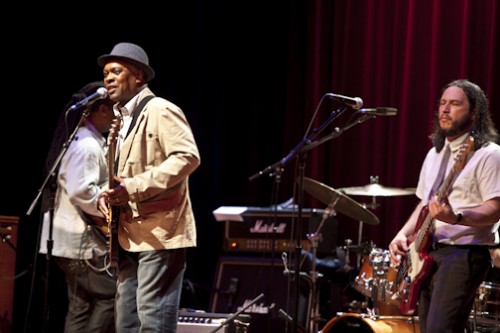 Saturday night (May 1) marked the conclusion of the Jazz Arts Group's 2009-10 Inside Track concert series at the Lincoln Theatre with a much-anticipated appearance by soul legend Booker T. Jones and his band. Though the buzz for his appearance itself was plentiful, the addition of local openers Nick Tolford & Co. seemed to contribute additional interest, visibly making the show more appealing to a slightly younger demographic. These factors combined for an exciting, well-attended show that won the audience over. (Check out Kim Rottmayer's photos here.)
Nick Tolford & Company's set was a quick and fiery runthrough of the best of their soulful rock 'n roll. The band was a bit nervous as they opened for one of their heroes but overcame any stagefright to deliver a solid set. In their allotted 30 minutes, Tolford and band performed with enough reverence and joy [insert pic of smiling Mike O here] to win over many concertgoers who would have never been otherwise exposed to their music. The JAG should be recognized for providing this outlet for local musicians, as Mojoflo's recent set opening for Trombone Shorty gave them similar exposure, including my parents' introduction to the band.
Booker T's performance was a tale of two sets: the first set was the considerably lesser of the two, and its initial impact overpowered my enjoyment of the second set. Everything started out fine: Mr. Jones came out to contribute organ to his band's introductory instrumental and then launched into recent composition "She Breaks." After these fine examples of his new excursion into soulful roots rock, he played the biggest Booker T & The MG's hit there was, "Green Onions," which the crowd ate up. Unfortunately, at this point in the set, Jones and the band set off into a miniature review of the storied Stax Records material that he helped write and/or record. I had no problem with this, as his role in this material should be recognized, but this transition meant something else: he switched to guitar and started singing. As a man famous for performing on the Hammond organ (and basically on nothing else), this part of his performance was not his strong suit. His vocals were serviceable, but not nearly strong enough to do justice to powerful classics like "Born Under A Bad Sign" or "Hold On, I'm Comin'." The other problem with the latter rendition of Sam and Dave's classic tune was that drummer Darian Gray was given a mic – and proceeded to rap. Two verses, riddled with "I can rap now, and I'm going to" cliches. Though the crowd reaction was somewhere between positive and indifferent, it was painful to this audience member. The set ended with a solo guitar/vocal tune by guitarist Vernon "Ice" Black, and though Jones came out to add organ for its conclusion, I was left wondering during intermission what happened to the "Hammond B3 alchemist" we were promised.
The second set was much stronger, as Jones returned to the organ, put away the mic, and played a rousing collection of MG's hits and tunes from 2009's Potato Hole. The classics were well-handled for the most part, though "Melting Pot" seemed to lack some precision and conciseness and Gray returned to the mic with two more unneeded rap verses on "Hip Hug Her." The band gave thunderous life to the current songs, adding some rock energy that the sometimes sleepy album versions lacked. Guitarist Troy Gonyea apparently had guitar problems, as he left the stage a couple times and fiddled with his amp repeatedly, which was a distraction, but he was always ready for a solo or other exposed part. With two sets, the concert ran a bit past 11, which also lessened the focus and energy for my enjoyment of the second set. However, the set was great in the end and though I missed the encore (I heard he went back to guitar and vocals), I still got the Booker T I wanted to hear.
Though Jones and crew saved their portion of the evening with a focused second set, the first set left a bitter aftertaste that they could not quite overcome. In post-concert discussion, we agreed that the show would have been perfect if the band only played their second set (and perhaps "Green Onions"), but as an American music legend, I suppose Booker T. Jones has earned the right to learn the guitar and play around a bit, and the happy audience supported this notion.