Photos by me


Pictured: Band of Horses at Nationwide Arena

In a perfect world, Pearl Jam would have been my first concert way back in 1992 in Cleveland at Peabody's Down Under. My bff's older sister was the one that turned me on to a lot of new music, some good, some not so much. I have no older siblings, so I looked to her for recommendations. She was just coming off a hair metal trip-you know the story, grunge killed the hair metal star. First it was Nirvana, then it was Pearl Jam. She was super excited about the Peabody's show and after having seen the video for "Alive," I realllly wanted to go, but it was not to be (thanks parents!). What was to be, though, was my first Pearl Jam experience that took place last Thursday at Nationwide Arena. I didn't find out until super last minute that I was going, wasn't quite sure what to expect as PJ have kind of lost me over the last few releases, but I felt like I would be a fool to miss a "classic rock band of our time." The band formerly know as Mookie Blaylock did not disappoint and the show was way better than I could have hoped. South Carolina by way of Seattle dudes Band of Horses opened the show (actually I guess Mike McCready played a couple/few songs first, but I missed that while waiting to be herded out to the photo pit for BOH).
O.k. so like, I've been in photo pits before with my lil tiny janky point and shoot, but never at a show as huge as this one. It was quite the surreal experience and I gotta say, the herder lady was less than impressed when I told her I didn't have an 18″ lens. I think that's part of what killed my chances of getting Pearl Jam pics, but the photogs were totally cool about me and my tiny camera.

More BOH
I'm not super familiar with Band of Horses, basically just know what I've heard on the best radio station in Columbus, CD101 and IMHO, they certainly are not an arena rock band. One thing that's for sure though is that the people that love Band of Horses lovvvvvvvvvve Band of Horses. If i remember correctly they opened with "I Saw a Ghost" and continued playing their brand of sublime, melodic, kinda folky, americana-ish jams. Their backdrop was a trippy mountaintoppy/foresty/oceany scene thing and it went quite well with the vibe of the set. You could tell the dudes were stoked as fuck to be opening for Pearl Jam in front of a bajillion peeps.

See I told you dudes were stoked
O.k. o.k…enough about Band of Horses, let's talk about the Jam that is Pearl!!!

Pearl Jam-what you think
So like, I had zero time to pregame and as I was waiting in line to purchase 2 24 oz., $10 Bud heavies, I heard the beginning of "Oceans" and maaaaan, I knew it was onnnnn. I got in there and posted up and started chuggin em. From left to right it was Stone/Jeff/Matt/EdVed/Mike and you could tell they were ready to do it. I seriously felt like I was 14 again. I was pretty skeptical going in, like I said, not knowing what to expect and I wasn't totally sure they were going to play the jams I wanted to hear because their catalogue has grown a fair since amount since Ten. I'm not a super duper die hard PJ fan, but the songs I know I like a whole bunch, so in my feeble mind this show was gonna be hit or miss and goddam man it was straight up hit. They rocked "Corduroy" hard, which was awesome and my jam when I was 16 in 11th grade with a mad crush on a girl. They played "Elderly Woman Behind The Counter In A Small Town" and the crowd went absolutely batshit fucking crazy, man Pearl Jam fans fucking love love love Pearl Jam (full set list here).

Pearl Jam maaaaaan
I mean these cats played 5/11ths of "Ten." Stone Gossard worked the "Even Flow" solo behind the head and as cliche as that kind of crap is, even my sorry jaded ass was eating it up. Eddie Vedder said something about national prayer day and applying to the government for PJ to be considered a religion with only one commandment-DON'T BE AN ASSHOLE. That's something I can totally get behind (let's all be cool hang out and high five!). He also said his only complaint about twitter was that you can't fuck on it (again I agree for the most part). Then a sixth dude came out to play some keys for "Evolution" and Vedster said it was the last song. I bet the dude next to me some peanuts that there would be two encores…guess what has two thumbs and won the peanuts? Me motherfuckers!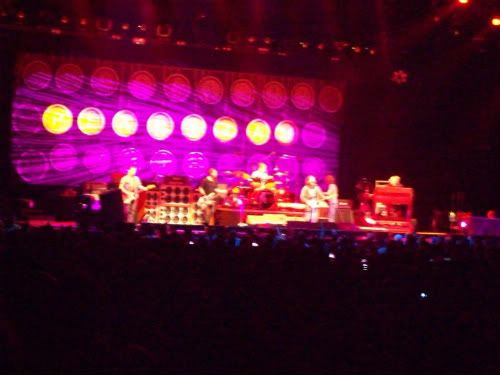 These encores basically blew me away. These guys played "State of Motherfucking Love and Trust," which would have been enough for me because I would never in a million years have expected them to pull that one out, but they sure the fuck did. Not only that but they played "Spin the Black Circle," and the best song on Vs., "Go." During the beginning of the second encore or somewhere near there, EdVed totally dedicated a song to missing Cbus dude Brian Shaffer which, I guess at the very least he didn't have to do-I mean, I feel like 2/3rds of the crowd weren't even from Columbus and had no idea who that cat was until the shout out (one thing I fucking love about living here is not having to take a day off to travel two hours to see shows, I walked fifteen minutes, fuck yes).
One song that I most definitely wasn't expecting was the Victoria Williams cover "Crazy Mary," but I sure the fuck did and maaan it made my night, I love that fucking song. TAKE A BOTTLE DRINK IT DOWN PASS IT AROUND. They played "Alive" next, the house lights came up and I for sure thought the show was dunnzo and for once in my life I was wrong…they closed the night with Ten outtake/"Jeremy" B-side "Yellow Ledbetter."
I would have really liked to have seen them play "Porch" and I'm really glad they didn't play "Daughter."
Afterward I ended up at Skully's for Ladies 80's and some chick straight fell down, cracked her head to the point of knocked outedness and people insisted on shaking her to revive her. Oh man my life (chick's fine)