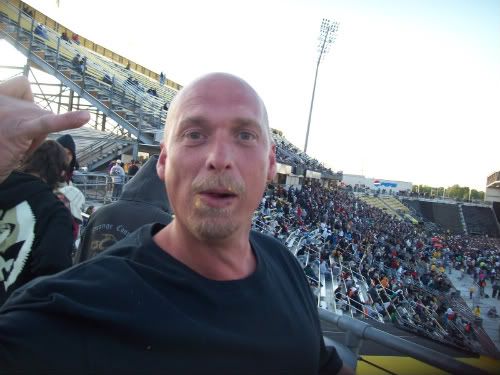 Pictured: Dude at ROTR 2009
As you may or may not know, the infamous Weakened Wrap-up was born from a meeting I had with Duffy about me covering Rock on the Range last year, so I suppose this is an anniversary of sorts or something. One thing that I do know is that I am gonna weakly wrap this up for all you loyal donewaiting readers.
Will I get drunk? Will I take pictures? Am I stoked to see Deftones, Helmet and Mastodon? The answer to all of the above is yes. Tune in nexxxt week for a Weakened Wrap-up like you've never seen before in your life.
Full schedule after the jump!
SATURDAY, MAY 22, 2010
MONSTER ENERGY MAIN STAGE:
12:25 PM Sevendust
1:40 PM Drowning Pool
2:55 PM Puddle of Mudd
4:15 PM Papa Roach
5:35 PM Deftones
7:05 PM Rise Against
8:15 PM Three Days Grace
9:45 PM Godsmack
KICKER STAGE:
12:00 PM Richy Nix
1:05 PM Violent Soho
2:20 PM Adelita's Way
3:40 PM Halestorm
5:00 PM Skillet
6:20 PM Killswitch Engage
JAGERMEISTER STAGE:
12:00 PM Like A Storm
1:05 PM Taddy Porter
2:20 PM Janus
3:40 PM Non Point
5:00 PM Helmet
SUNDAY, MAY 23
MONSTER MAIN STAGE:
12:25 PM Apocolyptica
1:40 PM Five Finger Death Punch
3:00 PM Bullet for my Valentine
4:20 PM Theory of a Deadman
5:40 PM Slash
7:15 PM Seether
8:15 PM Rob Zombie
9:55 PM Limp Bizkit
KICKER AUDIO STAGE:
12:00 PM Shaman's Harvest
1:05 PM Airbourne
2:25 PM Circa Survive
3:45 PM Anberlin
5:05 PM Coheed & Cambria
6:30 PM Mastodon
JAGERMEISTER STAGE:
12:00 PM Sate Your Cause
1:05 PM Noise Auction
2:25 PM Year Long Disaster
3:45 PM Taproot
5:05 PM Mushroomhead