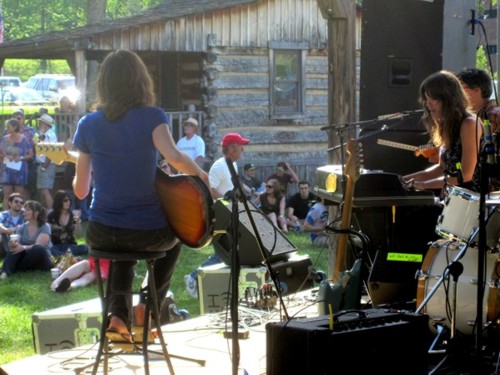 Allwood Sisters, Porch Stage
I just want to sing the praises of the Nelsonville Music Festival for a minute, because not only did they provide me with a pretty killer weekend, I think they deserve some props for putting together one of those things that makes you feel psyched to be in Ohio, and that you're kinda glad not everyone knows how good we've got it. I'll preface this with a story that describes the tone of this festival and the people who are involved: I called down to Stuart's Opera House to ask if I could add a camping spot to my ticket purchase ("sure no problem man..oh yeah, Ben, gotcha right here") and midway through taking my credit card number, the dude on the phone was like 'hold up a minute, someone just brought a puppy in here to work and all hell is breaking loose.' So we took a little break from the transaction until the giggling died off. I mean, are these people- these volunteers- who care more about puppies than takin' your money, the kind of folks that you want to spend a weekend listening to bands with? Yes.
This is the festival's sixth year, but is arguably the second year after a major growth spurt brought about by the addition of some major national acts. The transition from local town street fair to booking legends like Willie Nelson and Loretta Lynn has certainly increased attendance, but has not managed to warp the event into something that feels corporate or contrived. Not once did I see some cargo pants wearin', flashlight totin' security guy with "STAFF" on his back shakin' somebody down; not once did a lycra-clad promotions girl try to give me packets of gum or sign me up for a credit card. What I did see was a really nice mix of familiar local bands and big time performers in a pretty sweet setting. Check out some more chat and photos below.

This casual feeling was facilitated by plenty of friendly volunteers who answered questions and provided the loosest of guidelines ("yeah, camp down there somewhere on the right…nope, not assigned spots…not marked…I got a 4×4, I'll pull ya out if ya get stuck"). This thing seemed practically to run itself, and much to the credit of Tim Peacock of Stuarts, all the volunteers, and even the many cool folks in attendance that seemed to 'get it', the logistics of putting this on were all but invisible to the outside observer. I know how hard it is to pull off a big event with no major screw ups, so kudos to them for not only putting together a great bill, but for making it easy to hear the music, to see the stages, to find a place to use the restroom, for having ready amounts of food and beer, and giving me a decent place to crash.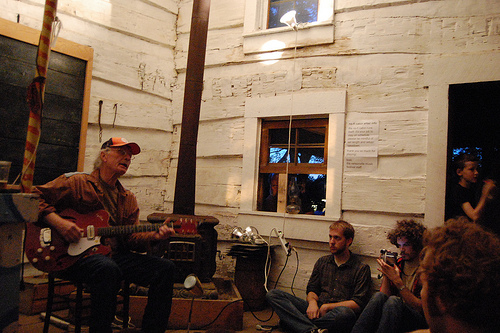 Michael Hurley, No-Fi Stage. (Photo Joel Oliphint)
The setting was a weird pioneer village recreation complete with log cabins, a blacksmith shop, women in 19th century clothing, and of course, a huge aluminum stage complete with a pro sound system and light show. Really- one big main stage like you'd find at any big festival, then an intermediate stage which was amplified but a more intimately set on the back porch of a cabin, and finally an old one room school house, dubbed the No-Fi Stage, where there was absolutely zero electricity or stage management. Bands or soloists played the rawest of acoustic sets in there, while the audience sat on rough-hewn benches. I loved seeing Black Joe Lewis and Sharon Jones (who absolutely killed it) under the bright lights, and I'll always relish my opportunity to see a seemingly ailing yet iconic Loretta Lynn, but some of the most intense and memorable moments came in the ol' schoolhouse or back porch. Plenty of performers made stops on more than one of these venues throughout the weekend. I dug not only the variety, but the ease of catching all any of the acts at various points.
I'm really looking forward to next year already. I'm officially encouraging you to come with me and hang out. But know this: if you fuck it up by being a jerk, there'll be a special place in Lollapalooza hell waitin' for ya.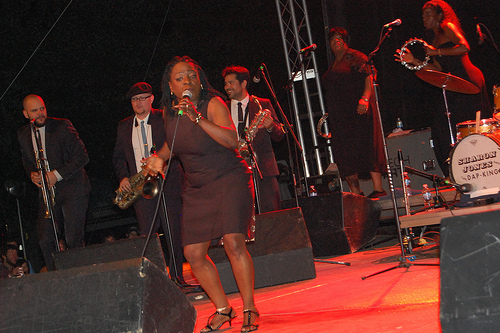 Sharon Jones and the Dap Kings, Main Stage. (Photo Joel Oliphint)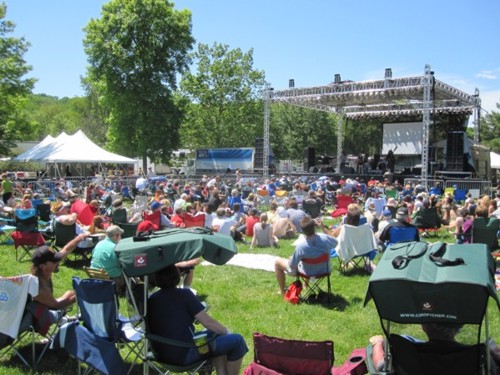 Lydia Loveless, Main Stage