Rocklahoma went more modern rock this year, the M3 Rock Festival in Baltimore is a 6-hour drive, and Rock N America is a plane flight away in Oklahoma, so the closest we come, in the Buckeye state, to a hair metal festival happened yesterday afternoon on the banks of the mighty Cuyahoga River in Cleveland.
Dokken, LA Guns, Trixter, and Danger Danger were the featured acts on the second night of Marc's Great American Rib Cook Off & Music Festival and, as you might imagine, when you do the math (BBQ + beer + bands + $8 festival admission + Cleveland), you've got nothing but a good time (yeah, I realize that as this festival was going on, Bret Michaels was performing a show in Columbus).
View all Dokken, LA Guns, Trixter, Danger Danger photos.
Danger Danger kicked things off about 30 minutes earlier than the advertised time (7pm) but that didn't stop the Jersey band, whose 2009 CD, Revolve, was my favorite of last year, from playing as if they were performing to a full stadium rather than to 1,000 or so people that had started to fill the amphitheater.
Danger Danger was really the selling point for me on this bill (though I do love me some LA Guns and Dokken) but was rather disappointed that they slugged out just six songs during their short set. I'm not sure what value they get out of doing this one off gig just to play 30 minutes and while I was really happy to see them, I really hope they come back through Ohio on a proper tour where they can play a full set.
Trixter followed. If you were a Headbanger's Ball watching kid in the early '90s, you may remember these guys as the "kids playing in a garage and riding motorcycles" (that's how my wife remembers them). I think their label tried to pass them off as high schoolers but they probably were a little older than that when "Give it to Me Good" became a hit.
I have to admit that back in the day these guys didn't do much for me – they seemed to be an afterthought of the whole hair metal generation and hit it big right around the time Nirvana put a nail in the hair metal genre's coffin. But Trixter's sound – even though the songs they were playing were about 18 years old – is actually rather fresh sounding in 2010 and it helps that the guys aren't clinging to the hair metal lifestyle and have rolled with the current trends and styles. They aren't punk enough to be able to pass themselves off as a Warped Tour band but I think if they changed names and made people forget about Trixter, they could be a relevant modern rock band (hey, there's still that chance, I suppose). These guys looked like they were having a blast on stage during their set.
This little guy (his mom said he was 2 years old) was totally rocking out with an inflatable air guitar, spinning around and around in circles until he crashed to the floor (don't worry, he was fine!).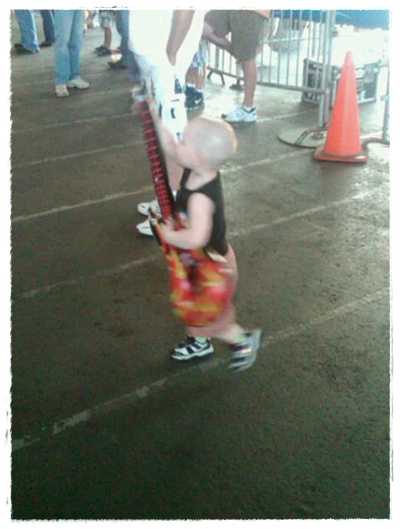 As the sunset behind the stage, the amphitheater started to fill up for LA Guns. There are currently two versions of LA Guns making the rounds, the one with founding member Tracii Guns and the one with singer Phil Lewis and drummer Steve Riley. It was the Lewis/Riley version of the band playing in Cleveland and despite the fact that Tracii isn't playing guitar in this version (Stacey Blades is currently filling the role), this is the LA Guns I've loved since the late '80s.
Granted, these types of events (Rib Cook-Offs, state fairs, motorcycle rallies, etc.) have a wide reaching audience and people tend to attend these events with entertainment as an added bonus, but watching LA Guns play "Ballad of Jayne" in front of 3,000 or so people, many of whom were singing along, I have to believe that in the right circumstance, LA Guns COULD play much bigger venues than they are now and pack houses. Maybe that's just in my LOST-style alternate reality.
Admittedly, the guys in LA Guns aren't kids anymore and up close they definitely show their age, but they still sound like a hungry pack of 20-somethings ripping through sleazy L.A. gutter rock like "Sex Action" and "No Mercy". It was a career retrospective throughout the band's set as there was stuff both really old and really new included in the mix.
Twenty years ago, Dokken would have been a no-brainer for the headlining spot at any event like this – although twenty years ago they more than likely would have been playing an arena rather than a Rib Cook-Off. But time has taken a bit away from the band and the departure of guitarist George Lynch in 1997 has had a profound impact even though Don Dokken has found a suitable replacement in Jon Levin (don't worry, the original lineup of Dokken is reuniting in 2011 and supposedly going to record a new album).
Just like LA Guns, Dokken ran through the big hits – including "Dream Warriors" from the Nightmare on Elm Street 3 soundtrack – as well as touched on some songs from 2008's Lightning Strikes Again.
I bailed on the show before Dokken was done, the drive back to Columbus seemed a little daunting at 11pm, but felt like I totally got my money's worth of great music and great people watching.
I'll leave you with this photo that illustrates how some people must have dug deep into their closest to find stuff they haven't worn in 20 years.