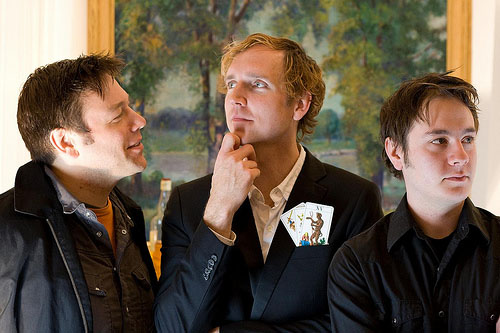 Here's the thing about Earwig, they've been nothing but consistent during the course of their long and storied history as part of the Columbus music scene. Anybody who has been following the band since the critically-acclaimed 1999 CD Perfect Past Tense (yes, I am well aware that this isn't the FIRST Earwig CD) knows what an Earwig CD is going to sound like probably even before Lizard McGee has started dreaming about his next batch of songs. And that's all cool, fool.
The players may have changed over the years (the current lineup, with Matt Wagner on bass and George Hondroulis on drums, is rock solid) but McGee's songwriting style, which has always reminded me of the North Carolina "scene" of the early-to-mid '90s (I'll be damned if I didn't confuse a Small23 CD for Earwig a few years back – just check out "True Zero Hook" by Small23), remains intact. The first three tracks ("Trees", "Star Cross'd", "Not About You") are vintage sounding Earwig.
Interesting choice for track 4 ("Her Heart"), a slower, acoustic-driven number that builds up kind of like a Poison power ballad like "Every Rose Has It's Thorn" or something like that (ha ha, I mean, yeah, it DOES do that but in no way, shape or form am I comparing Earwig to Poison). It's beautiful and makes me weepy.
In the same shopping trip to Half-Price Books (Graceland location) that resulted in the Small23 purchase mentioned a few paragraphs ago, I also scored Sleepyhead's 1994 Starduster. Is it a coincidence, then, that Earwig's got a song on Gibson Under Mountain called … "Sleepyhead"? I think not. The song doesn't sound like the band but does sound like something that could have been written in 1994 so take that for what it's worth.
My drive to work is 25 minutes in moderate traffic. Same on the way home. So that means that if I listen to a CD, I usually can hear 5 or 6 songs before bringing the car to a stop and a lot of times I don't make it to the last 2 tracks until months later when I finally decide to dedicate a full 45 minutes (or whatever the length of most CDs is) to give the whole thing a listen. That being said, the last two tracks on Gibson Under Mountain are – at least as of the time of this writing – my two favorites. "Shiny Morning" would have been a great track to open the CD with, brimming with energy and layered vocals in the chorus and something that resembles a guitar solo.
The last song? Holy sweet Jesus, this isn't the kind of thing I expected to find on an Earwig album, it breaks all the molds and McGee's opening guitar intro is somewhere between a tasty J.Mascis riff and something out of a surf movie. It's the type of song that begs to be played loud through headphones (which I did this afternoon when my kids were in the front yard fighting over Silly Bandz). This might be deserving of a slap to the face, but something about this song also reminds me of '90s alt-rock band Live. Seriously. Check it out.
Earwig's made Gibson Under Mountain available in a variety of formats so there really is no excuse not to pick up a copy, whether you buy a physical copy ($10) at Used Kids (or here) or download a digital copy ($7) through the band's Bandcamp site.