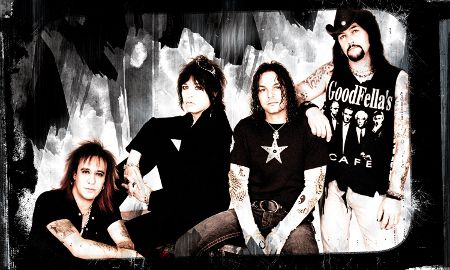 Cinderella plays tonight at the LC. Originally they were going to be opening for the Scorpions but word came down yesterday that the Scorpions had to pull out of the date to give singer Klaus Meine a few days to recover for a cold that he's been battling. Because of this, the show tonight (doors at 6) is FREE – no ticket required.
I had the chance to talk to Cinderella frontman Tom Keifer a few weeks ago for a feature that is running in this month's MELT Magazine. Here's that feature:
Tom Keifer's voice first started showing warning signs of trouble in 1991 and by year's end the Cinderella singer had been diagnosed with paresis of the vocal chords. Keifer underwent a number of surgeries and returned for 1994's Still Climbing but by that point, grunge reigned supreme and hair metal bands of the '80s were quickly cast aside. Cinderella soldiered on, hitting the road every couple of years.
In 2006, to celebrate the 20th anniversary of Night Songs, Cinderella hit the road with the band that gave them their first break, Poison. Keifer admits that it was during this tour that his voice started having problems again: "I lost pretty much every part of my register." A 2008 tour with Warrant and Lynch Mob was scraped before the first date because Keifer knew his voice wouldn't hold up.

"My voice started coming into focus in the last year and feeling good," Keifer told me from his studio in Nashville. "We just wanted to get back on the road so we informed our managers and agents to go out and get us some dates."
Off-and-on this summer, Cinderella will hit the road as the opening act on The Scorpions farewell tour, including a June 30 date at Lifestyles Community Pavilion. "We've toured with The Scorpions in the past over in Europe," Keifer says about the pairing, "So both bands are very familiar with each other. We have a history."
On this tour, Cinderella's not out promoting new material and Keifer says the band doesn't have any immediate plans to hop into a studio. "Everyone is just glad that my voice is back and strong and we can go out and play our music and do some shows, just kind of think about having some fun this summer," Keifer says.
Though Cinderella – which also includes guitarist Jeff LaBar (guitar), Eric Brittingham (bass) and Fred Coury (drums) – certainly played the part of a hair metal band back in the mid-to-late '80s with big hair and leather pants, the Philly band's blues sound was more akin to bands like The Rolling Stones, Led Zeppelin and Aerosmith. Keifer says that his interest in second generation blues-based rock bands as a teenager led to the discovery of the artists that influenced those bands.
"I remember getting a record when I was 17 or 18. Somebody gave me BB King – Live at the Regal and it was the first blues record I ever owned," Keifer recalls. "I heard his guitar and I was like 'Hey, that sounds like Jimmy Page.' My friend was like, 'No, the other way around!'"
These days, Keifer digs modern rock bands like the White Stripes and Jet, both of which incorporate aspects of the blues into their music, albeit in completely different ways from each other and from Cinderella. "The guitar riffs that Jack White plays, and all the slide and open tuning, is very Delta/Zeppelin-esque kind of stuff," Keifer says. "I always thought that was very cool, very creative."