Editor's note: "Overlooked in Ohio" is a feature in which we ask an Ohio-based artist/music enthusiast to tell us about a band or bands from the state of Ohio (past or present) that deserve some love. Our fifth installment comes courtesy of Eric Davidson — New Bomb Turks singer, rock scribe and now real-deal author. His new book We Never Learn: The Gunk Punk Undergut, 1988-2001
is out now. He'll read from it in Columbus at the Wexner Center on July 9, the night before the Turks take the stage with the Gibson Bros (featured in the book) at the Parking Lot Blowout. (Full Davidson bio at bottom.)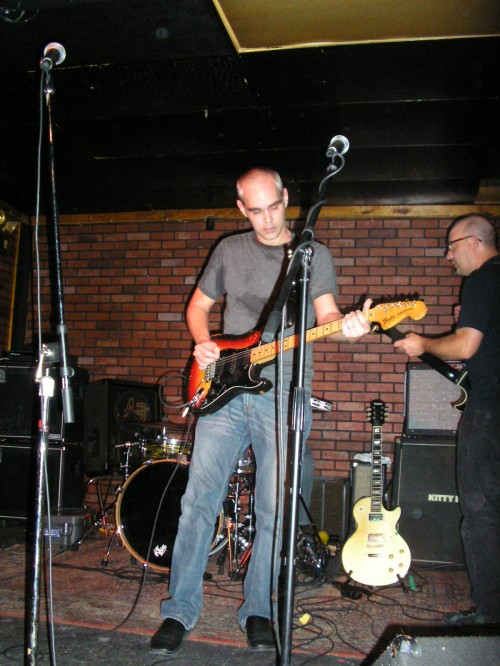 MP3: Prisonshake – It's A Ron Kinda World (1991, from 7″ on Estrus; original lineup)
MP3: Prisonshake – Irene (1993, from The Roaring Third)
Now I dig that this section of the Donewaiting landscape is meant to extol the virtues of a criminally forgotten Ohio-based band. So to quickly hit that aim, Prisonshake were great, and you should find their records. I just spent two years of my life digging up info on and extolling the virtues of something like 80-90 "forgotten" bands for my just-released first book, We Never Learn: The Gunk Punk Undergut, 1988-2001. Though it's a hefty tome (350+ pages), there was still TONS of stuff that I had to cut out, and that sadly included a section featuring Prisonshake, but more pointedly Prisonshake and Scat Records leader, Robert Griffin (above).
In the late 1980s, I saw Griffin sling his guitar with Prisonshake a few times before walking into my Parmatown Mall coffee shop job one day and finding him hired as my manager. This ruled, as over the course of a summer, Griffin proceeded to school me on Ethiopian blends and the Easter Monkeys. With two mixtapes (that I still have) and numerous conversations, I got a grad class in Cleveland ugh-rock history. Prisonshake created some of the better records in Clevo underground rock history, which is definitely saying something. But Griffin also went on to release loads of cool records through his label Scat, including introducing the world to Guided By Voices. As such, here's a portion of my book that got cut (well, a wee little made it into the tome), with Griffin giving a feral dog's eye view of Cleveland, OH gutter rock, circa late 1970s-90s:

Scat Records, now based in St. Louis, was started in Cleveland in 1989 by Robert Griffin, mainly as a way to release Prisonshake records. Griffin's amazing musical taste and attention to packaging hovered at a lofty height from the early Prisonshake productions through the early Guided By Voices albums he later released. But should you be lucky enough to scrounge up some Prisonshake records, don't expect scrunchy, scratchy, minute-long indie rock. Griffins' slightly varying lineups—anchored by him and singer Doug Enkler—boiled a Faces-styled barroom ribald with Enkler's teen start in trashcore bands the Offbeats and Squelch and Griffin's pre-Prisonshake art-core band Spike in Vain, an equal to contemporaries Big Black and Scratch Acid.
Around the time when the '80s and '90s did the baton hand-off, Griffin produced a literate, S&M-bent fanzine called Scat Seven that included a 7" record. And his band habits stretch back to 1979 when, still in his early teens, Griffin headed Cleveland's earliest hardcore bands, the Decapitators, and later the Dark.
"A good part of the Decapitators' sets were Electric Eels, Pagans, and Dead Boys covers," says Griffin. "Judging by how many bands used to cover 'Agitated,' we weren't the only ones who'd learned to play at the feet of nobodies. Bear in mind that the majority of the Eels' and Pagans' recordings had not even been released yet. Age was a problem into getting gigs, not that there were many to be had, even though we were being managed by Mike Hudson of the Pagans and Terminal Records. The message we got was that we'd arrived too late for the party. The Drome (legendary Cleveland new wave record shop that birthed the label of the same name) had closed, many of the movers and shakers had moved away, mostly to NYC, and the Kneecappers were getting reggae-fied on some songs. So we and a lot of other Cle punk/hardcore bands, wound up playing mostly in Kent or Akron in 1982. Many great shows and times were had, but that was all about hardcore, DIY, and a much more political thing. Once the Lakefront in Cleveland started booking punk bands, there was a bit of a split, with the Cle contingent being more about getting wasted in the parking lot and scamming your way into the bar for free. The reality was more complex than that, but this was how a lot of people viewed it then.
"It's important not to underestimate the atmosphere of Cleveland in those days. So much of it was empty, abandoned, or destroyed. One developed a root understanding of what inertia can do. Lots of us spent many joyful hours exploring abandoned warehouses in the Flats (the sooty industrial wasteland right on the Lake Erie shore) and elsewhere. These places were rarely guarded, only occasionally locked. It was like entering another world. Mike Mellen's photos on old Pere Ubu jackets capture it perfectly. I think back on it and the whole thing seems like a setting for a Philip K. Dick novel.
"But from 1890 to 1970, Cleveland was among the ten most populous cities in the U.S. Then it emptied out, bigtime. All the tycoons of industry (Carnegie, Rockefeller, others) that had made Cleveland their home left behind museums, libraries, concert halls. In addition to several universities, there was also the late Cooper School of Art, as well as the Cleveland Institute of Art and Cleveland Institute of Music. There was all this infrastructure. It wasn't hard to find out about interesting things or ideas in Cleveland, but it was hard to get anyone to care about it. Cleveland had all the trappings of a major metropolitan city, but a factory-worker mindset.
"But it's also the case that there were always freaks going their own way outside of that infrastructure. People in bands also participated in happenings at the Cleveland Public Theatre (vaudeville, performance art), there was Junkstock (bands and poets performing all day in a junkyard) and always a few fly-by-night places where weird shit went down. You could get away with just about anything—just don't expect anyone to pat you on the back for it.
"I was always reminded of the scene's insignificance while growing up, just in everyday ways. You went to the 'import' section to buy Pere Ubu albums, even if they were domestic pressings, never mind them being a local band! I went to a pretty massive high school, but no one there had even heard of the Dead Boys, even though they were on a major label. Pere Ubu was off to Europe all the time it seemed, but in Cleveland they barely scraped the public's consciousness. The Electric Eels' first 45 came out four years after they broke up, and on a British label! It doesn't give you much hope of making an impact. It's easier to say it's hopeless. We traveled a good bit actually, four U.S. tours…. But I suppose the thinking would be along the lines of, hey if you're going to fail at least you won't look stupid for it, because it wasn't like you were trying to be successful….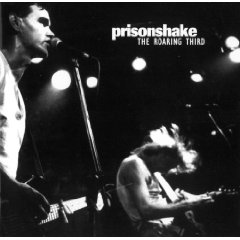 "[Eventually], there were a lot more bands and wider distribution capability. Everybody who played hardcore in 1984 was playing something else the next year and continued to grow over time. Peoples' tastes had always been pretty broad (why did so many people have SPK's Leichenschrei album?), but it didn't manifest until people really got tired of thrashing… and got a little better at their instruments. By the time Prisonshake started playing regularly in 1987, it wasn't a punk scene, but more a general underground rock scene, even though it still had a lot of the same people at its core. It was still a party scene too, especially in the summers. There were softball games every Sunday down in [a corner of] the Flats. Dinking away the previous night's hangover sometimes took precedent over fielding balls or being ready to hit.
"Over time, people were gathering at more and more places and it was less often about music. By the early '90s, the scene was bigger, it became more spread out in terms of locales; but it was also more watered-down. That us-against-the-world perspective was withering. And of course more of the bands sucked than ever before. I see Nirvana's success as the critical strike against rock-based underground music, after which all the strains further calcified into little genre fiefdoms, with a mostly castrated "indie rock" floating on top, with that strain declining in quality to the lame new wave rehash we have today.
"Looking back, it's more obvious that it had something to do with reconciling the punk rock experience with the older rock that people grew up on or were just discovering or reconsidering, then taking that somewhere of your own…. I think a lot of the people who came up in the hardcore era learned the lesson pretty well—fuck society, be yourself, write your own ticket.
"Originators are usually more interesting and wide-ranging than the genres they subsequently inspire or fortify. The mid-to-late 80s were a good time because these nowhere bands were going off in so many directions at once that it took a while for the genre tags to show up. I don't think a genre could go unnamed for more than a week in the internet age. So you could consider music more on its own merits for a little longer than today, because as soon as there's a name for it, assumptions follow."
10 Great Older Cleveland 45s That Aren't By The Pagans, Electric Eels, or Pere Ubu – by Robert Griffin
Neptune's Car – "Baking Bread"/"Lucky Charms" (Koolie)
The Chronics – "Test Tube Baby" / "Calling All Cardinals" (Nuclear)
X-X – "A" / "You're Full of Shit" (Drome)
Modern Art Studio – "Dear Dad" +3 (Mid-America Sound)
Polystyrene Jazz Band – "Drano in Your Veins" / "Circus Highlights" (Mustard)
Wild Giraffes – "New Era" / "Dreams Don't Last" (Neck)
Clocks – "Tick Tock Man" / "Confidentially, Renee" (Terminal)
Defnics – "51%" "Hello from Berlin" (Terminal)
Starvation Army – New Way to Burn EP (St. Valentine)
New Salem Witch Hunters – "Falling" / "I Wanna Be Your Lover" (St. Valentine)
—————–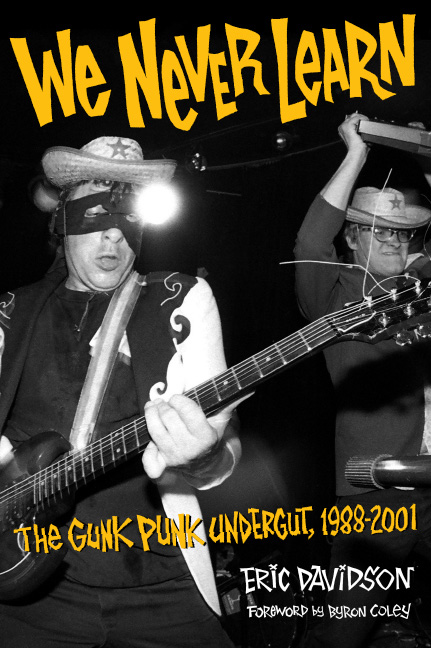 ERIC DAVIDSON first got paid 10 bucks for a Lou Reed record review in 1989. Then made nearly 100 times that as singer for longtime Columbus, OH punk band, New Bomb Turks, releasing van-loads of noise and touring all over the globe; keeping the freelance writing gigs going in between for Alternative Press, Village Voice, Seattle Stranger, Cleveland Scene, Agitreader.com, and many others. And after three years as Associate Editor at CMJ, he's recently released his first book We Never Learn: The Gunk Punk Undergut, 1988-2001 (Backbeat Books). He currently resides in Brooklyn, NY, but his heart is flopping around the floor of a dive somewhere in Cleveland…
—————
Prisonshake photo courtesy nextbestrecords.com, from a show at the Summit in Columbus in 2008