(Warrant rolls into Columbus on Friday night for a gig at Screamin Willie's (1921 Channingway Center Dr.))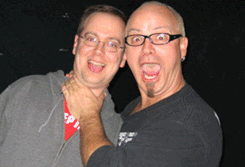 I've said it before and I'll say it again – the 17-year-old me can't believe that I'm trading e-mails with Warrant guitarist Joey Allen. Warrant was an integral part of my rock n' roll journalism career hobby as one of the first articles I wrote for my high school paper was a concert review of a pre-record-release Warrant in which I predicted big things for the L.A. band.
Five years ago I had an opportunity to speak with Joey for the first time as anything other than a fan and he couldn't have been nicer or more down to earth. He even gave me his cell phone number and said I could call whenever I wanted to chat.

At that time, Warrant was 4/5 original members with Jamie St. James (Black N' Blue) on lead vocals. In 2008 original singer Jani Lane returned to the band for a very short time before his demons got the best of him. Warrant was forced to bring in another new singer, this time it was Robert Mason (Cry of Love, Lynch Mob) who got the call and by all accounts he's breathing new life into the band while also delivering a fresh take on the band's classic hits ("Heaven", "Cherry Pie", "Down Boys", "Uncle Tom's Cabin").
I hit up Joey with some questions via e-mail. Here's a sample of the interview:
What does Robert bring to the band that differs from what Jani and Jaime brought to Warrant?
Robert Mason is absolutely 110% singer, period! He is a professional that holds his health, craft, and performance to the highest level. His ability to hit the notes on a nightly basis is amazing. He cares about the show so he takes care of himself. If I had to compare the three I would use the analogy that Robert is in the pro league MVP and Jani and Jamie are in AAA, when they should be in AA. Both of those guys could move back into the pros it if they just made a decision between music and booze, period!
Read the entire interview over at AtomicNed.com.