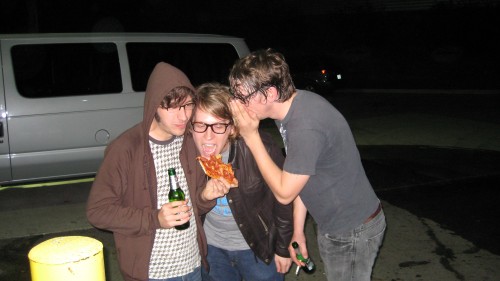 Photo of Pat Carney, Michael, and Gabe taken last time TBK played LC
(THE BLACK KEYS PLAY THE LC HERE IN COLUMBUS FRIDAY AUGUST 12th)
I accidentally set a phone interview up with Pat Carney, drummer of the Black Keys, during the same time as my little brother's bday party. On the upside, the interruption of my little brother's celebration informed me that my mom saw the Black Keys on Leno, and they talk about the Black Keys at my older brother's work.
They have family name recognition for obvious reasons: The band debuted number 3 in the nation with their newest  album "Brothers". People that like rap love them. Teenie boppers who like vampires love them. Movie stars love them. Men, who aren't pussies and wear jean jackets with patches expressing solidarity with Vietnam P.O.W's like them. And indie rockers still bump them next to Andrew Bird, St. Vincent, and Best Coast.
I am especially happy that you can now say "Tighten Up" around a female  without her thinking that its a joke about the size of her vagina. (Usually, they will say you have a small dick. The only argument around that is to blame the patriachy for making them shamefull of their big vaginas. It is a double standard)
My point. My mom and older brother know who the Black Keys are for the same reason they sold out the LC. They are doing well and working hard.
The downside it that Pat called me back while my mother was cutting watermelon on the back patio. So i scooted off to another room… I want to call it the family room. But I don't think we have ever called it that.
But because I was in a place that could be called a family room, I was interrupted by my little brother and my mother offering me watermelon,  soda, video games and conversations that would never pertain to any of my interests.
So a road exhausted Pat Carney forced himself to call me when he would rather be napping to promote a show that was already sold-out, because he didn't want his younger brother Mike to harass him anymore and I was mad awkward because I didn't want to curse or speak on ellicit matters in the prescence of those that share genes with me.
With that context read about the Nigerian Bank, Touring, Truth and Soul, Lollapoolaza, the Rza, Columbus, and Mike Carney the life coach.
So I saw that the Nigerian Bank hacked into your email account?
Pat Carney: Someone in Nigeria did. I got a gmail notification that my account was compromised from Nigeria. They sent a mass email out to my contacts saying I was stranded and I needed money.
Did people start hitting you asking why you were in Nigeria?
The email said I was in the UK. I did receive a million texts wondering why I needed money.
Thats funny because you have been touring non-stop..
We haven't had a real day off since July 17th. A Day with no travel.
How do you cope with touring non-stop?
We are both really tired. We sleep as much as possible.
The new record has done really well. What do you attribute the breakthough success on this album to?
I don't really know. I think its our best record. I think all our records are good. I don't really know.
Normally you play as a two-piece. For this tour, you've added 2 musicians. How has that gone?

It's really really fun. It's also the only way we can do the songs on the new record. Because the way we wrote them. It's a lot of fun to mix it up at the show. We do somethings as a two piece. We do somethings as 4 piece.
Who are the two musicians?
They are our friends Nick and Leon from New York.
Are they in El-Michel's Affair?
Yeah.  Yeah. They have both been in a lot of different bands. They've done a lot of cool shit.
Do you think the extra musician thing will be something you will keep with in the live show?
To a certain extent yeah. Sure.
On Donewaiting we do this column called Overlooked in Ohio. We had like Jerry Dannemiller, the marketing director of the Wex. He talked about an Ohio record that he thought people slept on.
Awhile back I was at your apartment with Mike, and you were showing me a record from Akron. I think they were from Akron..maybe some guys from Party of Helicopters were involved? I can't remember what they are called.
Yeah ..right. The Man I Fell In Love With.
What do you love about that record?
It's an EP. But it's amazing. They made it in one day. They got into a drunken fight the next day. And broke up before it came out. Which a standard fair for most bands from Kent. I don't know.
It is ahead of its time.
After this leg,…You have the tour with Kings of Leon.
This tour ends the day after the show in Columbus. We do Detriot then we get a couple weeks off. Then we go out with Kings of Leon for three weeks. Then we go on a West Coast run. It goes back up through Texas for Austin City Limits. And then we go to Europe after that.
(Wes Flexner Note: a google search has found that Kings of Leon do like Lady Gaga, Jay-z,Eminem, new country numbers. So they are a big band. DJ Detox and I were completely ignorant of this fact so we drove to MYBAR on 161 and Sawmill. We asked people what their favorite Kings of Leon songs are. Apprehently "Sex on Fire" is a huge song. But there is a debate if newer or older Kings of Leon material is better. The other reoccuring comments were that Kings of Leon are huge in Europe and Apprehently there was a whole season of Entourage that played nothing but Kings of Leon. So touring with them is a a good idea)
How was Lollapoolza?
It was good. Pretty Exciting because it was such a big crowd. There were 40,000-50,000 people there…It was panic inducing.
How do you deal with big crowds? Do you just put then out of your heads and start playing?
Yeah, hopefully thats what happens. Sometimes it gets to you.
What are some of the highlights this time around?
Lollapoolaza was scary but amazing. Bonnooroo is really good…There is always the negative with the positive. So with Bonorroo we didn't go on stage until 1230. So we didnt get done until like 2. Then we had to drive straight to the airport. Then you get up at 7. So it can get exhausting.
So the time it takes to be a big rock n roll, band probably does leave much time for rap projects at this point?
No not really at all.
Something like Blakroc. Now that time has passed ..Whats your perspective on that now?
I don't listen to it anymore. I'm glad that we did it. I think its good.
Whats it like growing up listening to the RZA and now you've worked with him?
Um..yeah. We are still involved with that guy.
hmm…
It's really surreal.
Umm…So you're first show in Columbus was at Used Kids?
Yeah it was..The I think our second show in Columbus was with the Dotson's at Little Brothers. Maybe..actually you know what. Our first show in Columbus was actually at Skullys. We had to bring in our own PA. They didn't have a PA yet. We got paid 50 dollars.
Next time your played Skullys was for the Jack Daniel's thing. Being from Ohio…does Used Kids have a fond memory in you head?
Before they had that fire. When the Annex was still open. I remember being down in the basement. I hung out there quite a bit because my step-mom family was from there. So we hung out there for Thanksgiving. In Akron at the time we had nothing remotely close. We had nothing remotely as cool as Used Kids. Still is probably one of the best record stores in the country especially for getting used vinyl.
I discovered a lot of music at that store. A lot of garage rock actually.
What are some garage records you remember getting there?
The Henchmen.The Gories. Second-hand stuff. Weird comps in 1994. Just being a freshman in High School buying records because the covers looked cool.
Do you still get excitement when you go to record stores?
Uh…I don't do much record shopping when I'm on tour because it's such a fucking pain. Although, I did just go to Dusty Groove in Chicago and bought a lot of records. Then I have to lug them around.
You spoke on buying records as kid because the covers looked cool…Your brother Mike. What do you make of his role in your band's direction?
Mike is responsible for all of our artwork. And more than that. I trust his opinion about lots of other stuff. He has really good taste in music, clothes and all that other shit. He is basically like my life coach…..Although, He can't fully be my life coach because he can be such a fucking brat at times. He is the sassiest texter I have ever encountered. My little brother.
Can I ask you about the fight with the Locust at More Than Music?
I barely remember it. I do know it was 8 years ago.