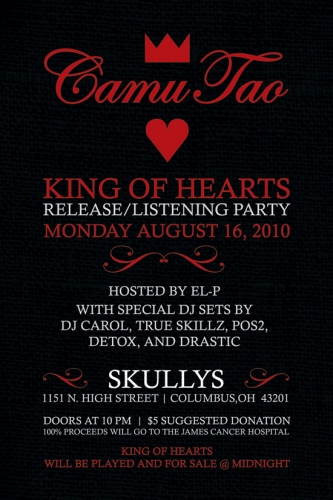 Welp. I'd link to think anyone who claims to like music is aware of this. But we all have our own lives to lead. HOWEVER, All Eyes in the underground hip hop galaxy focus on our city as we being the home of some of the greatest talent ever celebrate the release of Camu Tao's King of Hearts album on Def Jux/Fat Possum Records.
El-P is flying in to present our city the album, and enjoy the city that Camu loved.
ooohh so a national release in Columbus…say word..
but wait..lets not get too cool.
All the proceeds from the door benefit the James Cancer Center.
So..hopefully you will come and join us.
I feel like this is one of the musical moments that someone with pyrotechnics at the Schott could'nt trump.
5 dollar suggested donation.
DJ Pos 2, DJ Detox, DJ Carol, DJ True Skillz, and DJ Drastic on the tables
Hoster by El-Producto.
Album plays at midnight.
the packaging will make you cry.
In the Short North. At Skullys. On High Street. In Columbus Ohio.