Editor's note: "Overlooked in Ohio" is a feature in which we ask an Ohio-based artist/music enthusiast to tell us about a band or bands from the state of Ohio (past or present) that deserve some love. Our sixth installment comes courtesy of Nick Schuld — resurrecter of Datapanik, player in Obviouslies and unearther of various Ohio treasures over at Minimum Tillage Farming. Nick has been here too long and is now insane.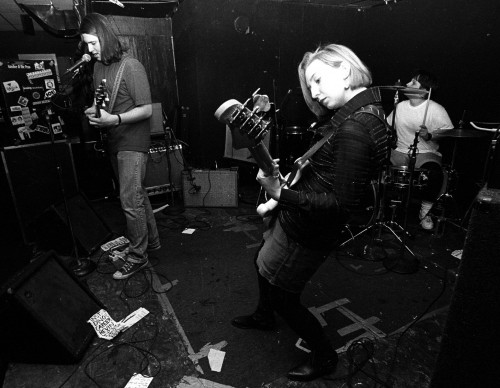 Photos by Jay Brown; copyright 2010 jfotoman
MP3: Assorted tracks from Cowtown EP, 45s, etc. (mediafire archive courtesy Minimum Tillage Farming)
MP3: Walk
A little while before I moved to Columbus in the summer of 1988 I discovered the glorious phenomenon that is the used record shop, so one of the first things I did when I got here was to scan the yellow pages for all the locals. At the time, cds still seemed neat and lotsa previously hard-to-find (for me at least, in small-town Virginia) stuff was showing up on that most durable of physical formats (*ahem*), so I took my giant Bekins box of tapes to Used Kids and wandered upstairs soon after with loot in hand to "little Mag's" – the relatively short-lived cousin of the still-thriving shop now calling the Short North home – since Used Kids was still strictly analog. (Well, maybe they had a few discs in a magazine rack by the door – but they woulda prolly been a little to the current/good/hip/obscure side of the Misfits and Lemonheads ones I was jazzed about.) Little Mag's was cool, trafficked mostly in t-shirts, and closed pretty soon after.
Fortunately this fate didn't befall Used Kids (tho' I did buy a t-shirt there once), and in the following months I started going down to the shop whenever I could find a ride or felt sufficiently over-enthusiastic enough to ride my skateboard from the suburbs and back. One day I bought a My Bloody Valentine tape and the guy behind the counter mentioned how good the upcoming show at the Ohio Union Ballroom was gonna be. I think I averted my eyes and barely mumble-nodded in agreement on my way out the door – for I was not always the obnoxiously assertive lug you all now recognize – but after the show I grabbed the fellow and yelled over the ringing in my ears how indeed it WAS quite the revelation. He grinned and said the last song was on their best record and had I heard it? I said no and he said he'd tape it for me; thus, my introduction to the illustrious Ron House.
Not too long after that I walked into the shop and Ron said he'd held aside a record for me (knowing my affinity for whatever you wanna call the British stuff from those days) that co-employee Bela had put out; he said one of the bands on the record was from Columbus but had locked onto that noisy-yet-sorta-feminine anglo-aesthetic in their own way. The record – the Cowtown E.P. Vol. 1 – was co-released by Anyway Stuff (Bela's brand-spankin'-new partnership with Jerry Wick, another Used Kids then-employee) and Craig Regala's scene-defining Datapanik. The other songs on the record are killer (one Jerry wrote for Marcy Mays to sing with Scrawl but then kept for his own band Gaunt, a remixed "Negotiate Nothing" from Jim Shepard's V-3, and a truncated teaser of "Shell" from the mighty Greenhorn – my fave band to see in town and subjects of this very column not long ago), but the tune to which Ron was referring – "Walk" by Belreve – bowled me straight over! Four chords (total!) that seemed completely made up by the guitar player, a gorgeous vocal melody three-quarters buried by the cacophony, HUGE drums and the growliest bass this side of Motorhead, the most ineptly perfect rock'n'roll party guitar solo, lyrics that'd kick any teenage mind's ass ("Seems much too long since I saw you last; say your heart is broken – it makes me wanna laugh"), a wonderful inability to make it ten seconds past the two-minute mark…indeed, the tune stands perfectly alongside all that's good about the post-C86/pre-shoegaze-ubiquity era in England (the first few Lush and Ride singles, Tse Tse Fly, Strawberry Story – basically after the jangle turned to crunch and before everything became overly somnambulic), but goes it a good stretch better with the shrugged shoulders inherent in all midwest underground endeavors (you are not going to make it, so leave the fact that yer bummed about 1) that, and 2) the fact that, therefore, you go to some stupid job all day underneath feigned indifference about the apparent level of professionalism/quality necessary to convince most anyone that you actually even exist), an infectious joie de vivre and a bitter – yet sometimes giddy – sense of humor, and an inherent understanding of unhinged, backroom rock'n'roll (from Don and Dewey right thru to songwriter/guitar player Matt's other combo, the New Bomb Turks) providing a backbone that's sorely missed in some of their predecessors and contemporaries…and all this prior to like-minders like the Swirlies and Henry's Dress getting their vans outta the
garage!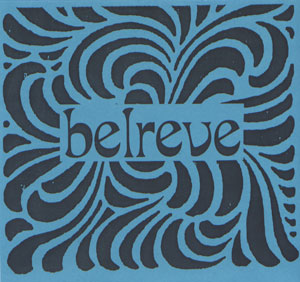 Now I'm oftentimes fine with a buncha dudes sellin' their fantasies to ya over buckets o' swill and under lighting that runs the gamut from dim to broken, but in my not-so-humble-opinion it ain't gonna go that next level unless there's a lady or two in the room. And in Belreve, two-thirds of the room was ladies: Liz on bass and Jenny on drums. I think Jenny was just learning (from the same book as Jeff R. from Gaunt, as the joke went) and I have no idea whether Liz played with anyone prior, but man these three were made for each other. Live they were a locked groove; no huge Marshall stacks, no Ampeg refrigerators – no need. Liz's bass was a rumbling wire picking out aspects of those odd chords of Matt's, accentuating this or that tone, so definite through the shifting fuzz; Jenny's drumming is still some of the most solid I've ever seen. Sometimes she'd slam the kick and snare at the same time, providing something almost dance-influenced and post-punk, while others she'd leave a little space and then pick it back up the next go-round, like a flattened-out Ronettes. Onstage they were unassuming to the point of stealth, but once those couple intro bars of guitar gave over into that armhair-raising shock-moment where the whole band crackled to instantaneous electrical life…well, forget those nights where ya had to get real bored to listen to the band.
I didn't get to see 'em too many times, and they weren't around too long – a year or three in the early '90s. One freezing Anyway Fest evening in the perfect old Stache's building sticks way out, tho'. I convinced my friend Yvonne that this was the thing to do – having no car, I had to – but after a few hours of not much happening, including the firing up of the room's heater (guess it wasn't worth it to waste $$ on the ten or twelve of us in attendance), she remained unconvinced. "Just stick it out a little bit longer," I begged. "I promise you'll thank me." I think they've used looks like she gave me to unhinge the jaws of prospective stoolies in the interrogation room. Anyhow, something like Appalachian Death Ride gave way to Waybald and she started to look at me a different way, and finally – and this is nearing the one o'clock mark – Matt wandered onstage and over to the mic. "We're just gonna play a coupla songs and you can go, we promise. We're tired and have to work in the morning too." Maybe they played for twenty minutes, but Yvonne wasn't mad anymore.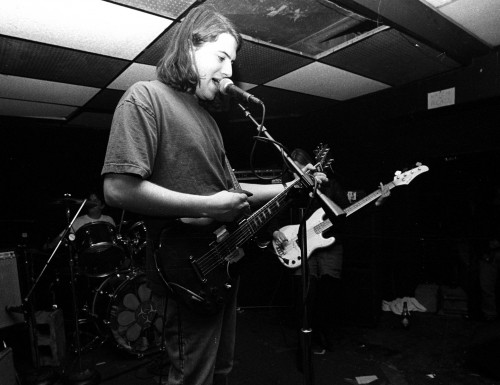 All the sweet and all the sad, those juxtapositions that move your chemicals around when they're revealed to you by only the most wonderfully devastating songs that reverberate to your own personal waves – Belreve is inside 'em. They're the very stuff those are made of, the barbed and bright innards that shift into muddy untouchability… those moments that knock you to your knees are stretched into whole songs, that vague and nervous feeling that only holds for seconds suspended for the whole time they're on. Whole lines go by feeling like a single word – tho' one you don't quite understand despite the fact that it connects – and vice versa. And – unlike a whole mess of bands in this town – their records aren't a pale version of their reality or something to be appreciated in a different way somewhere alongside. They're honest moments, real and right and affecting and necessary, not little sample bubbles or reflections but true microcosms, the clean, pure aspects strident thru the grime of the amps and four-tracks and no matter how beat up your copies are. I miss that band, and I encourage you to glean what you can from what you can find. They were a very special and very rare thing.