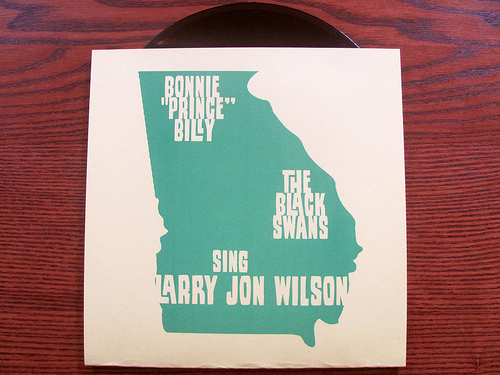 Many are still mourning the passing of immensely talented and woefully overlooked country singer Larry Jon Wilson. But to celebrate his music, Bonnie "Prince" Billy and Columbus's the Black Swans "Sing Larry Jon Wilson" on this new Drag City seven-inch. The Bonnie Prince, with some help from Cheyenne Mize, tackles "Bertrand My Son" off Wilson's 1975 Monument Records debut New Beginnings. Jerry DeCicca, who produced LJW's self-titled "comeback" album released on Drag City last year (my fav of '09), enlisted his Black Swans to do "The Man I Wish For You," an unreleased song that DeCicca says he found "rotting away on a reel-to-reel in the EMI basement in Nashville." (Drummer/Orchestraville alum Keith Hanlon recorded the session at the Grandview Heights Public Library.)
LJW is a particularly difficult artist to cover. His rich, Georgia baritone and singular guitar style gave all his songs an inimitable feel, and any songs he covered became Wilsonized so much that you'd think they were his songs all along. These two tracks succeed in much the same way while still paying homage and communicating a reverence to a man DeCicca and Oldham revered.
Artwork was screenprinted by Nick Nocera of Alison Rose. In Columbus, you can find several copies for $7 apiece at Yeah, Me Too coffee in Clintonville; the rest of the world will have to wait till Sept. 21 when Drag City will exclusively handle distro.
Long live Larry Jon Wilson.