The Dollyrots will be at Skully's on Monday, August 30 along with The Cliks and Hunter Valentine. Sure, it's a Monday night, but the show starts at 8 and should be over before anybody turns into a pumpkin.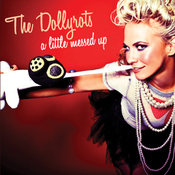 I hit up a campus-area CD store last week, the day A Little Messed Up was released. The CD store owner told me that his UPS shipment hadn't come in for the day and he wasn't sure whether or not this CD would be part of his shipment.
"So, you know their stuff. What section should I put it in?" he asked. I was stumped.
"Well, they're from the LA punk scene, but, really, they have a pop-rock edge," I said.
Put a million bucks in Kelly, Luis, and Chris's bank accounts and you might confuse them for one of the manufactured Disney teen pop queens (Selena Gomez, Demi Lovato, etc.) but this trio is the real deal. They just happen to write (their own) sugary sweet songs with spit-and-snarl in the vocals and guitar. It's the kind of stuff that has huge potential crossover appeal – from fans of '90s alt.rock female-fronted bands (ie – Veruca Salt, Letters to Cleo, The Muffs) to old punk legends (The Buzzcocks) to newer pop-rock radio bands (Bowling for Soup), there's something for a large cross section of music lovers in The Dollyrots music.


Now, I'll be totally honest when I say that the first time I listened to A Little Messed Up, I was just a tad bit disappointed. I didn't think the hooks of Because I'm Awesome (my second favorite release of 2007) were there. But the more I've listened to this CD in the last week, the more I think that The Dollyrots may have bettered their 2007 release (Sheeesh, does that mean it might end up on the top of my 2010 list? You'll have to wait and see). I'm a sucker for bands like Veruca Salt and Letters to Cleo and the first half of A Little Messed Up reminds me of those two bands – or maybe a mix of those two bands (like Kay Hanley fronting Veruca Salt in a new band called Letters to Veruca; Hanley, coincidentally, did some writing with The Dollyrots on this album). Tell me "Pour Tous Jours" doesn't sound like something from a LTC album.
The second half of the CD definitely goes back to the energetic, punkier sounds of The Dollyrots earlier efforts. I'm not quite sure if this is where the band's heart really is or if they are moving towards a more polished sound. Either way, I like how all the songs don't sound the same and if you think of this as a record or cassette, there are two distinct sides.