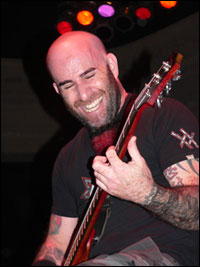 Scott Ian of Anthrax is one of metal's most recognizable characters. In addition to his 25 year career in the band, Ian's also a regular fixture on VH1 and MTV when they run shows like "100 Greatest Metal Songs of All Time".
I remember the first time I heard Anthrax, Z-Rock had "Indians", from the 1987 release Among the Living, in rotation and played it alongside other metal bands of that time period though most were of the lipstick-and-leather variety. From that point on, I was hooked on the NYC-style thrash metal. Inadvertently, Scott turned me onto a slew of other bands simply by wearing those bands t-shirts in photo shoots for magazines like RIP, Circus and Hit Parader. It was because of one of these photos that I became a huge Fishbone fan (something you'll hear briefly mentioned in my interview).
When Scott Ian called me a few weeks ago to talk about the Jagermeister Tour (stopping in Columbus this Sunday) featuring Anthrax, Megadeth, and Slayer, the 18-year-old in me was in awe.
DOWNLOAD: Scott Ian interview
Anthrax, Megadeth and Slayer play at Lifestyle Communities Pavilion on Sunday, October 11. Tickets are $45, day of show. Gates open at 6, Anthrax hits the stage at 6:55.