This is hard for me to admit, but I think I've outgrown Jimmy Eat World. The guys still make great music but the last two albums haven't been the start-to-finish stunners that their earlier work was. I'm not sure where they got lost along the way. Maybe it was the mainstream success of "The Middle" that demonstrated to the guys that they could write a decent pop-rock song that both emo kids and sorority girls would find appealing. That's not to say the last two CDs (2007's Chase This Light, 2010's Invented) don't contain some good, "greatest hits"-type material, but the midtempo, "belong in movie trailers" songs lack the punch of earlier tracks like "Sweetness" and "Thinking, That's All".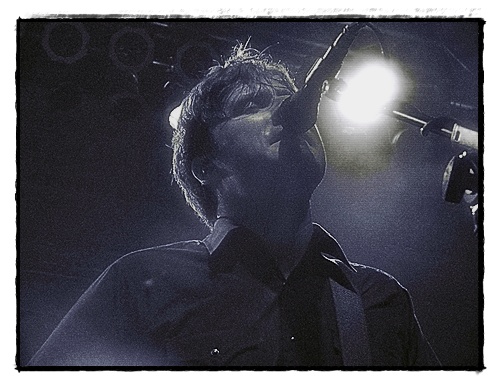 Jimmy Eat World returned to Columbus this past Saturday nigh for the first time in nearly 6 years (if I'm not mistaken) for a sold-out show at the Newport with We Were Promised Jetpacks. I still find it hard to believe – and, believe me, I'll tell anybody that'll listen – that I saw Jimmy Eat World play Bernie's sometime in either 1994 or 1995 on the Static Prevails tour. That wasn't a great show, Jim Adkins kept breaking guitar strings and eventually just gave up on changing strings and retuning causing the band to cut their set short. But, for the dozen of us in attendance, it was the first, promising glimpse at this Arizona four piece that was just a few years away from bringing emo rock to the mainstream.

Though consisting of the same four members, the 2010 version of Jimmy Eat World is clearly a group of polished professionals that don't have to worry about breaking strings or blowing out an overloaded circuit breaker (which is what happened during their second Columbus performance with the Promise Ring at Woody's in the Ohio State Union in the late '90s). They spoon fed the mostly college-aged audience hook after hook, hit after hit throughout the 21-song set distributed pretty evenly across 5 of the band's 6 CDs (I'm not sure they care to acknowledge Static Prevails as it's been years since they've played anything off that one live). Without a doubt, the opening four ("Bleed American", "Your New Aesthetic", "A Praise Chorus", "My Best Theory") and closing four ("23", "Pain", "The Middle", "Sweetness") were the highlights with the stuff in between going back and forth between the midtempo and slower stuff.
I felt a little like a stick in the mud as I walked out of the Newport after the closing notes "Sweetness" rang through the sacred music venue and watched hundreds of happy, satisfied, and smiling kids high fiving each other and proclaiming this to be "the best concert I've ever been to". I had that feeling once with this band and I'm glad to turn them over to this new generation of music fans to enjoy … I just wish they had had a chance to see them "back in the day" when the intensity was driving them and there were hiccups along the way.
While it felt like a passing of the guard with regards to Jimmy Eat World's set, most of the 1,500+ of us at the Newport were experiencing Scotland's latest import, We Were Promised Jetpacks for the first time. The band's sound isn't that different than their fellow countrymen Frightened Rabbit and The Twilight Sad – all 3 of which are direct descendants of Idlewild and The Delgados – though each brings a slightly different nuance to their individual sounds. Having experienced these guys play in this setting, I wish I had caught them early this year at a Benco booked show at The Summit. I won't make that mistake of missing them in a smaller venue (that is, if they haven't outgrown those intimate settings) next time around.