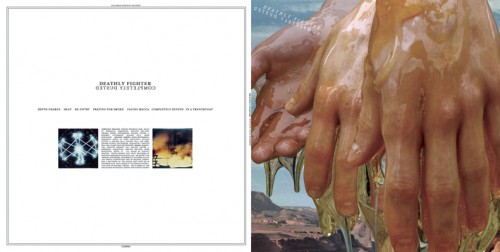 MP3-Deathly Fighter- DEPTH CHARGE
To say Deathly Fighter's Depth Charge sounds like the start of the end of the human condition would be very obvious. To say that you want to have outdoor sex on rubble, and run around with expensive robes and looted items is really obvious.
What would you do with lobsters at Krogers? And would you head to Easton, or the Horseshoe? Or would either be too much work to make a "come-up"?
Do you have guns?
Alot of my friends have been going to the gun shows on the low. They don't even tell me. Do you have any friends that are stockpiling guns legally?
That is weird thing to think about when you are looking at the price of gas.
When someone tells you aliens will land anytime…do you act like you already knew that?
Do you like Obama or 5 Black Isrealites outside saying he is in the Illumanti more?
A.Your girlfriend would rather you shop at Easton.
This song is off Deathly Fighter's excellent COMPLETELY DUSTED which is now available on Columbus DIscount Records