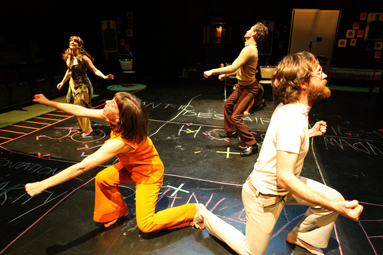 While donewaiting is primarily your source for what's happening in music, there are other events on occasion worth mentioning. Tonight in the Wex's performance space, Austin-based theater company Rude Mechs (aka Rude Mechanicals) will open their four day run of The Method Gun. If you've ever studied acting or have close friends who do, you're probably all too familiar with method acting.
Well, this show is a fictional biography of actress/actor-training guru Stella Burden who (before emigrating to South Africa) created a new theatrical teaching method called "the Approach." This training melded Western techniques with various dangerous exercises, one of which (The Method Gun) lead to her demise. The production follows Burden's left-behind colleagues through rehearsals of A Streetcar Named Desire. What develops is an interesting dissection of the well-known production and its characters.
This award-winning troupe has been performing this and other plays both nationally and internationally for 15 years now. Their unique, original approach to theater has deliberately turned "plays" into "performances." Also, join the cast and crew after the show at your local watering hole and mine, Bodega, for "A Rude After Party with Rude Mechs".