Photo by Danielle Kline
I did this interview with Waka Flocka Flame over a month ago. This is before his album Flockavelli dropped. I had seen Waka live so in the interview when Waka says I am gonna have to take a break by track 4, that is not even a lie.
The energy at Waka's shows are delivered on Flockaveli.
If you are at CMJ I hope you RSVPd to Waka Flocka Flame at the Fadar Fort Saturday 10/23 in on 38 Delancy St, at Forsyth at 9:05 pm. Royal Bangs, Glasser, and Freddie Gibbs are playing there as well.
If i was in NYC I'd go to that and then Get Right NYC at the Knitting Factory in Brooklyn
Publicist:Wes, are you ready to talk to Waka?
Me:Sure
WAKA FLOCKA FLAME:I GO HARD IN THE MUTHAFUCKIN PAINT, N###A.
Me:uh…HOW DOES IT FEEL TO BE THE HARDEST OUT?
Waka Flocka Flame:Oh. We just tryin' to drop this album.
Me:No one who listened to punk fucks doesn't fuck with punk anymore more. They all listen to Waka.
Waka Flocka Flame:For real?
Me:Yeah. You fuck with metal or punk? All these rock people they are grown people cryin into their instruments. They sound like they listen to their parents music. All the punk kids I know stopped listening to rock music and they all listen to death metal and Waka Flocka Flame.
Waka Flocka Flame:I am from Atlanta. So I'm just trying to keep it krunk. That is where it comes from.


Me:So tell me about about your new album, Flockaveli.
Waka:It's deep. It's based on a book.

Me:Oh you talking about the Prince. What is that book about?
Waka:Me Against the World. That is what that book is about.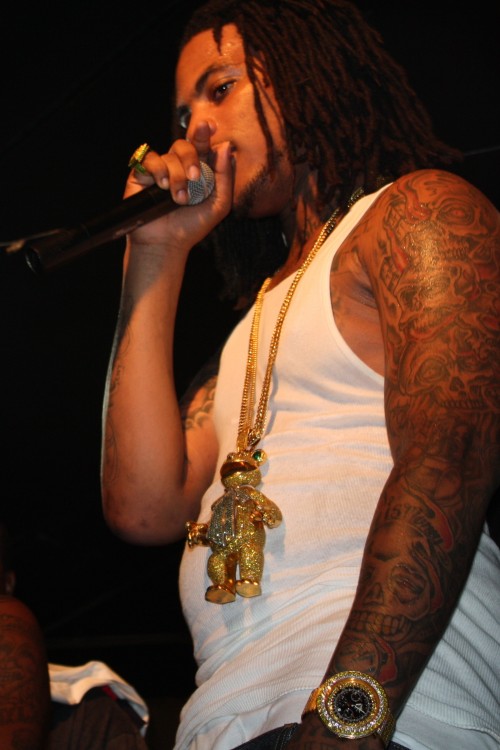 Me:So tell me about the album?
Waka Flocka Flame:OH MAN. Track 1 is hard. Track two. By track 4 you  are going to have  just stop.
Me:What's up with track 4?
Waka Flocka Flame:Well, you will going so hard, that you are going to have to take rest by track 4.
Me:Who is all on the album?
Waka Flocka Flame:We have everyone. Bricksquad, Pastor Troy. Roscoe Dash. Wale
Me:Are you still cool with Gucci Mane?
Waka Flocka Flame: Yeah. Gucci and I are cool.
Me-You are originally from New York. How does that factor in?
Waka Flocka Flame:Hip Hop started in New York. If you are making Hip Hop music then New York is a part of you. That is where Hip Hop came from.
Me:You've been shot, you've gone to jail. What do you make of that?
Waka Flocka Flame:I'm blessed. I've changed my life. Everything I do is positive. I am all about positivity. I'm real positive.

Me:I've seen you play in Columbus, Ohio. The energy was crazy. People were headbanging and moshing. Again, so punk. What I liked was everyone was going ham, and then you dropped your Fozzie piece, then the whole crowd stopped and helped you look for your Fozzie piece. How are you so fortuanate to always get Fozzie back.
Waka Flocka Flame:I got the best fans. I am just blessed to have people that come out.
Me-Well, thats all I got. Looking forward to the album, and the next show.
Waka Flocka Flame:THANK YOU. I'M ALL THE WAY TURNT UP RIGHT NOW.
grainy footie of Waka Flocka Flame in Columbus, Ohio,