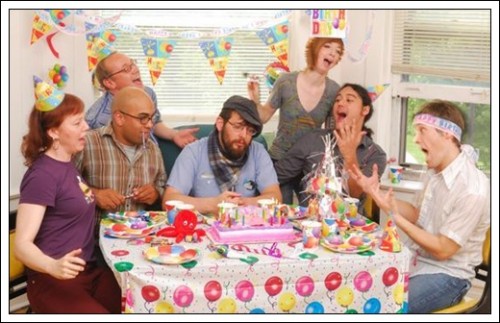 Certainly joyful and colorful in the press photo, The Scotland Yard Gospel Choir's sound comes from a darker place. The band is built around the songwriting of former drug dealer Elia whose lyrics deal with issues of drug abuse, mental illness and sexual identity. It's no wonder, then, that Elia comes off as a bit as the bastard child of Morrissey and Javis Cocker (Pulp) – go ahead, picture THAT consummation in your dirty, dirty mind!
While comparisons to Arcade Fire, The Decemberists, and Mekons make sense, to me, SYGC comes off as the drinking-and-smoking, younger troublemaking cousin of the limp-wristed Belle & Sebastian.
Benco Presents The Scotland Yard Gospel Choir and Maza Blaska at Rumba Cafe. Cover charge is $5 and something tells me you can probably head over after Benco's other show (Brendan Benson/The Posies) and still see a full set by SYGC.