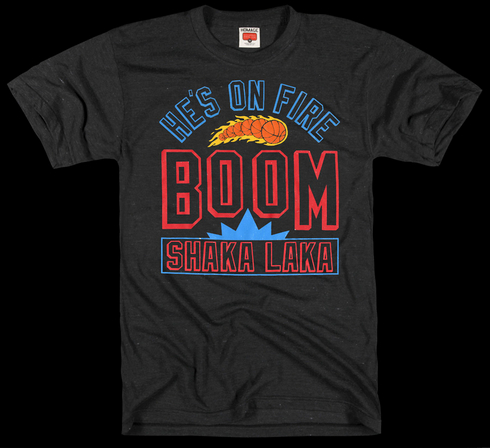 Mick Boogie, Homage, Dime , Major and MTVN.com have teamed up to celebrate the refreshed and remixed version of the greatest basketball video game of all time, NBA Jam.
The Homage Tee is above.
Download Mick Boogie's 93 til Infinity tape here.
Seriously, a new instant classic paying homage to one of the greatest eras of Hip Hop.
It has Das Efx, Souls Of Mischief, Gangstarr, Naughty By Nature, Dre, Grand Puba, Original Flavor, and Early Fugees…remixes…
Boogie's 93 til Infinity is like being a latch-key kid sitting in your friend's mom's house after school. Maybe you just went bombing. Maybe you just watched YO! MTV Raps.
Your friend just copped all the 12 inches with the exclusive B-sides that y'all heard on a bootleg Stretch and Bobbie mix and he is dubbing them to tape.
And you are playing NBA Jams.
Except now you are grown and have your own apartment and don't wear X hats that tie on the top.
Homage tee here
The good people at Homage got me in touch with Mick Boogie to walk down memory lane.
Did you play NBA Jam at the arcade?
Once or twice… there wasn't really an arcade near my house. But it was always THE popular game when I did go.
Did you have NBA Jam at home? Or did one of your friends? What game system?
Yeah… for Sega Genesis.
Did you play with Mark Price and Brad Daugherty? If not, who was your squad?
I'm pretty sure I played as Celtics. Always been my favorite team since I was a little kid.
Did you unlock any secret players? Which ones? Do you remember any codes?
I am way too old to remember any of that. Lol.
Starter jacket or Carhart?
Starter all the way!

Timberlands or Cortez Classics?
Neither… Reebok Pumps and British Knights.
East Coast Stomp or Crip Walk?
I don't dance. Lol.
Prince Du Jour, Joe Clair or Big Tigger?
Joe Clair and Big Lez.
Dre or Ed Lover?
Doctor Dre for sure… seeing turntables every week on TV was exciting!
Judgement Night Soundtrack or Viva La Hova?
Viva La Hova, son! Lol… but the De La Soul/Teenage Fanclub song on Judgement Night is classic!
Did you used to get Stretch and Bobbito tapes? How would you get them?
Yes… I used to drive to Pittsburgh and get them at a record store, I believe. Maybe mail ordered a few, also. They influenced me to do college radio!
Were you living in Poland,Ohio at this time? What was crackin' Hip Hop wise in 93-95 in Poland, Ohio?
I was in High School in Poland, OH… yes. Nothing was cracking hip-hop wise there. Thank god I had my discman and my car.
You just dropped 93 til Infinity. Every Hiero 12 used to have a new b-side or remix..
Do you remember any remixes or 12 inch exclusives that made you really stoked?
Yes… when Del dropped "Undisputed Champs" with Q-Tip. Insane!
With Serato crackin.. does anyone promo you doubles anymore?
Lol… No.
What was your first set-up? When did you evolve into Technics?
A Realistic mixer, one discman, and a Gerard turntable. It sucked. But I learned. Technics came when I went to college.
The cover of 93 Til Infinity says remixes inspired by NBA Jam. What's the reasoning?
Well, the new NBA JAM is essentially a dope remix of the original. And I thought… why not do a project mixing all the dope rare remixes from classic 93 era songs.
Who is on this tape?
All my faves. Pete Rock & CL, De La Soul, Tribe, Snoop, Das EFX, and more.
Do you think you could beat Common in the best 3 out 5 in NBA Live? How about NBA Jam?
Lol… probably not. That's funny, tho.
I used to get stoked seeing you wear Homage in magazines and at shows.
How did you get hip to Homage?
Just by noticing what they do. They are awesome at making the old vintage stuff look so fresh. Love it!
You've worked with Peter Bjorn & John, and Coldplay? Any rock groups you've been checking out?
I love the XX. I think the Black Kids are dope. You can check out a lot of the indie rock stuff I like on the music section of my website. Download the Fashion Week mixtapes.
How do you balance checking emails from really famous people with still replying to goofy bloggers?
Lol. The goofy bloggers are some of the most famous people I know. :)