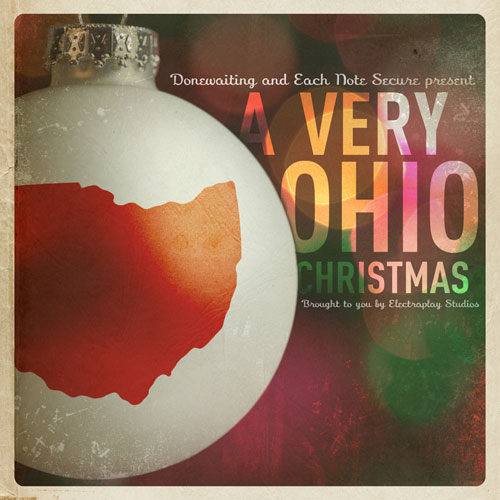 MP3: Children Go
Those of you who have hung around this website over time may know that I have an unhealthy appetite for Christmas music. I love it. From the obscure to the mainstream, I am always trying to add to my collection. I've always wanted to put out a holiday compilation of my own, and with the help of Joel Oliphint and Joe Long from Each Note Secure, we've done it!
A Very Ohio Christmas is a digital-only release and features 16 songs of brand new Christmas songs, a few recognizable favorites, and a few great semi-obscure classics. Featuring bands from all over Ohio, everyone donated their time and put in a lot of hard work to make this happen in a relatively short time period. In addition, Clinton Reno did the album artwork and Electraplay mastered the album as well as let many of the bands record at their studio.
100% of proceeds will go to Gracehaven in Columbus OH. Gracehaven is a 501(c) 3 organization that raises awareness about the issue of domestic minor sex trafficking and also seeks to provide shelter and rehabilitation to girls who have been victims of commercial sexual exploitation.
We're asking you to pay $10 for the album (a bargain), but if you'd like to donate more, you'll be able to do that at check out.
Tracklisting:
1. Super Desserts – Children Go 03:17
2. The Celebrity Pilots – Cuyahoga Xmas Fairytale 04:40
3. Bird and Flower – Christmas Alone 03:27
4. You, You're Awesome – Cinnamon Snow 04:17
5. Adam Remnant (of Southeast Engine) – Bob Cratchit 04:30
6. Bicentennial Bear – All I Want for Christmas (is an Afghan Whigs Reunion) 02:14
7. Brainbow – O' Holy Night 05:42
8. Colin Gawel & The Lonely Bones – Try a Little Faith (featuring Marcy Mays) 03:17
9. No No Knots – Holiday Is U 04:21
10. Phantods – Christmas Won't Get the Best of Me 03:29
11. Moviola – Will Santy Come To Shanty Town? 02:31
12. Paper Airplane – 1913 05:45
13. Megan Palmer and Jason Crosby – In the Bleak Midwinter 03:05
14. The Chocolate Horse – You and Me on Christmas Eve 03:54
15. The Town Monster – The Willows Grove 02:19
16. The Guitars – Sleigh Ride 03:01
Please let your friends know about the release. We'd love to raise money for a solid cause this holiday season.