When I sat down to recount my year, I hadn't even really registered what I got to see. All my friends moved away. I pretty  was miserable.
I spent the majority of the year hanging out by myself.
But now looking back, I was really fortunate this year.
I got to see the Black Keys spread love and become one of the biggest rock bands in America. RJD2 played our 7 Year Anniversary. Jay Electronica came to town and did a really intimate show then got signed 7-8 months later by Jay-z to Roc Nation. I solicited Wavves' opinion on Psychedelic Horseshit.  I witnessed  what Dame Dash's guy, Currensy ,was doing the night Jay Electronica signed with Jay-z.  I talked to Bone after a nationally publicized arrest. Well, read away if you want.
1.The Black Keys Lifestyles Community Center August 13th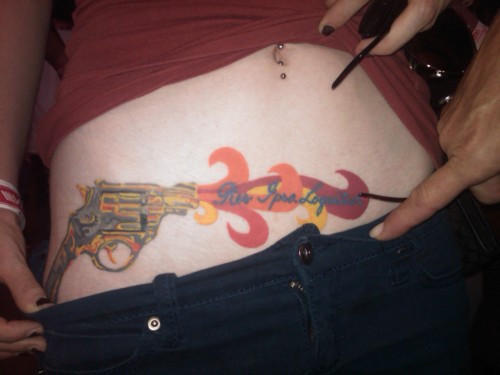 photo credit-ME
The image source of this tattoo is  from  the cover of Chulahoma,  an ep by the Black Keys. It is on the body of a female that had a family member die of cancer.   The finger pointing it out belongs to Mary Stormer,  Key's drummer Patrick Carney's mother.  Mary Stormer's son and Patrick's brother,  Michael created the image that is tattooed on this girl.  The girl got this tattoo because Chulahoma was what got her through hard times.
The tribute to Junior Kimbrough IS a blues record.
Mary Stormer, and I explained to the girl that the band would really appreciate this.  Mrs. Stormer told me to take a picture and send it to Michael. The band was onstage so they couldn't give the girl a hug.
I told her a story about a friend of the Black Keys in Akron that had passed,  and the Keys perspective on music when it pertains that.
But this is part of the reason why this show was so special and I have love for the Black Keys . The Carney brother's mom, dad,  step-mom, and quite a few others were hanging around , visibleyhappy at their family's success. So from the opening moment when the Keys had GZA's Liquid Swords playing to ,what sounds like the owner of the lonely hearts change up in Tighten-Up , to the show's finale "Til I Get My Way" it was just a real warm feeling.
It was just a celebration. Made you kind of forget the show sold out a month early and the Keys were in the process becoming one of the biggest rock bands in America. Everyone was just nice.
I caught up with Dan Auerbach backstage. And the illest thing about Dan was that the conversation was about Sean Price and rappers like that. Dan is a straight-up Hip Hop head.
It was like talking to The Catalyst. More on that later.
Everyone was so normal in their happiness. After the show, we all went back to Tip Top.  Everyone was real normal in their happiness. Pat asked about various Columbus things. The Carney brothers's dad James, asked about weedsteeler.com and told me stories about working with Chuck Klosterman at the Akron-Beacon Journal. On some other circumstances we could've all watched a Woody Allen movie together.
2.Jay Electronica-Boma March 5th

Photo credit: Envelope
Jay Electronica..My trifecta in the Other Paper previewing this show said "Treat this like going to see Common or Nas in early 1994, before they became legends."  This was in March.
Jay-z signed Jay Electrnica to his label Roc-Nation on November 13th.
As for the March show. Read about it here.
3.RJD2 at Donewaiting 7th Annivesary February 5th
photo credit Danielle Kline
Download RJD2's the Glow Remix EP Here.
RJD2 played our 7th Anniversary in the Middle of the Blizzard. Epic Epic Epic.
OHIO FUN FACT:RJD2 has a new record coming out in a bit. Grammy Nominee Michael Carney did the cover.
4.Waka Flocka Flame @ Karma 4/23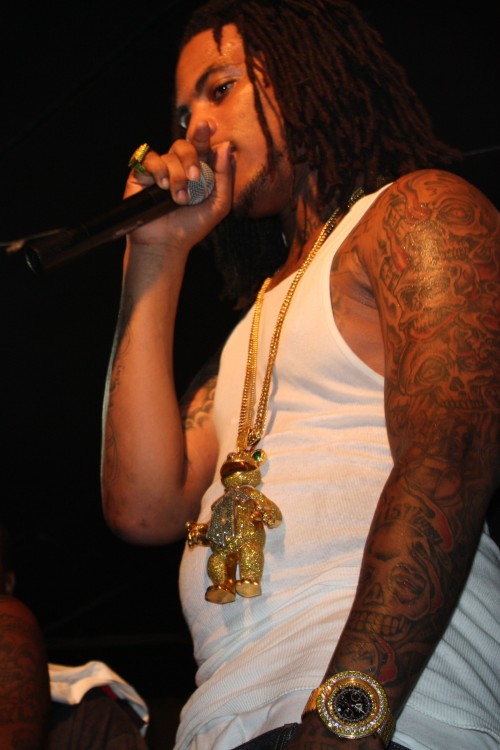 Photo credit Danielle Kline
As the song says..pow pow..Waka is just Bustin at em.. Rowdiest most punk rock show I saw all year.
Please click here for my review and also to find why Waka improved my body image.
And if you want to read a phone conversation that took place outside a Panera Bread in Westerville click here.
5.Daymon Day Parade High Street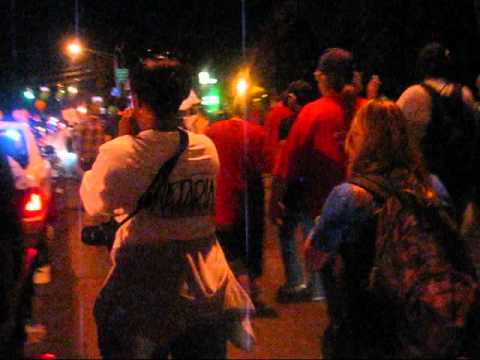 Envelope said on CD101's Andy MAn-a-thon that  "we had better start valueing and honoring the people we lost because they make our city great. We certainly arent gonna be known for our mountains and good weather."
And Daymon Day is as simple as that.
Read more about this organic tribute to local culture here.
(And for the record Tony grew-up in a strong democrat home. Myself, I'm a vegan whose politics are fairly obvious .
Daymon being a Republican is what made him a unique individual. I once questioned him on it, and I realized it's fairly racist for white people to project their political leanings on non- whites. The world is way too complex to impose liberal missionary behaviors on your friends.
But it is not a Republican or Libertarian Parade. Unless it offends you then, its actually a T-Party event  And we got Sarah Palin in booty shorts.)
6.Bone Thugs at the Newport-April 1st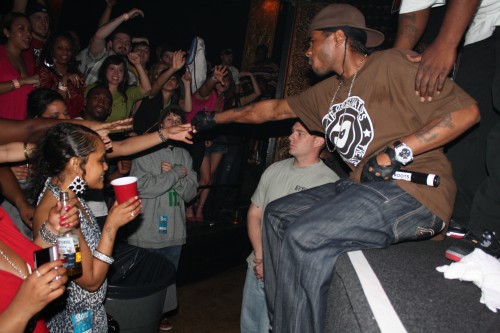 photo by Danielle Kline
This show was right after Flesh N Bone got arrested.
I went and accidently got drunk with Bone, and started bringing up things that weren't my business.
Read more about it here.
7. J Cole- Newport Music Hall November 3rd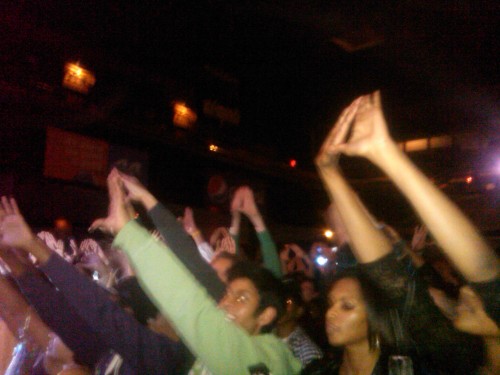 photo by me
Jay-z's protege J-Cole played a BET Music Matters show at the Newport.  The North Carolina Native had two keyboard players providing warmth and melody, he played a beat machine at times and was backed by DJ Dummy.
J Cole's polished performance really made him stand-out compared to every up and coming rapper I saw this year. It all made more sense why Jigga is investing time in Cole.
After the show, Cole kicked it with me and answered a few questions. The first beat he made, he chopped up a Shyne sample. Things like that.
8.Wavves- Skullys September 15th

We have all read the Psychedelic Horseshit interview about Wavves. So when Wavves played 4 blocks from my house, I figured why not go see what Nathan Williams of Wavves made of all that.  So after the show I stated my name and a couple names, Nathan, Stephen Pope and Billy Hayes invited me to sit at their table.  I asked Nathan if he felt weird about being in Columbus. His response was, "because of Matt(of Psychedelic Horseshit)? Naw. Those guys don't like me. But they've (Stephen and Billy used to play with Jay Reatard) have both toured with all those groups. It's not a big deal."
Nathan and I then talked about Curren$y, the first RJD2 album, Aceyalone , and Rick Ross calling himself Big Meech on BMF. I had written on donewaiting that the Wavves song Convertible Cacoon reminded me of  Cali Swag's "Teach Me How to Dougie". Nathan told me that was because they added an 808 over the regular drum.
Stephen and Billy made Nathan load all the equiptment which I thought was interesting…
Other notable thing, is that Nathan, Billy, and Stephen were unaware that the booking agent had rejected Psychedelic Horseshit's offer to open the show.
I'm not saying this to back Wavves or bash anyone.
Just a moment in time.
Anthony Porter, who if you live in Columbus you probably know he is, was there. If not, Anthony allegedly stabbed someone outside of Cafe Bourbon Street. I said allegedly because I am not a lawyer and do not know how to write.
I introduced Nathan Williams and Anthony to each other because neither one of them are popular at Bourban Street.
As far as why I talk to Anthony Porter? I feel like  he turned himself in, and is going to jail. It's not like there isn't punishment and reprucussion looming. I am not advocating a human being hurt by any means.
So basic human compassion states don't leave some troubled person with no one to talk to.  I think its similar to sending books to prisoners or writing someone in jail. Maybe I've read the Autobiography of Malcolm X too many times, and actually internalized Upski's writings.
As far as Nathan Williams, I can see both sides of it. He was influenced by Columbus music, so there is always an idea of what happens when someone takes from you without being involved with what help build it.
And not executing in a manner that you enjoy.
On the flip-side, his new record doesn't sound like Columbus stuff anymore. And my biggest assumption is both Nathan Williams, and Psychedelic Horseshit are probably more concerned making music,  and doing right by themselves.
Horseshit does have a new album it's coming out on a good label.
9.Curren$y-Skullys November 12th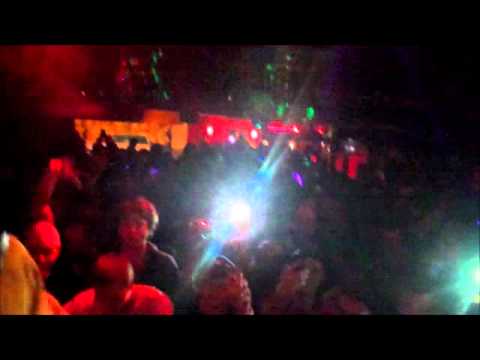 This was an interesting show because it was on the night of Jay Electronica signing with Roc Nation. Currensy is down with Dame Dash, so unless Oprah and Farrakhan step in I would imagine this was the public ending of  Center Edge Territory.
Especially with Mos Def already off with Kanye and absent from 24 Hour Karate School. But what do I know? It was funny because from Skullys, Currensy twittered at Jay Electronica, "I dunno boss. I'm staying here".
Besides the National question of allegiances, there was an Ohio conflict. Currensy  had to navigate his friendships with Cleveland's Chip the Ripper, and Stalley. There is underlying rumored tension between the two.  The rumor is Chip doesn't like Williamsburg residant Stalley trying to build his presence in Ohio. Currensy kept saying, "I'm cool with Chip. I swear".
It is not like this is something that would make people act horrible. Just some Hip Hop on my block type ish.
And the final conflict was that the 3rd and Royal Columbus had a disagreement which led the 3rd jumping off the show.
At the end of the day, Currensy is good at rapping about weed. So his fans came to see him do that and prolly weren't worried about rest.
Jonsi's beautiful sound, and backdrop made the Newport seem like the Wexner for a night. Photos here.
And I don't listen to Sigur Ross or Jonsi. But I have a hunch Kanye does. Just from some of the magic realism in his Runaway movie.
12.Camu Tao-King Of Heartz Release Party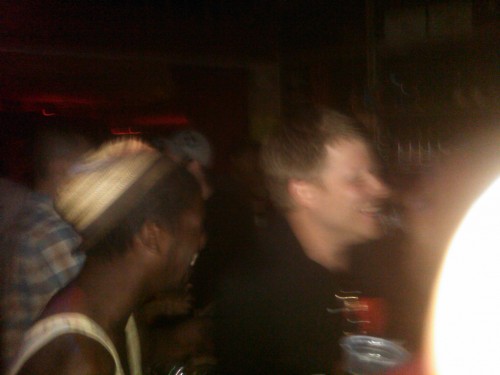 Metro of Smash, and El-P celebrated this life and music of Columbus rapper/producer Camu Tao at Skullys.
El-P helped put out Camu's King of Hearts on Fat Possum Records.
I think this was prolly the most high profile Columbus release this year.
More about Camu from ELP here
13.Cannibal Corpse/DRI Scion Metal Fest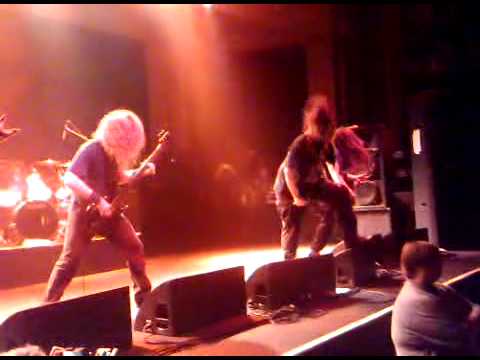 During DRI I watched some dude jump real high in the air and elbow drop a bouncer in the head.
During Cannibal Corpse I watch a Cleveland graffiti writer jump off the side railing and crowd surf.
14.Dead Prez Skullys October 22nd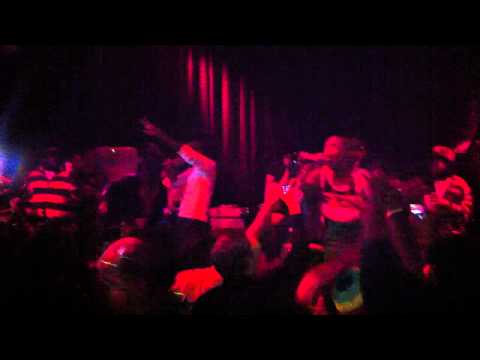 Show was dope in itself. But what do Bell Hooks, a midget, Copywrite, the 3rd and Michelle Alexander have to do with it?
Read Here