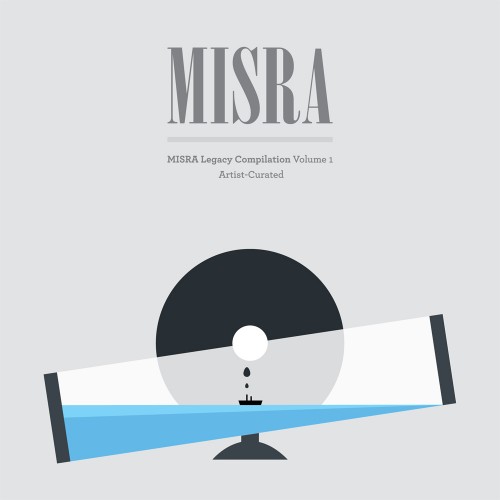 Download: Misra Legacy Compilation Volume I (zip)
This new Misra re-launch and compilation is a fitting bookend to some recent Columbus news. So, Lydia Loveless is now on Bloodshot. Bloodshot is now the distributor for Misra Records. Misra Records' first signing is the Black Swans, whose new record Don't Blame the Stars will be out in the spring. And the newly relaunched label is now artist-run, managed by Leo Deluca, drummer for Athens folk-rockers Southeast Engine.
Ohiooooo.
Here's the full press release and track listing for that free, artist-curated compilation, which includes previously unreleased tunes from Southeast Engine ("New Growth") and the Black Swans ("I Forgot to Change the Windshield Wipers in My Mind") from both bands' upcoming releases:
Misra Legacy Compilation Volume I – Artist-Curated
1.) Phosphorescent – "Joe Tex, These Taming Blues"
Chosen by John J. McCauley III of Deer Tick
MSR030 – Aw Come Aw Wry

2.) The Mendoza Line – "Catch a Collapsing Star"
Chosen by John P. Strohm of The Lemonheads & Blake Babies
MSR037 – Full of Light & Full of Fire

3.) Destroyer – "The Bad Arts"
Chosen by Zachary Gresham of Summer Hymns
MSR007 – Streethawk: A Seduction

4.) Sleeping States – "London Fields"
Chosen by Kevin Hendrick of Male Bonding
MSR062 – In the Gardens of The North + Old vs. New + Bonus Material*

5.) Southeast Engine – "New Growth"
Chosen by Gregory Saunier of Deerhoof
MSR060 – Canary*

6.) Great Lake Swimmers – "I Will Never See the Sun"
Chosen by Stephen M. Deusner of Pitchfork, Village Voice, Paste, etc.
MSR032 – Great Lake Swimmers
Performed & Written By: Great Lake Swimmers
Copyright: Harbour Songs Publishing Inc. / SOCAN

7.) Summer Hymns – "New Underdressment"
Chosen by Matthew LeMay of Get Him, Eat Him, Pitchfork, 33 1/3, etc.
MSR002 – Voice Brother & Sister**

8.) Palomar – "Surprise Us"
Chosen by Charles Bissell of The Wrens
MSR042 – All Things, Forests 9.) Hallelujah the Hills – "Blank Passports"
Chosen by Matt Besser – Founding Member of The Upright Citizens Brigade
MSR052 – Colonial Drones

10.) Bears – "How to Live"
Chosen by Elizabeth Nelson Bracy of Bird of Youth & Collection Agency
Bears**

11.) The Bruces – "Fine Solutions"
Chosen by Simon Joyner
MSR026 – The Shining Path

12.) Theodore – "I Won't Be a Stranger"
Chosen by Adam Remnant of Southeast Engine
JAW001 – Hold You Like a Lover**

13.) The Black Swans – "I Forgot to Change the Windshield Wipers in My Mind"
Chosen by James Jackson Toth of Wooden Wand
MSR061 – Don't Blame the Stars*

14.) Emily Rodgers – "Hurricane"
Chosen by Kramer of Bongwater, Ween, Butthole Surfers, etc.
MSR054 – Bright Day

15.) Centro-matic – "Flashes & Cables"
Chosen by Patterson Hood of Drive By Truckers
MSR020 + MSR022 – Love You Just the Same + Flashes & Cables EP

*Never-Before-Heard – From Forthcoming Misra Release
**This Band Will Have a Misra Release TBA

With great joy, we would like to announce the relaunch of Misra Records. In conjunction with this development, the label will be offering the Misra Legacy Compilation Volume I at misrarecords.com. The artist-curated comp features favorite tracks from the Misra canon hand-chosen by artists from The Lemonheads, Deer Tick, Deerhoof, The Wrens, Wooden Wand, Drive By Truckers, Male Bonding, and more.

After a quiet 2010, the label is now under the management of Misra artist and partner Leo DeLuca. DeLuca plays drums in Misra band Southeast Engine, managed Misra imprint Moon Jaw Records, and runs the label out of Durham, NC. As of 2011, Chicago-based Bloodshot Records – home of albums by Ryan Adams, Neko Case, Justin Townes Earle, Jon Langford, Dex Romweber, and more will distribute Misra.

To highlight Misra's new position as an artist-run entity, 2011's first release will be Southeast Engine's Canary – due out March 29. The Black Swans – the label's newest signing – will follow shortly with their album Don't Blame the Stars. In the early part of this year, U.K.'s Sleeping States will release In the Gardens of the North + Old vs. New + bonus material. The songs by both Southeast Engine and The Black Swans featured on the legacy comp appear there for the first time, and each will be on their new albums.

2011 will also see albums by Misra greats Summer Hymns, Timothy Bracy of The Mendoza Line's new project Collection Agency, former Moon Jaw artists Theodore, Bears, Human Cannonball, and Joseph Remnant. Remnant, the illustrator of Harvey Pekar's forthcoming posthumous book Cleveland, will release his comics alongside an album. Set for release later this year, The Misra Legacy Compilation Volume II will include artist-curated tracks from Shearwater, Bablicon, Evangelicals, Will Johnson, Jenny Toomey, South San Gabriel, and more.

All at Misra are extremely excited to be back in action. With Misra's place already secured in the annals of independent music, we look forward to preserving and furthering its legacy. This is the label that introduced bands like Destroyer, Great Lake Swimmers, Shearwater, and Phosphorescent to the world; an institution that forged a troubled industry to bring you Centro-matic, Palomar, Sleeping States, Hallelujah the Hills, Southeast Engine, and more; an entity rooted in the strong belief that music has the curative power to inspire and change people for the better. The Misra legacy will continue.