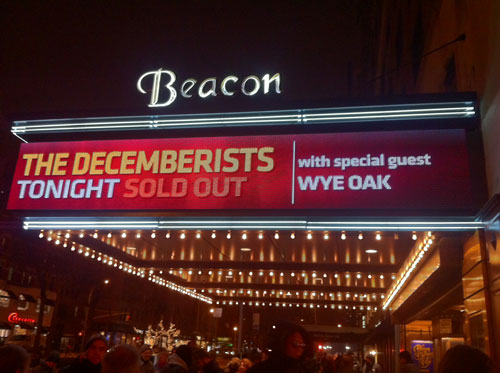 It was basically the 500th time I saw The Decemberists last night, and definitely one of the best. Starting the show off with "California One", I knew it was going to be special. The band played all over their catalog, making me remember how much I love this band. PS: The new album sounded amazing live.
Speaking of the new record, the band has the #1 album on the Billboard charts selling 93,000 copies. Their last album debuted with 19K, so that's a big ass jump. PS: Of the 93,000 sold, 65% was digital and 3% vinyl.
Set list from last night's show after the jump.
California One/Youth and Beauty Brigade
Down By the Water
Rox in the Box
Calamity Song
Red Right Ankle
January Hymn
Don't Carry It All
All Arise
Won't Want For Love (Margaret in the Taiga)
The Crane Wife 1 & 2
The Crane Wife 3
The Infanta
16 Military Wives
This is Why We Fight
Encore 1:
The Chimbley Sweep
The Mariner's Revenge Song
Encore 2:
June Hymn
(via Decemb msg board)