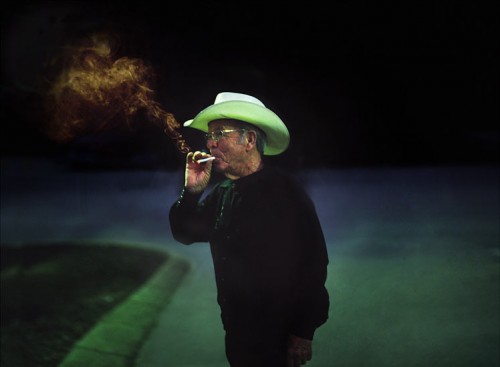 Country legend Charlie Louvin died today. He lived a hard-to-recap 83 years, so instead, here's a review I wrote for Sings Murder Ballads and Disaster Songs from The Other Paper in 2009.
I'm usually not much for the unrealistic notion of beginning a new year with a clean slate, but as a music reviewer, it's a good time to clean out the musical attic clogging my my brain. Digitally serviced zip files are vying for mental space next to watermarked promo discs and countless, breathless press releases promising the most genre-bending, life-altering batches of songs heard in decades.

A friend recently lent me some John Lee Hooker, and getting back to the blues has helped cleanse the musical palate. I figured some good ole country songs–of the grizzled, noncommercial variety–could do the same. Released in December, Charlie Louvin Sings Murder Ballads and Disaster Songs has filled that role quite nicely, though its appeal goes beyond my original, utilitarian intent.

There aren't too many country singers with more cred than Louvin, now an 81-year-old Country Music Hall of Famer. Louvin and his brother, Ira, got their start as the Louvin Brothers, racking up hits on the country charts until Ira died in a car crash in 1965. Charlie continued on with a successful solo career, inspiring Gram Parsons (who famously covered "The Christian Life" and "Cash on the Barrelhead") and the next generation of alt-country acts.

Louvin had a comeback of sorts in 2007 when Tompkins Square released his first album in 10 years, a self-titled, Grammy-nominated collaboration with folks like Jeff Tweedy, Elvis Costello and Will Oldham.

Tompkins also released a box set last year called People Take Warning! Murder Ballads & Disaster Songs 1913-1938, which apparently tickled Louvin's fancy, since he included nine of those songs on this new album. Louvin's got a cracker-jack band to back him on these vintage, three-chord country/folk songs, but it's his worn, fraying vocals that give them a soul.

Some of the tracks are tragedies meant to break your heart ("The Little Grave in Georgia"), while others have a comedic edge ("Dixie Boll Weevil"). "Down with the Old Canoe," which tells the Titanic story around the theme of hubris, serves as a warning so we can avoid such an untimely end by not getting too big for our britches: "When you think that you are wise, then you need not be surprised/ That the hand of God should stop you on life's seas."

"Wreck on the Highway" feels the most personal, as it could be right out of Louvin's life. "There was whiskey and blood all together, mixed with glass where they lay/ Death played her hand in destruction, but I didn't hear nobody pray" goes one verse, and the sorrow is punctuated on each chorus, as Louvin sings at the top of his warbled, lonesome register, "I didn't hear nobody pray, dear brother."

It's cathartic for Louvin, I'm sure, but the same goes for the listener. In this veteran's take on old traditionals, even death itself can sound cleansing.
Photo courtesy The Guardian