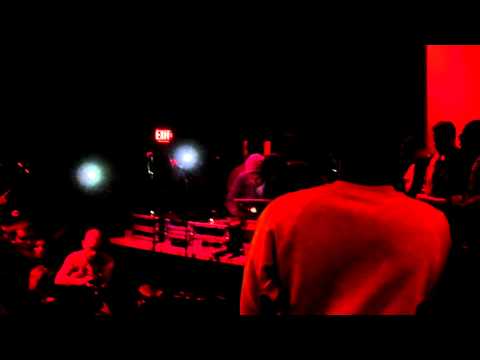 The video above has Curren$y performing in Columbus at the end of last year, Curren$y announced today that he is signing to Warner/Asylum.
The New Orleans emcee released two Pilot Talk albums last year on Dame Dash's imprint BluRoc which sold a total 70,000 units, and allowed him to tour the nation a couple times.
Curren$y will release his 5th and 6th albums the Muscle Car Chronicles and Pilottalk 3 on Warner/Asylum. In the immedate future, Spitta will do mixtape with the Alchemist(producer of Ghostface,Eminem, Nas) entitled Covert Coup which will be sold on I-tunes 4-19 just in time for 4-20. Curren$y has a national tour lined up in support of Covert Coup. .
Tourdates after jump

Wed 4/20 New Orleans, LA
Thu 4/21 Houston, TX
Fri 4/22 Austin, TX
Sat 4/23 Dallas, TX
Mon 4/25 Albuquerque, NM
Tue 4/26 Arizona
Wed 4/27 Arizona
Thu 4/28 San Diego, CA
Fri 4/29 Los Angeles, CA
Sat 4/30 Riverside, CA
Sun 5/1 San Luis Obispo, CA
Tue 5/3 Fresno, CA
Wed 5/4 San Jose, CA
Thus 5/5 Sacramento, CA
Fri 5/6 San Francisco, CA
Sat 5/7 Humboldt, CA
Sun 5/8 Eugene, OR
Tue 5/10 Portland, OR
Wed 5/11 Seattle, WA
Thu 5/12 Bellingham, WA
Fri 5/13 Victoria, British Columbia
Sat 5/14 Vancouver, British Columbia
Sun 5/15 Spokane, WA
Tue 5/1 Missoula, MT
Wed 5/18 Boise, ID
Thu 5/19 Salt Lake City, UT
Fri 5/20 Denver, CO
Sat 5/21 Boulder, CO
Sun 5/22 Ft. Collins
Tue 5/24 Omaha, NE
Wed 5/25 Minneapolis, MN
Thu 5/26 Iowa City, IA
Fri 5/27 Madison, WI
Sat 5/28 Chicago, IL
Sun 5/29 Ann Arbor
Tue 5/31 Toronto, Ontario
Wed 6/1 Montreal, Quebec
Thu 6/2 Burlington, MA
Fri 6/3 Boston, MA
Sat 6/4 New York, NY
Sun 6/5 Philadelphia, PA
Tue 6/6 Washington DC
Wed 6/8 Carrboro, NC
Thu 6/9 South Carolina
Fri 6/10 Atlanta, GA
Sat 6/11 Birmingham, AL
Sun 6/12 Oxford, AL