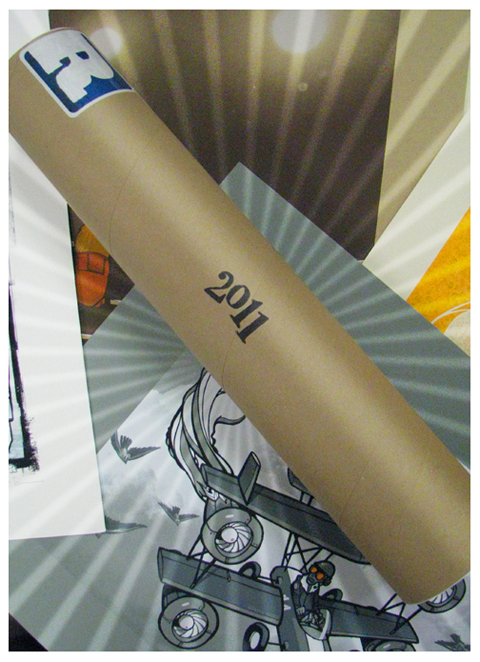 Our dear friend Clinton Reno is responsible for most of the design we've done on Donewaiting. From the current "Donew8ing" logo (to mark 8 bloody years as a blog), to concert posters, to t-shirts, to my wedding invitations. Basically I can't look any direction in my life without seeing him pop up.
He's been doing poster work for quite some time, and this year is offering a very limited (read: 15) subscription service to his posters. Buy paying in advance, you'll be able to choose 13 posters and save a ton of $$.
The details:
-Bakers dozen- 13 prints for $200, shipping INCLUDED.
-It's a $325 value (more if you factor in shipping costs).
-You choose 13 prints out of however many I create this year*.

You'll get the same number in the run, depending on where in the order you purchase. The lowest number available will be #6. The prints will ship just twice during the year in July and December and will ship flat. For those in town we can arrange pick ups at events in July and in December. Unfortunately as shipping is included, and to keep this easier on my end, I won't discount the cost for local folks (apologies).

Perhaps in years to come I can get a little more creative with different tiers and such but for now we'll roll with just the 13 prints. Who knows though, by year's end I may be feeling crazy enough to toss in a t shirt or an extra print, but I'm not making any such promises at this moment, but you never know. I'm only offering 15, so go get one if you want.
Reno already has confirmation that he'll be doing an upcoming Decemberists poster, something for the Avett Brothers, and many more. A good portion of his posters do sell out and value goes up. Give them as gifts or become eBay millionaires.
Below are some recent posters Reno has done. They won't be part of the subscription, but at least gives you a handle on his art.