Covering SXSW unofficial shows is a young man's game.
eMusic's SXSW 2011 DAY PARTY
Wednesday, March 16, 2011, at Beauty Bar, 617 East 7th Street
12:30 – Hurray for the Riff Raff (eMusic Selects)
1:15 – Grass Widow (Kill Rock Stars)
2:00 – JEFF the Brotherhood (Infinity Cat)
2:45 – Ty Segall (Goner)
3:30 – Obits (Sub Pop)
4:15 – The Pains of Being Pure at Heart (Slumberland)
eMusic members should RSVP here.
—–
Skinny's Ballroom Free Show
115 San Jacinto Blvd
12pm Wire Tree (ATX)
1pm Or the Whale (SFCA)
2pm Children of the Feather (ATX)
3pm The Migrant (DK)
4pm Birds and Batteries (SFCA)
5pm Empress Hotel (NOLA)
—–
Full details for My Old Kentucky Blog party have been announced.
——
Bham Goes to SXSW 3
Saturday, March 19th 2011
12pm-6pm @ Annie's West
The Magic Math (12-12:35pm)
The Green Seed (12:40-1:20pm)
The Great Book of John (1:25-2:05pm)
Delicate Cutters (2:10-2:50pm)
The Grenadines (2:55-3:35pm)
Through the Sparks (3:40-4:20pm)
The Gum Creek Killers (4:25-5:05pm)
Vulture Whale (5:15-6:00pm)
——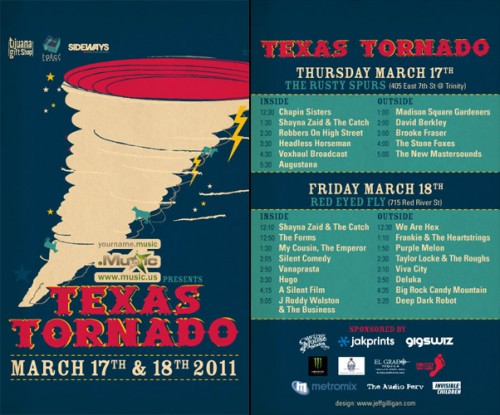 RSVP to Texas Tornado here.
—–
Want to have a fine lunch with Germans? Okay.
—–
Requiemme Management / Devilldoll Booking Day Party
@ Aquarium 403 E Sixth Street Austin Tx 78701
Jesse Malin & The St Marks Social 6:15 -7
The Biters 5:30- 6pm
Black Heart Procession 4:30-5:15
Maren Parusel 3:45-4:15
Gun Runner – 3-3:30
The Hot Moon 2:15-2:45
The Fling 130-2pm
Strange Vine 1245pm-115pm
Smokehouse Gamblers – 12PM-1230pm
——
Twitter people need to follow @SXSWPartyList
—–
—–
—–
And finally….