MP3:Mazes – Vampire Jive (live)
Many apologies for my absence from Donewaiting in the past few months. Now that I'm comfortably settling into English life in this massive city, the time has arrived to continue contributing my two cents…
London-based Mazes have been generating quite a buzz. Between being signed to Fat Cat Records in November (making them label mates with recent Fat Cat addition Psychedelic Horseshit of Columbus), getting some badass BBC Radio 1 airplay and prepping for their new record (releasing on April 11th), they're well on their way to having a busy and exciting year.
Coming from a tight-knit network of musicians and ambitious youngsters, they are just the kind of band a city like Columbus can really get behind. (And much to our glee they cite Guided by Voices as a major influence; just listen to the song in the video.) I recently caught up with vocalist/guitarist Jack Cooper who told me a little more about the band and their role in the London DIY scene.
DW: So Mazes has been going for a couple of years. How has it evolved since the beginning?
Cooper: In the beginning it was just Jarin and I. I suppose the Adam and Eve of Mazes. The analogy stops there but we did give birth to a lot of good stuff and some bad stuff as well. We found Conan and Neil along the way and so much the better. It's better having four of us, but y'know, more stuff can go wrong now.
DW: You come from a strong DIY scene. How has it nurtured bands like yours?
Cooper: The people, labels and bands that we've been involved with from the start are incredibly supportive and helpful. If we have some sort of problem, someone else has always been there to offer advice. It's nice and comforting having friends with similar hopes and goals maybe…but saying that, people are usually friends with dudes who have similar interests.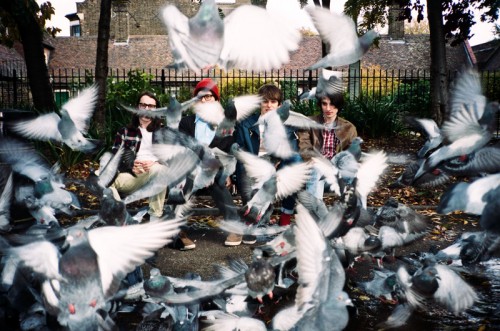 DW: As the band has moved its base from Manchester to London, how have things changed for you?
Cooper: As a band we've always kinda been based in London although I lived in Manchester. We always rehearsed here, and to be honest, and without dissing the north, we've always wanted to play down here more. We've always been received better. But yeah, we ALL live in London now so we've actually been rehearsing. Before I lived in London, we rehearsed 7 times in total. We're actually getting good now.
DW: Congrats on signing with Fat Cat back in November. Has it changed the dynamic of the band much?
Cooper: I think we're all taking it a little bit more seriously, mainly out of respect for all the people who are working on our record.
DW: What other projects are you all involved in?
Cooper: At the moment both Conan and I have record labels. Conan has Italian Beach Babes, who've released Hounds Of Hate, Dirty Beaches, Pens. And then I have Suffering Jukebox which is Brown Brogues, Colleen Green, Milk Maid, Bat Caves. We're both gearing up to actually releasing LPs, which is pretty intimidating to be honest. Conan's also in Graffiti Island, Neil's in a band called Hyacinth Girl and I'm starting another band with my friend Amelia…maybe. Jarin has just had a baby, so that's his main project obviously!
DW: What are you listening to right now?
Cooper: I'm listening to a lot of Grateful Dead, Daniel Higgs, Arthur Russell, Flipper.
DW: What is something you want people to know about Mazes?
Cooper: Neil's single… form an orderly queue.
DW: What's in store for Mazes in 2011?
Cooper: Love's in store.
Mazes will play the support slot for with Dum Dum Girls in the UK in March/April, plus a gig with Columbus' Times New Viking on April 27. Dates below:
09 March 2011
Bull & Gate
London
with Flats
31 March 2011
The Deaf Institute
Manchester
with Dum Dum Girls
01 April 2011
Whelans
Dublin
with Dum Dum Girls
02 April 2011
The Black Box
Belfast
with Dum Dum Girls
03 April 2011
Stereo
Glasgow
with Dum Dum Girls
04 April 2011
Brudenell Social Club
Leeds
with Dum Dum Girls
05 April 2011
Dingwalls
London
with Dum Dum Girls
06 April 2011
The Komedia
Brighton
with Dum Dum Girls
27 April 2011
The Deaf Institute
Manchester
with Times New Viking
28 April 2011
Queens Social
Sheffield
with Best Coast
29 April 2011
Stereo
York
30 April 2011
Brudenell Social Club
Leeds
01 May 2011
Camden Crawl @ KOKO
London
14 May 2011
The Great Escape
The Green Door, Brighton
with The Twilight Sad