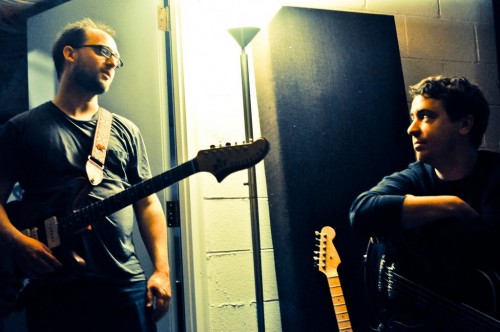 After writing songs and tinkering with them in basements for a while, The Regionals emerged from below ground to debut their material at the Rumba last month, and it was probably the best first show I've seen. And when it was rough around the edges, it was rough in a good, Pavement/GBV way. Fellow Donewaiting staffer Mr. Chenoweth was in attendance, as well, and remarked that the band "reminded me of early Death Cab, before they got all tender and started to suck."
You may recognize the guy on the left in the picture up there from his days in The Lilybandits. Back then people called him Jose, but he now goes by Jason Gonzalez and handles vocals & guitar. Kevin Sturdevant, from Youngstown, used to be in The Champions of All Time and plays bass. Rounding out the lineup is Jason Hambach on guitar and Paul F. Meeker on drums.
The Regionals are currently recording their first album with Keith Hanlon (Black Swans, Orchestraville). Keep your ear out..