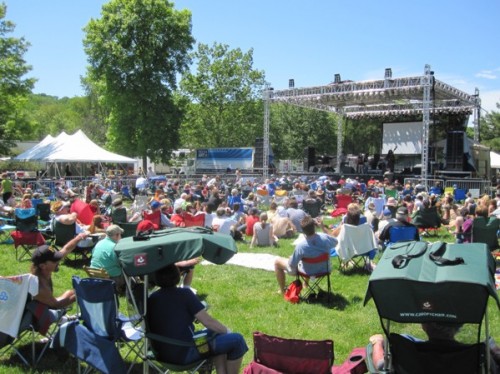 We're all pretty excited for the weekend of music and fun down in Nelsonville, which is now only hours from kickoff. There's a lot to see and hear, so as promised, I'm gonna layout what I think are going to be highlights for me. You know what they say about the best laid plans though – there's going to be friends to see, beer, naps, etc. and performances will most certainly be missed. You don't have to listen to me – you can see a list of artists, complete with descriptions and links here. Picking from this line-up is tough, but my path, roughly in order, will look something like this:
Friday- I'm excited to see Justin Townes Earle (one of two son-of-a-legend sets this weekend). He was supposed to play a gig in Columbus a while back, but a day or so before the show, his tour was cancelled do to some rockstar issues. I'm excited to see George Jones not so much because I have a lot of personal history with the guy, but more because he IS history. You can't pass up a chance to see one of the greats. From the main stage area, I'll swing over to the Porch Stage to see a Columbus double header of Nick Tolford followed by Mount Carmel.
Saturday- This is going to be pretty much a main stage day, but there are some real gems all over the Festival. I'm going to start with the haunting Baby Dee, and from there go to the No-Fi Cabin, which is one of the real treats of the Fest. There's zero amplification, no stage, and nothing much more intimate in live performance. Lovely Eve Searls will enchant with her quirky folk ukulele, followed by close associate and Black Swans front man Jerry DeCicca. This guy will whisper-croon some dark and smoky tales, while evoking a chuckle or two along the way. Ned Oldham plays after them, and the cabin seems a perfect venue.
From there, it's pretty much back to the main stage for the duration. Southeast Engine is a local that has outgrown their home town, The Ghost of a Saber Tooth Tiger (fronted by Sean Lennon, part two of the sons-of-legends) will both be worth your ears. Two notable departures from the Main Stage will be for Black Owls over on the porch, who's lineage can be traced via Matt Brewer to Cincinnati and the early iterations of beloved The National. Also catch Cheyenne Marie Mize in the cabin. She's playing the main stage, but I think her style will be amazing in the acoustic setting.
Saturday's final run on the main stage is pretty amazing- Mucca Pazza is this crazy marching/rock band. There will be horns, there will be dancing. There are few more bands who I have a more sustained and fulfilling love affair with than the incomparable Yo La Tengo. I've seen them a hundred times, and of particular note was their amazing performance at the Stuart Opera House a couple years ago. If that show is an indicator, they are not to be missed. And of course, the mega band, mega show Flaming Lips always know how to make their stage a somewhat epic combination of theater, display, and pop amazement. If, that is, I'm still standing by that point.
Sunday I'll be starting my day with Michael Hurley at the porch. This guy has a simple and beautiful folk style that is both familiar and amazing. It'd be well worth your time to catch him in the cabin if you can, but I've got a hot date during that set. Y La Bamba will follow him on the porch, and while I don't know much about them, early internet scouting makes me think this will be a real treat. Wanda Jackson has a new record out, and is seemingly fiery as ever, still cranking out her rockin' country. The weekend will end for me with Neko Case, another long time favorite who absolutely kills it live. She has a voice for the ages, and songs to match. I promise you, stick it out for the bitter end.