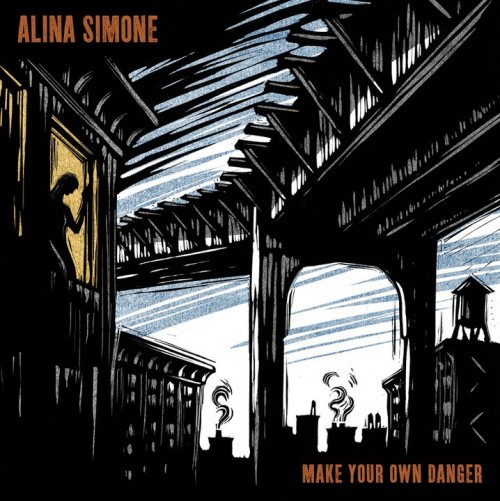 MP3: Beautiful Machine
I became friends with Alina Simone a few years ago during SXSW and then we released a 7″ album split betwen her and The Black Swans.
Since then, Alina has been keeping busy, preparing a new full length album and her debut book of essays, both of which are officially available today. Make Your Own Danger is available via limited edition LP/CD/MP3 and her book, You Must Go and Win, is available in finer book stores everywhere. Download a chapter for free over here.
Alina is starting to line up tour dates to promote the album, including a free Largehearted Lit reading Wednesday at WORD Brooklyn which also features John Wesley Harding and baked goods provided by my wife, The Brooklyn Baker.
Stream the entire album:

Keep reading for complete tour dates.
6/8/2011, WORD, Brooklyn, NY Largehearted Lit w/John Wesley Harding (and traditional Doukhobor treats prepared by the The Brooklyn Baker) 7:30 PM
FULL BAND SHOW: 6/9/2011, Joe's Pub, NY, NY, Album and Book-Release Party, 7 PM
6/13/2011, The Make Out Room, The Rumpus Monthly Reading/Music Series, San Francisco, CA, 7:30 PM
6/14/2011, Alexander Book Company, 12:30 pm
6/15/2011, The Record Room, Portland, Oregon
6/16/2011, Los Angeles Public Library ALOUD series, In conversation with Eric J. Lawrence, KCRW DJ and Music Librarian, 7 pm
6/20/2011, Brookline Booksmith, Brookline, MA
6/21/2011, Space Gallery, Portland, ME
7/14/2011, Brooklyn Winery, Girls Who Write benefit, Brooklyn, NY w/Deb Olin Unferth, Jami Attenberg, Maud Newton, and Kio Stark
8/18/2011, McCarren Park, 3 Minute Story: Sex, Drugs and Rock n Roll, Brooklyn, NY
9/17/2011, The Book Mill, Montague, MA with Jedediah Berry. 8 pm.