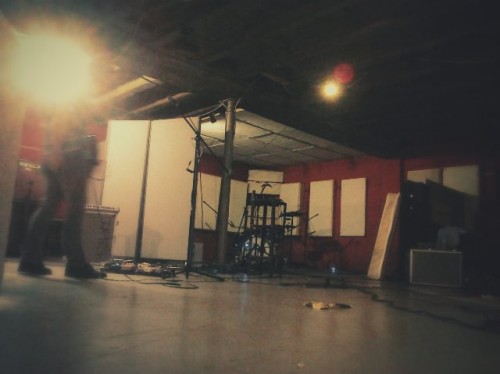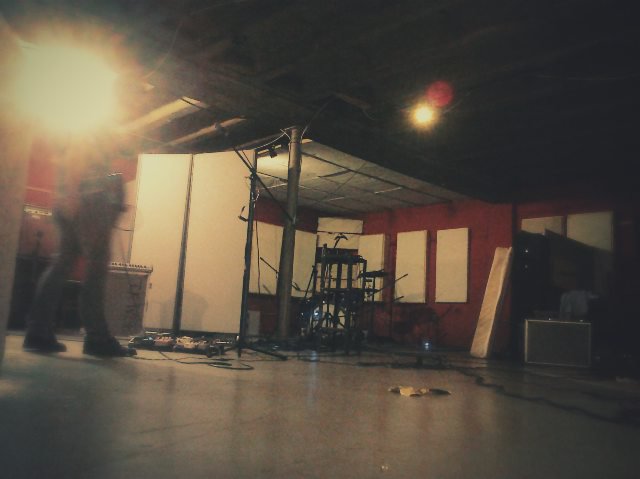 MP3: Sundown: Life's Too Long
MP3: Sundown: Sleepy Song
Dustin White has had a presence in both Columbus and the National DIY picture for as long as I can recall.
We could take it back to his post-rock band Between the Devil and the Deep Blue Sea.
Or we could talk South Campus punk houses like Compton and the Legion of Doom. But someone could probably
one-up that and go prior to those turn of the millenium movements.
So let me skip ahead and just say Dusty is a talented weirdo that knows the ends and outs of most musical instruments and recordings. Makes sense that he co-produced the latest Times New Viking record Dancer Equired with TNV and also acts as their soundman on the road.
Being TNV's sounddude is somewhat like being a white noise, dub-master.
Oh yeah, and there are these MP3's I posted above of his new project that is fronted by revered MO-BK transplant TK Webb, Sundown.
So via the emails I caught up with Dusty right as a West Coast leg of a TNV tour ended. He discussed working with them and Sundown.
How was the Times New Viking tour?
This tour has been going great. Hit some weirdness in some places, but all in all it has gone better than the last full US tour by a good amount.
What's your role as a live sound dude for a band like them?
My role is way different than most live sound situations because I do a lot more to the sound than just make it loud. It's more like Martin Swope in Mission of Burma, because I'm manipulating and treating what they do on stage. Sometimes to make it sound more like the lofi records, sometimes to make the guitar hurt your ears, sometimes just to make it sound fucking cool, and sometimes I am just trying to make it loud and clear. It's actually a creative role as opposed to the typical clinician role that most live sound is which appeals to me a lot more. I also love the challenge that is trying to get interesting results in different places with different equipment and a different set of rules every night.
Any funny stories that are repeatable?
There are but its hard to verbalize them sometimes. I blacked out in Iowa City when we we doing a GBV show then fell down, broke my glasses, and turned into a raging drunken asshole. Going from 3 person gay bar karaoke to a basement rave. Being trapped somewhere because your cell phone has died and therefore you don't have a map home. This list doesn't sound funny at all. Just find me and I'll tell you stories, as it's far better as part of the oral tradition.
What is your take on the overall exeperience with the band?

My overall experience with them has been beyond fantastic. We were all good friends well before this employer/employee situation but I am treated much more like the 4th member than an employee/etc. Working with them on the new LP was also an amazing experience and one of the most creative studio experiences I have been a part of. All in all its been a great thing to be a part of.
What approach did you take when working on Times New Viking's kindler and gentler sound?
My first thought was "how can we make what they do more in focus BUT not loose ANY of what makes them special" because what they do IS special BUT its not the lofi thing that makes them special its the fact that they write great songs and have an actual attitude and vibe in ages where attitude and vibe are totally forgotten about. Everybody these days is too worried about being professional that they are scared to be human and there is no vibe or attitude or anything real. But with them its the opposite there is so much personality there that its impossible to lose it because it's just inherent in them as a band. So we cut demos on the 4 track but we used some of my gear and I engineered it mostly so it wasn't they way they had recorded prior exactly. Those demos sounded great and are the stuff thats on the "Stop Digging Yourself" CDEP. After we did that we headed into CDR and used basically the gear and techniques that rock records until about the mid 70s. It was a very natural and simple process actually. Adam Smith and I just did what seemed natural to us both and it just worked.
How open to suggestions were they?
We were all down to try anything within reason. Jared played a chair, but it's not in the final mix. There is a song on Rumours "Second Hand News" that Mr. Buckingham played a chair on which led us to try it. Didn't work, but we would try anything. There is some drone synth pad stuff I did and all I said was "let me try something" and walked out to the studio and just did it. If we didn't want to use it in the final mix we didn't have to but it was there if we did. We worked really quickly but any idea we would try. I can't remember an idea that got shot done without at least an attempt at it.
Whats your new project?
Sundown, which is a band that plays rock music.
How did you meet TK Webb?
Hanging out at a bar, like almost everybody I know in the entire world.
He said you bonded over some vintage equiptment intially?
Yeah I don't even remember how our conversation turned into some sort of nerdery, but somehow we ended up comparing notes on some antiquated electronic bullshit and discussing both of us having spent our youth on the vegan chilli circuit. Just the sort of drunken shop talk than often happens amongst men of a certain age.
Who are the other guys and what have they done?
Blake and Grant. They were both in TV Eye with Vug (of Vug and Mainstreet Gospel semi-fame). Blake also plays in Moon High and fills in for all sort of various gentlemen, mostly of the folk persuasion.
What can you tell me about these Sundown songs that I posted?
We recorded a grand total of 7 songs at CDR with Adam Smith on 1″ 16 track in one lovely day. Dumped them all into the world of digital and I mixed them in the TNV van when I could for the first few weeks of this tour which was a bit of a challenge because the AC was busted so the windows were down 24/7 aka it was LOUD in the van. All 7 songs should be on the tape when it sees the light of day. These two songs were chosen to be the first two placed online simply because they do a good job of illustrating the left and right of what we feel we are doing at the moment.
What's the future for Sundown?
First up is releasing a tape of the demos we just cut with Adam(Smith), expect that about the end of July. After that comes more shows, more songs, more recording, etc. The usual cycle of a band. We should have a very busy 4th quarter, y'alllz.
for more info on Sundown look:
facebook.com/thisissundown
thisissundown.bandcamp.com
thisissundown.tumblr.com