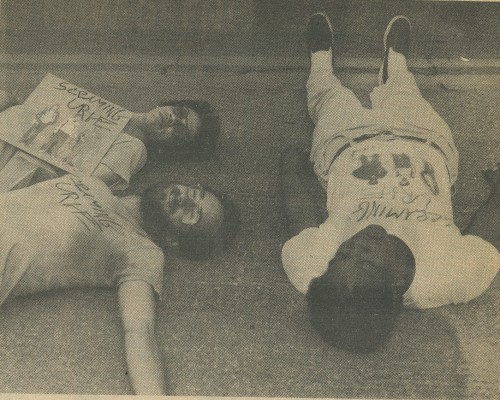 Screaming Urge High Street 1980
MP3: Hitlers In Brazil
MP3: Skitzo Brain
MP3: Killa Poe Lease (Kill the Police)
I wrote an article on Screaming Urge in this week's The Other Paper. Screaming Urge were a pioneering punk band from here in Columbus that had their last performance on Saturday. The band had a lot of interesting things to say, so I figured I would post the interview with Columbus legends on Donewaiting.
The three above songs are off a cd Screaming Urge just released called Gory Years. Gory Years has remastered versions of Screaming Urge's two albums, and their coveted 45. Classic material recorded from 79-81. I believe you can obtain a copy of this cd by contacting Screaming Urge's Facebook.
I interviewed Michael Ravage (MRav), and Myke Rock (MRock) for the Other Paper story. Dave Manic, who also played in Great Plains, was not there for the interview because he lives in Erie, Pa. Dave Manic did play the reunion show. (Shirtless but without a half-beard). Danielle Kline who took the photo for the Other Paper story also asks a few questions.
W: What was Columbus, OH like in 1978?
Michael Ravage: We couldn't get into any clubs. They wanted bands like McGuffey Lane. Cover bands. There was no punk. There was us, The Blades, (two bands whose names I couldn't make out.hopefully someone post the bands names in comments)
W: How did you get into punk?
MRav: I was listening to a lot of Iggy Pop so that's how I got into it and then went from there to the Sex Pistols.
W: Where was your first show?
MRav: Believe it or not it was at the Campus Methodist Center. I invented a thing called the 'Nowhere shows' they were called "Nowhere Fests," we couldn't find any place to play. I rented out the hall and we called it "Nowhere '78" we brought the four punk bands together to play and that was our first show.
W: What was the response like?
MRav: It was packed. The response was overwhelming so we did it every year after that up until 1996.
W: What were some bands that played the Nowhere Fest?
MRav: Hal and Maggie, Scrawl, RC Mob. All the big bands in town. What was that band Ron House had before the Great Planes? Thomas Jefferson Slave Apartments. A couple hundred bands; it was always once a year.
W: Was it always at the Methodist Church?
MRav: No, too much happened at the Methodist Church that one time for them to ever have us back. They made me sign a contract that said no beer would be brought in. We brought beer, windows got broken, people moshed, people were throwing things. I owed them a lot of money after the show.
W: Did you pay them?
MRav: yeah, i took money off the door. Admission was only a dollar, but i had to take money off the top to pay for the broken windows.
W: So after you started throwing the festival did the bars start letting you play?
MRav: After the clubs started noticing that those drew big crowds then they started letting the punk kids in. Clubs like Major Chords, Mister Brown's, Bernie's of course, Apollo's before it got too uncool.
W: So you joined the band in '79 right?
MRoc: Yeah
Mrav: The bass player before him, i don't consider a member of Screaming Urge at all. I consider him [MRoc] the original bass player the other guy was only in it for 5 months. He wasn't a punk bass player, back then you couldn't just find a punk bass player. There weren't that many punks there just weren't any around. So that guy filled in for a few months but Mike was true punk. His first song in the band was called "Fuck You." He said that, I said, "You're in the band."
W: What areas of Columbus are you guys from?
MRoc: I'm from South Linden area but as a teenager I kinda grew up on campus. I would go home twice a week.
MRav: I didn't move here until I was 21. I was a river rat from Marietta, OH.
W: There a lot of people from Marietta. Have you ever seen the Mothman?
MRav: I'm not sure.
W: When did you put your first record out?
MRav: 1980 we put out a single. We put out a 45 which goes for a lot of money on ebay now. We started recording in 1979. We didn't get the vinyl out until 1980.
W: How did word spread about your record?
MRav: Remember these were all DIY releases. We were almost on Stiff Records but our manager blew that.
MRoc: Mainly it was word of mouth but we were also on focus magazine and then there was one before that. Monthly Planet.
MRav: Those helped a lot. We were the first punk band on the cover of Focus Magazine.

W: Where was Focus Magazine based out of?
MRav: Columbus.
MRoc: This was the predecessor to The Other Paper.
Hands me scrapbook, I start flipping through it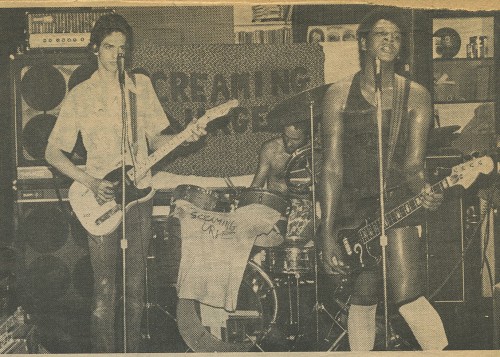 Screaming Urge Magnolia Thunderpussy 1980
MRav: We're proud of this we played the first "Rock against Racism." With Bobby Seale.
W: Bobby Seale of the Black Panthers?
MRav: Yes.
W: What year was this?
MRav: 1979
W: So Bobby Seal spoke?
MRoc: Yes Bobby Seal is a cool guy. We're all cool with Bobby Seale and the Black Panthers.
MRav: And a lot of other people showed up that day too. The drummer of the New York Dolls. He came out with a surprise band. Jerry Nolan, he signed our drum heads and everything. We opened for the Ramones, of course, at the Agora
W: What year was that?
MRav: October 10, 1980. That was with Joey, Johnny, Marky and Deedee. We had to trade dressing rooms with them.
MRoc: That was Johnny's birthday and they had a party. It was so completely trashed that they asked us, "Hey guys, can we switch dressing rooms?" We were like, "Yeah, pretty sure, you're the Ramones."
MRav: Joey was the nicest of the Ramones.

W: The Agora's a pretty big venue. Punk must have gotten pretty big in Columbus by then?
MRav: We started in '78, by 1980 we were able to go our first tour.
W: Where all did you tour?
MRoc: Our first tour took us from Ohio through Texas. East coast.
MRav: Do you know Ron House?
W: Yeah.
MRav: I saved his life.
W: How'd you do that?
MRav: He went with us on our first trip to New York, the first time we played CBGBs, on the way back I was driving…we had a blow out I was able to keep it under control. I saved Ron House's life.
MRoc: The funny thing about the Ramones show, Marky Ramone, the drummer, that was the last show he played of the tour, there was a local woman
MRav: We'll actually name her. Maureen Healy (check her out on the Facebook). She's one of my Facebook friends, she's very proud of this
MRoc: He was pretty taken with her and he decided he was just gonna hang out here. We played a couple parties with her. We played with him at the Dyke House.
Danielle: That's the Legion of Doom
MRoc: It took years for him get back in the good graces of the Ramones.
MRav: So Maureen basically broke up the Ramones for a little whole.
MRav: The middle of the tour they had to stop it for two months.
Danielle: Who filled in for them?
MRav: Nobody, they had to stop the tour.
W: 'Cause he wanted to hang out with a girl?
MRav: Local girl. She's very proud of it.
W: So when you were touring Ohio, where did you play?
MRoc: Cleveland. We played Akron a couple times.
MRav: We played a huge outdoor festival in Dayton for some veterans.
MRoc: It was a family event.
MRav: We had this song called 'War' and there were all these veterans in the crowd, before we did the song MRoc yells to the crowd, "This is for all you shell-shocked mother fuckers."
MRoc: There were thousands of people out there. It was definitely a mismatch for me.
MRav: We went with it, they booked us.
W: This was the late '70s early '80s, did people harass you for being punk? Did you have to fight people?
MRoc: We got close.
MRav: When we went down south we got in a lot of tiffs because hearing us on a record they'd book as a punk band, but then being southerners they'd be surprised when a black guy would walk in. They'd say, "Nah, nah, nah we can't let you play here." We'd say, "Why" and they'd be blunt and say, "You've got an n-word in the band"
MRoc: What was that one club in Marietta?
MRav: Marion. Even in Marion, OH they wouldn't let us play.
MRoc: Yeah, yeah we had all kinds of problems. That was before I was wearing the flag.
W: So when people would say, 'You can't play,' what would be your reaction?
MRav: We would say, "Fuck You"
MRoc: On show we actually had to wait, go play the show, and leave immediately. The bikers said I wouldn't be safe. We didn't have bodyguards. Club said, "we can't guarantee your safety so you're gonna have to leave right now"
W: What did you make of that?
MRoc: Well I was shocked. You don't think of the northern part of the United States being like that.
Danielle: Did you ever have that problem in Columbus?
MRav: We had problems with singular people. One club we were playing in town an old man decided to come up to the stage and say, "A white maaan and a nigger."
W: So you would spray paint your name on things right?
MRav: I never said "we" would spray paint our names on things. Someone would spray paint our name on things.
W: Did the police ever show up to one of your shows and ask why are you spray painting your band name on things?
MRav: No, not really.
MRoc: I talked to one officer and he just kinda said, "Hey, watch yourself." This was after we did these guerilla shows. We did a show at 11th and High in the open on south campus, right there on the side walk. Of course we knew we'd only get through 2, maybe 3 songs before the cops would get there. So the cops would come and be like, 'we just want to shut you down, we don't want to take you to jail.' We had a conversation with the chief of police and he said 'you gotta stop the spray painting.'
W: About the graffiti, where did you spray paint?
MRav: On 8th and high, 13th and high. On the side of the Agora. They also didn't know what to call us. They would call us new wave, they would call us punk.
W: You guys were a punk band though, right?
MRoc: Punk is a lot of stuff.
W: Was 'Screaming Urge' the only graffiti you saw around town?

MRav: The Colons, the Blades. We weren't the only graffiti band. Local Gallery, the Warps. Sometimes you'd see 'Screaming Urge' spray painted on the walls and someone else would write 'sucks'
MRoc: I thought we were friends.
W: Was that the only graffiti around campus?
MRav: yes, there's nothing like the graffiti that's out now.
MRoc: And if people didn't know, then sometimes they'd would think we were a gang.
MRav: Channel 10 did a news story about the gangs in Columbus and showed some Screaming Urge graffiti.
W: Did you guys know Jim Shepherd?
MRav: Yes, extremely well. His ex wife lives down the street from me.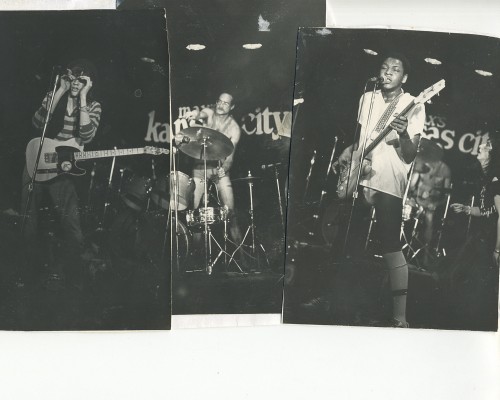 Screaming Urge Max's Kansas City 1981
W: You played in Max's Kansas City in 1981?
MRav: We took 9 people in our van to Max's Kansas City. That was exhausting cause we slept in the van. 9 people with sweat dripping off the top of the ceiling. It was cold out but not with 9 people in a van. …One of the girls that we brought with us, Dana, the owner of Max's Kansas City wanted her to stay in New York because he fell in love with her.
W: Let's flash forward, 32 years later, what is this cd you gave me?
MRoc: We're not calling it a CD release party but we are releasing the CD. It's 2 albums and a 45 on one cd.
MRav: Remastered.
MRoc: Remastered, reordered and a new song list. More in the order than the albums themselves. It's programmed.
MRav: It's got 25 songs on it. It's a good deal. Cheap! We'll be selling them on our Facebook page too. Cheap!
W: Do you guys get on the net and read up on your following? Are you surprised that people worldwide know who you are?
MRoc: I am surprised because honestly i used to own them as frisbees but now you put on a screaming urge album…
MRav: You google Screaming Urge…
MRoc: People will be bidding hundreds of dollars for the same album.
MRav: I get on my email, we're more popular in Japan and Italy then we ever were in America. We were on one of those 'Killed by Death' series'. No 6. I think that's what spread us worldwide. I think the bootlegging by Killed By Death spread us to Italy and Japan. I open up my email and sometimes its hard to understand, it will say "45 Homework Good Condition Cover must. please please please."
MRoc: Now it's insane, I wish I had a stack of them. I saw one put up by Used Kids that went for $300.
MRav: it's the scarcity of it. There were only 500 of them.
Danielle: Did you get them pressed at Mus.i.col?
MRav: Yeah, I've got the receipt.
W: What do you think of punk these days?
MRoc: It's a lot different. People talk about Green Day, it's more pop than it is punk. I can't really call it punk, there's nothing really wrong with them. They've got some good songs and everything but they're millionaires. It's hard to be punk and be a fricken millionaire.
W: What do you guys do these days?
MRav: We're still playing music even though we're not in Screaming Urge.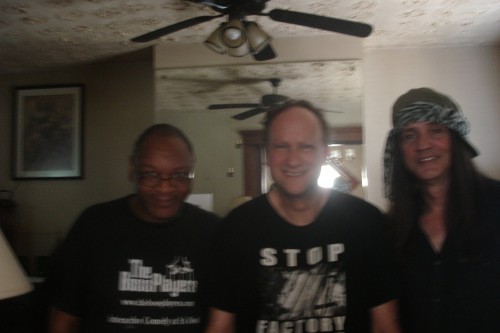 Screaming Urge Columbus,Ohio 2011
W:What made you guys decide to do this last reunion show?
MRoc:The date had to be right for Dave. The venue had to be the right place. Plus we are gonna turn to dust here pretty soon because we are so frickin' old.
MRav:I am 56 now.We are averaging getting together every ten years now. I'm not gonna be 66, and singing "Homework".
W:What do you guys think of the Police State? Do you think we live in a Police State?
MRoc:More now than ever.
MRav:We have a whole song. You will hear it on the cd. We had to change the words around there. See where it says "Killa Poe Lease"?
MRoc:It's taken to a whole new level nowadays.
MRav:That song is about the police in Columbus, Ohio.
W:When you write a song called "Kill the Police"..What is your motivation behind that?
MRav:This was back during the heydays. When the police were just beating up people.
MRoc:Brutalizing Minorities. Longhairs.
W:Do you think we are still in a police state?
MRoc:Definitely. But I am 48 now, so I am not really willing to step up and bear the cross so to speak.
MRav:He is the baby of the group. I had to have a note from his mom when we went on tour saying 'Michael Ravage is in charge of my son because he is underage.'
MRoc:When I booked the first tour I was 16. I was able to get into bars. Get served.
W:Your father being a blues musician..What does he think about you being in a punk band?
MRoc:At first, he didn't know what to think. But he saw that other people understood what we were doing. And now he is proud of it. I am proud to see him come out. He hasn't seen us play in ten years.
MRav:Our families have always been supportive. My whole family is going to be at the show.
MRoc:I still kinda cringe when I do songs like "War". Every other word is fuck. It had fuck here, fuck there.
Danielle:Why did Dave have a half-beard?
MRav:He thought it was good look.
Danielle:How long did he have the half-beard?
MRav:Most of the time we were in the band. We would get pulled over by the cops. And the cops would say, 'you really have half a beard'. He'd go, 'yeah, thats my look.'
Conversion goes various directions
The question comes up about Screaming Urge's Break-up:
MRav: We broke-up in 1982. My brother was murdered. Cold-blooded murder. After he died in 82′..That was pretty much the end of Screaming Urge.
I didn't want to play. I didn't want to do anything. Screaming Urge lasted officially for 5 years. From 78-82. Since then it has just been reunion shows.
We had a 5 year run.

W:Is it weird that the band stuck with people this long?
MRav:It is weird, But now when I hear the remastered songs I think , 'hey, we were pretty good'. Now they sound timeless.
We were both influenced by the Beatles. Alot of punks said 'no, we don't like the Beatles'. We wrote a whole song about the Beatles called "Merseybeat".
We were saying, 'it's ok to like the Beatles'.
MRoc:I wrote a song called "We Are Mono". It was kinda of a nod to Devo. Are we not men? D-E-V-O.
W:Did you ever interact with Devo?
MRoc:I was trying to get it set-up to do a few shows with them back in the day.
MRav:We know each other. The know us.
MRoc:They were on a Major Label. You don't really get to make choices like that..
MRav:We opened for the Bus Boys. They were in that movie 48 Hours. We opened for them in Wisconsin.
We thought we going to be on Stiff Records. Our manager blew that deal for us.
Danielle:Can I ask a question? What kind of music do you listen to these days?
MRav:I like Radiohead.
MRock:I actually like Lady Gaga. More than her music. More just her philosophy of life. And her personna. She is more punk in my opinion than Greenday.
MRav:I like some Hip Hop…I like Jay-z. He is my favorite when it comes to Hip Hop. I don't know why. He seems down to earth.