Talk amongst the Lollapalooza vets that I've been hanging out with the past few days is that this year's lineup isn't one of the strongest and that rather than having to decide between 2 or 3 great bands almost every hour of every day, there are now a few stretches where you show up early and sit through a band you don't know much about just to secure a spot for a band a little further on down the lineup.
I missed seeing Friendly Fires due to getting a late start and having a long lunch. When I got to the media tent, I quickly spotted Mick Jones (The Clash/Big Audio Dynamite) talking to ABC Radio. After he was done, I asked if I could get a quick picture and he willingly obliged. (I'm proudly sporting the Ohio Mixtape t-shirt from Alison Rose).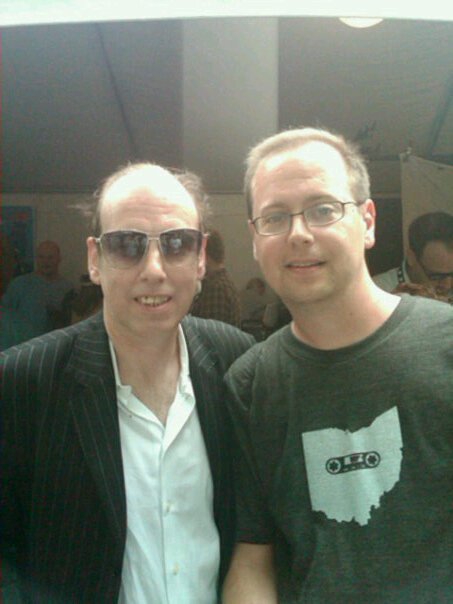 Also saw members of the Deftones and Joy Formidable in the media tent this afternoon.
After chatting for a few minutes with (former?) Donewaiting columnist Tankboy, booked to the other end of the park to catch the final 2 minutes of the Black Lips set. Saw the band destroy their guitars and throw the pieces out into the crowd. I have no idea how the rest of the set was but the guitar stunt left people talking (I heard lots of "They were GREAT").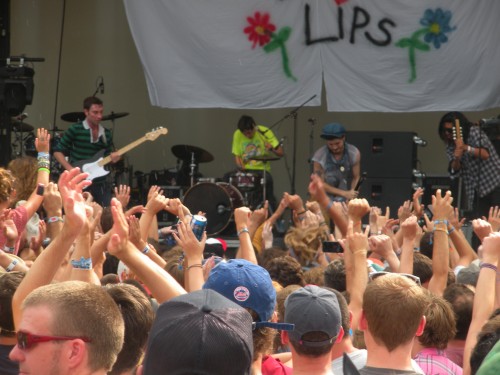 Death from Above 1979 played the Bud Light stage (the same stage Coldplay played the night before) and while there were thousands of people there to check out DFA 1979, I was able to work my way up to the front row. I'm not all that familiar with the band's output other than the single, "Black History Month" (which somehow reminds me of early Robert Plant solo material) but when a friend asked me to describe them, I said "Imagine if the Foo Fighters actually rocked hard." Eh, probably not the best description but it's the best I can do. There was an interpreter in front of the stage that was fascinating to watch. I didn't see anybody sitting in the hearing-impaired area but this woman was ROCKING OUT and singing along to every word.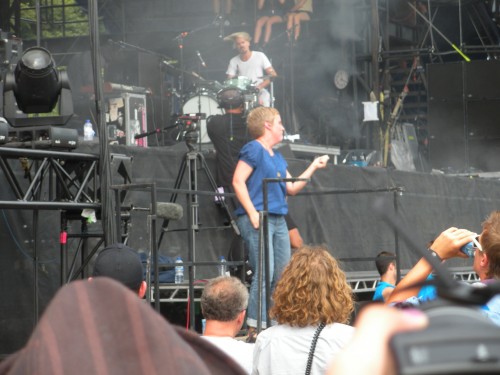 Had my first real goosebump moment of the festival when the Deftones hit the stage. Chino was bouncing around the stage, looking like he was loving life and this was my first time seeing Sergio Vega (ex-Quicksand) on bass with the band. I'm still holding out hope that tomorrow during Rival Schools' set, Sergio will join his former bandmate Walter Schreifels for a mini-Quicksand reunion. Not likely, but I want to be there if it does happen. I'm a sucker for the hits and loved when the Deftones tore into "My Own Summer (Shove It)". During "7 Words", Chino jumped down into the photo pit and inserted a bit of Katy Perry's "Fireworks" into the lyrics. Definitely my favorite act of the day.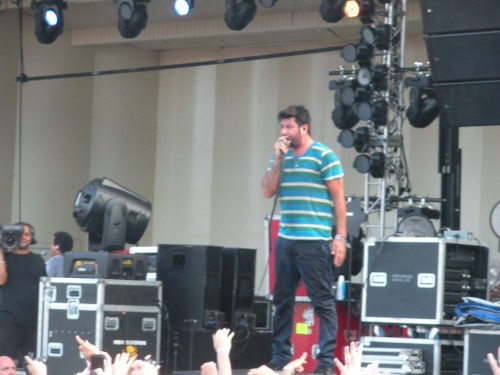 Cool bracelet I saw during the Deftones set.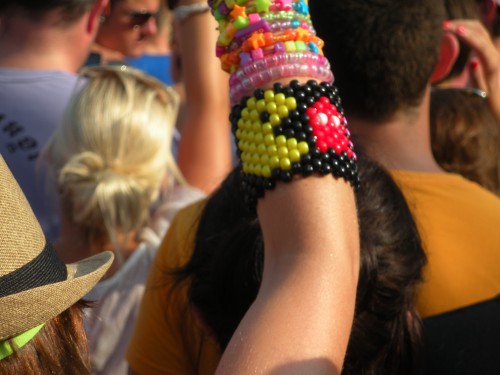 I returned to the media tent to charge my phone and ran into the legendary DJ/VJ/music encyclopedia, Matt Pinfield. The guy is amazing, has stories for everything and is super nice to everybody he meets.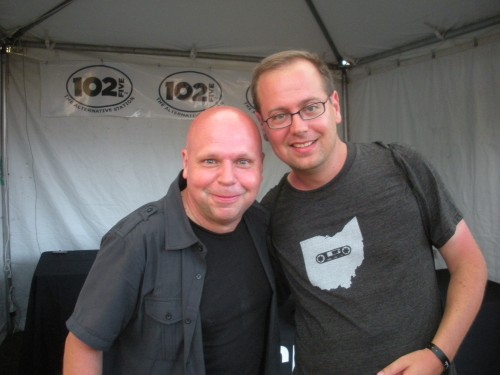 I heard Cee-Lo's set starting from where I was in the media tent – he opened with a cover of Danzig's "Mother". I figured I'd check him out and grab a spot to watch Eminem later in the night. The field where Cee-Lo was performing was PACKED, tens of thousands of people having the same thought I did. After getting a text that "Most people must be camping out for Eminem because there aren't a ton of people getting ready to watch My Morning Jacket", I, again, walked across the park to find a spot to watch MMJ. Not sure how I've missed them in the past, but this was my first MMJ experience and you can tell that these guys are going to continue to grow into a band that will some day be called legendary. Their hippie/jam band/hard rock/alt-country/post-grunge/mountain rock songs were perfect for an outdoor venue as part of a festival. It just felt "right" to see them get headlining status … well deserved.
Though there was no way of getting within 10 football fields of Eminem, I couldn't have left Lollapalooza 2011 without saying that I had seen a song or two. From where I was standing, even the enormous video screens looked small. For the short time I watched him, Eminem didn't really do much actual rapping – he was mainly talking to the audience ("Where are all the girls at? Let me hear you!"). The only song I caught was "Love the Way You Lie", the hit single featuring guest vocals from Rihanna. I was a little surprised that she didn't show up as a special guest – instead, they used a recording of her singing while Eminem rapped his part live.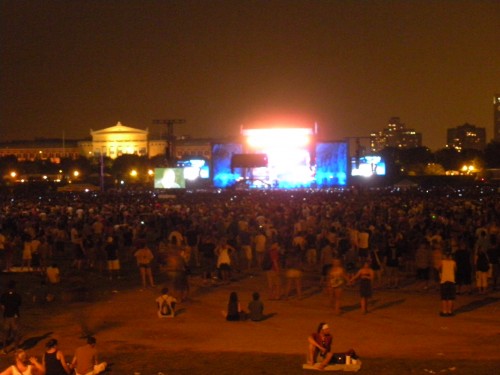 Overall, today was a little less productive than yesterday although there weren't a ton of bands that I really wanted to see. Tomorrow's the BIG day – I should be arriving at Grant Park at noon and be watching music pretty much non-stop throughout the day all the way through Foo Fighters closing performance.