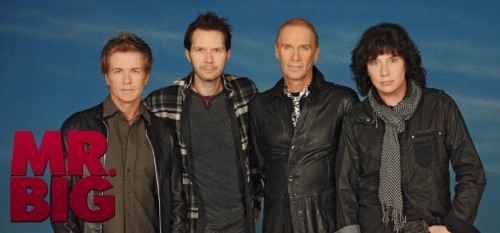 If you've over the age of 30, you've heard Mr.Big's 1991 chart-topping, power-ballad "To Be with You". Some 20 years later, you can still hear the song on a variety of satellite radio stations, from the '90s channel to the hair metal channel to the lite rock channel. It's also featured in the Broadway musical Rock of Ages.
The original lineup – Eric Martin (vocals), Paul Gilbert (guitars), Billy Sheehan (bass) and Pat Torpey (drums) – released 4 albums between 1989 and 1996. After Gilbert left in '97, ex-Poison guitarist Richie Kotzen joined the band and played on two Mr.Big releases before the band broke up in 2002.
A 2009 reunion – to celebrate the 20th anniversary of Mr.Big's self-titled debut – proved successful and in 2010 it was announced that the band would be releasing an album of new material. What If … was released earlier this year and Mr.Big hit the road to promote the first new album in 10 years.
On Saturday night, Mr.Big will play at the Alrosa Villa with Lynch Mob (featuring ex-Dokken guitarist George Lynch). This is the only date on Mr.Big's tour where the two bands are playing together so it's sure to be a memorable evening.
Paul Gilbert took some time last week to answer some questions I sent via his publicist.
The venue in Columbus where you'll be playing, the Alrosa Villa, is billing the show as it's "37th Anniversary Show". When you see the tour itinerary, are you aware of these types of things? Not that you'd necessarily plan anything special, but there might be a little bit of additional buzz because of the anniversary.
PG: Well, first of all, a hearty congratulations to the Alrosa Villa for keeping it together for 37 years. That's a long time to survive in the entertainment business, so they must be doing something very right.
My job is to play guitar, and I've been practicing and playing my guitar like a madman for over three and half decades, so hopefully that will give people something good to remember about their experience in the venue.

Also, Lynch Mob is on the bill and the Alrosa is billing it as the only show where the two bands are playing together. I haven't really done my research, I'm not sure if you and George (or any of the Lynch Mob guys) are friends but seeing as how the two of you are very well-respected guitarists, I'm sure your paths cross on occasion at guitar shows and things like that. Seeing as how this is a one-off date, will you be hanging out in the crowd watching Lynch Mob? Any interest in seeing what those guys sound like in 2011?
PG: A few years ago, I put together a short tour called "The Guitar Generation". It featured Richie Kotzen, George Lynch, and myself. We did our own sets of music, and then a nice long jam session together at the end. I was a Dokken fan when I was growing up, so it's always an honor to play with George. I'll try to catch some of his set, but I'll have to get backstage at some point to warm up my fingers. I'm sure George will set the bar high, so I have to spend some time warming up backstage… and warm up my voice too. Mr. Big has a lot of singing as well as guitar playing.
For those of us who have been around Columbus since the late '80s/early '90s, the Alrosa has always been known as an '80s hair metal venue. Of course, that tour circuit isn't as busy as it once was but the club still brings in the likes of Great White, Winger, etc. I've never considered Mr. Big to be a hair metal band (though you did have the long hair and wore the right clothes – at least in videos) and I don't think you ever claimed any allegiance to that particular scene and yet you showed up in all the magazines I read back in the day (Metal Edge, etc.). Was that a blessing or curse, now that you are 20 years removed from those days?
PG: It was a lot of fun to walk onstage with giant hair in those days. I would still do it, but it just won't seem to grow as long these days. And mostly, I'm more and more interested in my guitar and learning new musical things. Music really is a lifelong passion, and I hope I can play well enough where people can see past any haircut that I might have. I've got a lot of notes and phrases that I didn't have in those early days, and I'm ready to blast them out of my amps for everyone.
I love all sorts of music, but the late '80s/early '90s hair metal scene is the one that I always fall back and I still will go see just about any band from that era when they roll through Columbus. Most of those bands only have one or two original members (LA Guns, Faster Pussycat, Bang Tango all come to mind). When getting back together as Mr. Big, did you go into it with the mindset that it had to be the original band or it wasn't going to happen? If one of the other guys had said, "Thanks but no thanks", would there have been a new Mr. Big album?
PG: I think it had to be original members. That's where the sound comes from, and that's what I love about the band. Everyone has a really unique approach to their instrument, and of course Eric has incredible character in his vocals.
I don't necessarily want to call them your peers, but some of the bands who put out music back in the same era that you got started have continued to put out new music with varying degrees of success. Personally, I'm a nostalgic sort of guy so I really appreciate – and will get behind – an album that sounds like the same band I remember from 20 years ago. Night Ranger put out a CD a few years ago that didn't really sound like Night Ranger to me and I was pretty disappointed although their new CD sounds much more like what I had hoped for. Warrant put out a new CD with new singer Robert Mason and while Warrant was probably my favorite band from that time period, the new album does not sound like Warrant at all to me. When writing material for "What If …", did you go into saying, "Our fans want to hear stuff that reminds them of the first time they heard us" or was that even a factor?
PG: Mainly, we thought of our live show, and what kind of songs we could use to add to the set. Our reunion tour in 2009 was really successful and took us all through Japan, Indonesia, and Europe. Those shows were fresh in our minds, and we had a clear picture of what it was like to rock in front of thousands of people. That really is the best fuel for writing songs and getting good energy into the music. I'm proud of the records that we did before, and since the band has all the original members, it's easy… actually it's inevitable that we have a similar sound. And in the years that we were apart, we all grew as musicians, so we have more ideas and depth that we can bring to the writing and performing.
"What If …" was a bit of a surprise, to be honest. Not that I didn't think Mr. Big had it in you to make a great CD, but, as mentioned in the previous question, it seems like "old" bands coming out with "new" material is hit or miss. There might be a handful of songs that I can really get into but then I find myself going back to old material (see: Queensryche as an example). While I really liked the early Mr. Big stuff, I'll say that "What If …" doesn't sound like just a cash-grab to me. It's really, really solid stuff. I know that you've got to appease your longtime fans by performing old material because while that stuff sold tons of copies, the new CD probably isn't as familiar to the casual Mr. Big fan. But, I would be just happy seeing you play a set that is primarily new material as I would old material (in fact, I'd prefer to hear the new stuff).
PG: We do a pretty long set, so there's plenty of everything. And thank you for liking the new record. It worked! The songs rock live!
I have to admit, it sounds so stereotypical but after the first time I heard Nirvana's "Nevermind", my interest in '80s hair metal was put to the side so I didn't keep up on a lot of the music coming out in the mid-90s. I actually had no idea that Mr. Big continued on after you left with Richie Kotzen. Did "grunge" and the '90s alt.rock movement have any effect on you? I mean, it must have to some degree but did you feel like you had to do anything to adapt your music to stay relevant or did you just think, "I'm going to continue to do what I've always done and if people like it, awesome"?
PG: If anything, there was pressure on me to be more of an Yngwie-style guitar hero. When I left Mr. Big, my manager went to different record companies in search of a solo deal for me. They said, "If he plays like Yngwie, we'll sign him." I love Yngwie's playing, and there are parts of my style that probably overlap what he does, but at that time especially, I was really into pop music. I was listening to a lot of Cheap Trick, Elvis Costello, Enuff Z'Nuff, Beatles, and Todd Rundgren. I wanted to try singing lead on my records, and I don't have a voice that's suited for operatic heavy metal, so I adapted the music to fit my voice and my taste. The result was sort of a mixture of shred guitar and pop/punk songs. This was probably a horrible marketing decision because I was basically changing my "product" from what people knew and expected from me. But it's what I was passionate about, so I did it anyway. Fortunately, I did pretty well with it in Japan at that time.
As a music fan, the 90's were a weird time for me. My favorite rock band was The Wildhearts, but besides that, I found myself listening to a lot of female singers. Mariah Carey's first record stunned everyone when it came out, and I loved it too. I even dug Janet Jackson! My favorite singer was k.d. lang. Her "Ingenue" record is amazing.
How in tune are you to your guitar-playing peers? Is there a "fraternity" of sorts, guys you see all the time either at guitar shows, clinics, on tour, etc.? Who do you consider to be your peers/friends as far as other musicians go?
PG: I know a lot of people a little bit. But even though I might spend a short time with other musicians, we all share similar experiences, so it bonds us quickly. But let's see… I've cooked Japanese food for Nuno Bettencourt and Warren DeMartini, I jammed with Zakk Wylde and changed my setlist when he commented that one of the songs was "one gay-assed motherfucking song"… (It was "The Kid's Are All Right" by The Who. I changed it to "My Generation".) As a personality, I don't know how well I fit in with the typical crazed rock and roll maniac. I love the music with a passion, but I tend to think more scientifically. Today, I had a day off from the tour, so I called up a fan who happens to be a paleontologist. He picked me up and gave me tour of his laboratory. I got to hold a knee bone from a duck-billed dinosaur in my hand! Oh, and I should mention that some of my best friends in the music business are on the instrument side of things. I love working with the guys at Ibanez, Marshall, DiMarzio, Ernie Ball, and all the other companies that make the equipment that I use.
Are there any newer bands that you really dig? Guitarists that you think are amazing? It seems like rock music has done away with the guitar solo and off the top of my head, I can't think of any modern guitarists that I think are really all that amazing.
PG: There are some great YouTube guitarists. Guthrie Govan has stunning control of the instrument. I like Sam Coulson a lot. He's got great vibrato and some face-melting fast stuff. There's a young girl named Alicia who plays fantastic blues. Kid Andersen is a true blues and rockabilly monster.
I'm not as familiar with newer bands. Because of my hearing loss, I tend to listen to music that is quiet and without big drums. So I love new artists like Melody Gardot and Justin Currie. And I keep searching back in time for music that I haven't heard before. Lately, I found so many blues guitar players that I dig. Earl Hooker, Magic Sam, and Big Bill Broonzy are all on heavy rotation on my iTunes. But don't worry, that first Dio record is firmly embedded in my musical DNA, and every night I strap on my headphones and rock out with Mr. Big like there is no tomorrow.