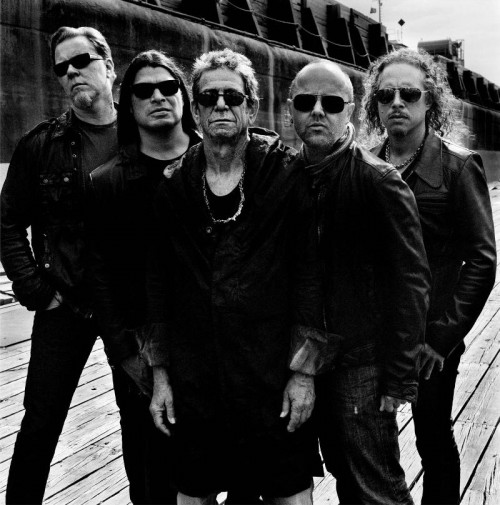 When reading this press release for the upcoming Lou Reed/Metallica record LULU my mind drifted to some other bizarre collabs:
Jello Biafra and the Melvins? Dead Kennedys and Melvins aren't the same but adding a vocalist to the Melvins music wasn't that absurd.
Trent Reznor and El-P's Flyentology? Both dudes are cypercreeps. Song is good.
So that brings us to the Lou Reed, and Metallica's upcoming album Lulu that drops November 1st, on Warner Brothers.
Now, because I have shot Heroin and also broken windows I can say that I love both the Velvet Underground and Metallica. But I would've never guessed in a million years that this would happen.
And this would have really fucked up the lunchroom seating in High School…
With that said……How did Lulu come about? I could paraphase the press release or you can just read the whole thing. (No word if Pushead will make a cover with a skull eating a banana)
LOU REED & METALLICA LULU
DUE FROM WARNER BROS. RECORDS ON NOVEMBER 1ST, 2011

August 29, 2011- Los Angeles, CA – In what is sure to be one of the most talked-about alliances of the year, New York king of avant-rock Lou Reed has teamed up with best-selling hard rock band Metallica to record a brand-new album, entitled Lulu, which will be released by Warner Bros. Records on November 1st, 2011. The album was co-produced by Reed, Metallica, Hal Willner who has produced albums for Reed, Marianne Faithfull, and Laurie Anderson, among others and Greg Fidelman. Fidelman also mixed the record.

The idea for these two giants of modern music to work together was born after the 25th anniversary Rock And Roll Hall Of Fame concerts in New York City in October 2009. Metallica -singer/guitarist James Hetfield, drummer Lars Ulrich, guitarist Kirk Hammett and bassist Rob Trujillo – played with Reed on Velvet Underground classics "Sweet Jane" and "White Light/White Heat." "We knew from then that we were made for each other," Reed says.

After that triumphant performance, Reed suggested they all make a record together. At first they planned to record an album of Reed's older material, what Ulrich describes as "some of Lou's lost jewels – songs that he felt he'd like to give a second spin, and we could do whatever it is we do to some of those songs." That idea "hung in the air for a couple of months." Then, a week or two before that session was to begin, "Lou called up and said, 'Listen, I have this other idea.'"

That idea was to record a series of songs Reed had written for American avant-garde theater director Robert Wilson and German theater group the Berliner Ensemble's production of the Lulu Plays, which premiered in Aprilat theTheatre am Schiffbauerdamm in Berlin, founded by Bertolt Brecht. The songs are inspired by German expressionist Frank Wedekind's early 20th century plays Earth Spirit and Pandora's Box, and were a rewrite of Edgar Allan Poe's, The Raven, which emerged as a graphic novel on Fantagraphics Press.

"We were very interested in working with Lou," says Hetfield. "I had these giant question marks: What's it going to be like? What's going to happen? So it was great when he sent us the lyrics for the Lulu body of work. It was something we could sink our teeth into. I could take off my singer and lyricist hat and concentrate on the music part. These were very potent lyrics, with a soundscape behind them for atmosphere. Lars and I sat there with an acoustic and let this blank canvas take us where it needed to go. It was a great gift, to be asked to stamp 'TALLICA on it. And that's what we did."

"We had to bring Lulu to life in a sophisticated way, using rock," Reed says. "And the hardest power rock you could come up with would have to be Metallica. They live on that planet. We played together, and I knew it: dream come true. This is the best thing I ever did. And I did it with the best group I could possibly find. By definition, everybody involved was honest. This has come into the world pure. We pushed as far as we possibly could within the realms of reality."

"It's definitely not a Metallica album, or a Lou Reed album," adds Hammett. "It's something else. It's a new animal, a hybrid."
For more info visit: www.loureedmetallica.com