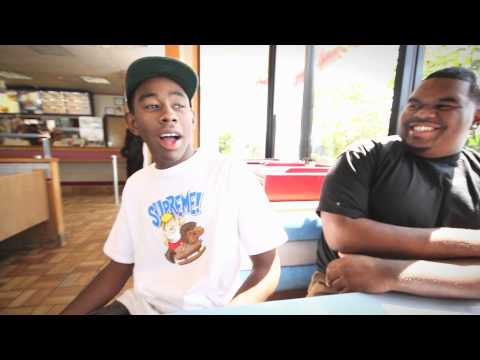 Adult Swim loooves Hip Hop it seems. Asheru, Danger Doom and Dilla come to mind as Hip Hop artists that have beemed into the 99.4 Million Homes that receive the Cartoon Network.
Adult Swim just picked up Odd Future Wolf Gang Kill Them All's new 15 minute live-action series Loiter Squad that features sketches, man on the street segments, pranks and music from the Los Angeles rap collective.
Tyler just got a VMA. And Frank Ocean was all over Watch the Throne and just produced Beyonce, so even if people hate OFWGKTA, it appears they aren't going away anytime soon.
Loiter Squad is produced by Dickhouse Entertainment, a Hollywood production partnership of Johnny Knoxville, Spike Jonze and Jeff Tremaine.
Other Dickhouse Entertainment programs include Jackass, Nitro Circus, Rob & Big, Rob Dyrdek's Fantasy Factory, Wild Wonderful Whites of West Virginia, The Birth of Big Air and Wildboyz.
Jeff Tremaine and Adult Swim's Nick Weidenfeld will serve as executive producers.
The above video is an old documentary of Odd Future goof-balling in their hometown Ladera. It's not a trailer for the Loiter Squad. And you prolly don't want to watch it if you hate OF.