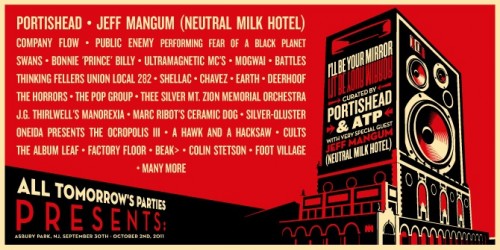 All Tomorrow's Parties is returning to the US this month for the first Edition of ATP's sister event I'll Be Your Mirror that has been currently held in Japan and the UK. The US edition of I'll Be Your Mirror will be held in Asbury, New Jersey from September 30th to October 2nd. Saturday and Sunday of I'll Be Your Mirror will be curated and headlined by Portishead who will be playing their first shows on the East Coast since 1998. Jeff Magnum will be playing two shows Friday and Saturday at the Festival.
Download or Stream this Portishead curated Mixtape which features a good bulk of the artists Portishead chose for I'll Be Your Mirror. The Mixtape has everyone from Shellac to Company Flow to the Ultramagnetic MC's.
Mixtape playlist and Festival Line-up after the jump
Tracklist:
00.00 Up With People – Oneida
07.45 Machine Gun – Portishead
12.24 Ice Cream (feat. Matias Aguayo) – Battles
17.02 Two-Headed Boy – Neutral Milk Hotel
21.27 Cervantine – A Hawk And A Hacksaw
27.16 Wakeman's Air – Chavez
31.35 In Your Area (feat. Planet Asia) – DJ Peanut Butter Wolf
34.03 Pizza Mind – DD/MM/YYYY
38.21 She Is Beyond Good And Evil – The Pop Group
41.41 Metal Arms – Hannibal Buress
44.13 My Pal The Tortoise – Thinking Fellers Union Local 282
46.59 Steady As She Goes – Shellac
51.01 Totally Tween – Foot Village
54.46 Go Outside – Cults
58.05 Kollapz Tradixional (Thee Dirty Olde Flag) – Thee Silver Mt. Zion Memorial Orchestra
1.04.10 I Go To Sleep – Anika
1.07.27 Father Midnight – Earth
1.19.31 Party Intellectuals – Marc Ribot's Ceramic Dog
1.25.15 San Pedro – Mogwai
1.28.37 Behold A Marvel In The Darkness – Deerhoof
1.32.05 I Know – Beak>
1.37.01 Walk – Rory Scovel
1.41.45 Cryogenics – JG Thirlwell's Manorexia
1.44.50 No Words/No Thoughts – Swans
1.54.08 There Is A Wind – The Album Leaf
1.58.46 Colin Stetson – The Stars In His Head (Dark Lights Remix)
2.04.15 Tunnels – People Of The North
2.10.43 Population Control – Company Flow
2.14.17 Industry – Thought Forms
2.18.23 Give The Drummer Some – Ultramagnetic MCs
2.22.06 Lying – Factory Floor
A full schedule of performance times will be available soon from www.atpfestival.com – on the Saturday and Sunday Portishead will finish by 11.30pm to allow people to travel back to NYC (last train at 12.02am). Tickets for the event are on sale now, here are the ticket options currently available:
– Individual Day Tickets (Friday $60, Saturday and Sunday $99 each – day passes do not include Jeff Mangum performances)
– Three Day Jeff Mangum Sunday Passes ($249 – access to all 3 days including Sunday night Jeff Mangum performance, and guaranteed to one Portishead performance – Sat or Sun)
– Three Day Portishead Passes ($249 – 3 day festival passes, with guaranteed access to both Portishead sets, but no Jeff Mangum performances)
PASSES ON SALE NOW via ATPFestival.com – to buy please click here.
Friday September 30 curated by ATP:
Jeff Mangum (Neutral Milk Hotel) (3 day Jeff Mangum Friday passholders only)
Bonnie Prince Billy
Thinking Fellers Union Local 282
Shellac
Chavez
A Hawk And A Hacksaw
Cults
The Album Leaf
Awesome Tapes From Africa DJs
Comedy Stage featuring:
Reggie Watts
Hannibal Buress
Rory Scovel
Saturday October 1 curated by Portishead:
Portishead
Ultramagnetic MC's
Battles
Swans
Marc Ribot's Ceramic Dog
The Horrors
The Pop Group
Factory Floor
Oneida presents The Ocropolis III
Silver Qluster
Beak>
Colin Stetson
Foot Village
Thought Forms
DJ Peanut Butter Wolf
Sunday October 2 curated by Portishead:
Portishead
Jeff Mangum (Neutral Milk Hotel) (3 day Jeff Mangum Sunday passholders only)
Mogwai
Public Enemy (Performing Fear Of A Black Planet)
Thee Silver Mt. Zion Memorial Orchestra
Company Flow
Earth
Deerhoof
J.G. Thirlwell's Manorexia
People Of The North
Anika
DD/MM/YYYY
DJ Shepard Fairey
Also…
Revolutions: The Album Cover Art of Shepard Fairey
Lapham's Quarterly Literary Stage
Cinema presented by Criterion
Lord Sinclair's Pop Quiz & Rock'n'Roll Bingo