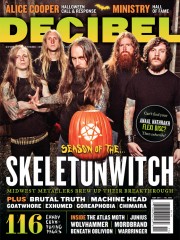 Now that they're gracing the cover of Decibel Magazine, Skeletonwitch's stock is sure to rise which means the days of playing venues like Ravari Room are numbered. Being the featured story in one of the best metal periodicals on store shelves is a well-deservered honor for the Athens, Ohio band that's been laying waste to Ohio and the rest of the world since 2003.
This week, the 'Witch released Forever Abomination, a punishing slab of devil's spit that's as heavy as metal comes. Chance Garnette's demonic growls scare the living bejesus out of me – they're the possessed sounds you pray you'll forget about when waking up from the worst nightmare you've ever had. And while the band's music can fairly fall into many different subgenres of metal (death, black, thrash), guitarists Nathan Garnette and Scott Hedrick and bassist Evan Linger definitely are at least partially influenced by '80s European metal acts such as Iron Maiden and Judas Priest.
Reduced To The Failure Of Prayer by Prosthetic Records
Skeletonwitch's Forever Abomination CD release show at the Ravari Room on Friday night features guests Shrine of Suffering and The Pandemic Nemesis. Doors open at 9pm and the cover is $12.