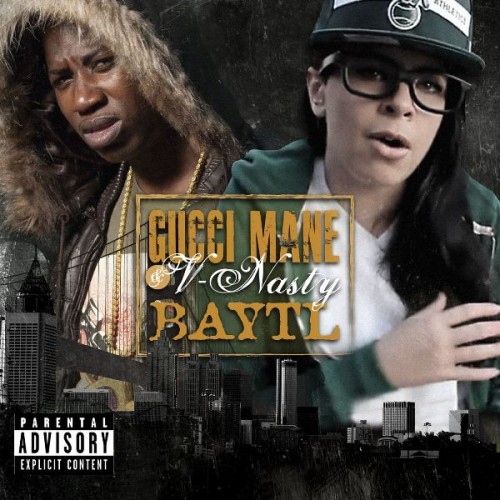 In a rematch made in Hell, Warner Brothers and Vice Records have teamed up for a 3-Year deal.
And on December 13th they are releasing a BAYTL, a mixtape that teams up Bricksquad's Gucci Mane, with Questionable Kreayshawn White Girl Mob Affialiate V-Nasty.
Yes, this is a record made for/ by the girl that almost everyone has sex with but doesn't want to admit it…. Every graffiti writer that crashes on someone's couch looking for drugs, taco bell and sex while bumping Sourthern rap—every graffiti writer on the planet but me….. This is your fault and basically your album. Be careful now, though that girl finally has a voice, and she can go do something weird like hook-up with the Gucci Mane and make you obsolete/scared after she steals your weed or does it to your friend..
Listen to Gucci Mane's/Slim Dunkin/V-Nasty F-U stolen from  Vice.com.
Pre-order the BAYTL Mixtape/TSHIRT BUNDLE

Fuck… blame Vice and now Warner Brothers…tracklisting and more info on this unholy team-up after the jump.
Think about this. Warner Brother's has a ton of Southern Rappers. Vice is brand whose job is to sell things to nihilist Hipsters. Granted I love Southern Rap. And Vice puts out Justice, the Black Lips, and the Raveonettes. And they do offer artists a multitude of marketing opportunities and revenue streams including global video channels, a network of production studios, international event series, strategic brand partnerships, and the support of the company's foreign offices.
Or as VICE founder Suroosh Alvi said, "In Warner Bros. Records we found an awesome partner that gets VICE. They don't mind that we're a bit freaky and into weird shit. They aren't a lumbering, free-falling major but are a nimble and smart company that's giving us the freedom, capital, and muscle to discover and break new artists. We love to A&R, market, and build artist brands. Moscowitz and co. are the industry leaders and amazing at everything else. So between us, we've got a killer offering for artists that beats the hell out of the competition."
Anyway, just the fact that VNASTY & GUCCI MANE have an outlet that understands the lane they share is and has the tools to market to is well, terrifying.
BAYTL tracklisting. (VNASTY is from Oakland so people like Mr. Fab are on it.)
1. Whip Appeal feat. P2theLA
2. Loaded feat. Mr. Fab
3. Let's Get Faded
4. White Girl
5. Push Ups feat. Slim Dunkin
6. Food Plug feat. Berner
7. Out My Circle
8. Hate Me Some More
9. Millions Every Month
10. Fill My Shoes
11. F*** You feat. Slim Dunkin
12. Sick Swag