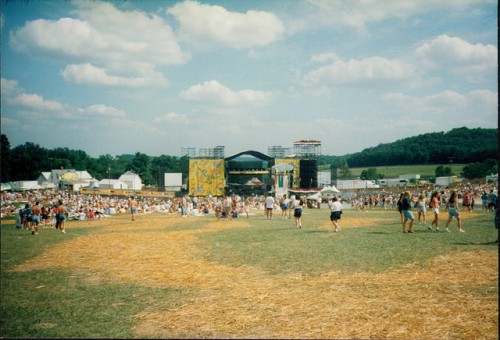 Though the news leaked a few days ago, a press release yesterday made it official: The annual All Good Festival has moved from West Virginia to Legend Valley (formerly Buckeye Lake) for its 2012 incarnation, July 19-22.
This is exciting news to me, and for the Ohio festival circuit. Though I'm not a stereotypical jamband enthusiast, the All Good lineups have often intrigued me over the last ten years. The festival has always had a solid undercard of jazzy, funky, worldly, etc. acts that I was interested in. Though the middle of West Virginia wasn't a particularly long drive away, however, it always managed to be far enough to keep me from going and/or from convincing friends to go. Therefore, now that the fest is much closer, I have hope that the lineup this year will hold the same promise and will be a solid attraction to local fans of a variety of jams. Look out for further updates as the date grows nearer, and also, if you're very lucky, a sequel to this (don't worry about reading that, just skip to the comments).
Keep reading for some press release action:
All Good Festival Announces New Location & 2012 Dates

Thornville, OH (November 28, 2011) – After 9 consecutive years in West Virginia, the All Good Festival announces today that the 16th annual event will take place July 19-22, 2012 approximately 30 miles east of Columbus, Ohio at the historic Legend Valley.

Formerly known as Buckeye Lake Music Center, the sprawling festival grounds of Legend Valley have played host to some of the most memorable live performances of the past five decades including half a dozen Grateful Dead concerts as well as tour stops from Lollapalooza, AC/DC, WOMAD, The Allman Brothers Band, and numerous Hookahvilles.

All Good Festival organizers pointed to the convergence of a welcoming rural country vibe and simple venue access, less than a mile from Interstate 70, that will dramatically alleviate the challenges and frustrations of fans and local residents at the festival's previous site in West Virginia.

"While Marvin's Mountaintop was a brilliant place for the music and camping aspects of the All Good Festival, getting over 12,000 cars up and down single lane country roads was problematic," said All Good Festival founder Tim Walther. "We felt that offering a similarly fantastic music and camping experience without the three to six hour wait time for fans and negative impact of traffic on the local community made the move the right decision."

2012 attendees can count on All Good Festival's trademark model of no overlapping sets and no hard decisions. Two main stages host over 40 hours of non-stop music from a wide array of genres including the best of rock, bluegrass, electronic, jam, reggae, funk, and more.

Building from its humble beginnings fifteen years ago, the All Good Festival has hosted some of the world's most talented live performers including Furthur, Primus, Ben Harper, Widespread Panic, The Flaming Lips, The String Cheese Incident, moe. & hundreds more. Additional information on the 2012 performer lineup, event news and All Good Festival announcements will be coming soon with the latest updates available at www.allgoodfestival.com.